Our One Year Anniversary is Here #giveaway
Posted October 1, 2014 by Prairie Wife - 31 comments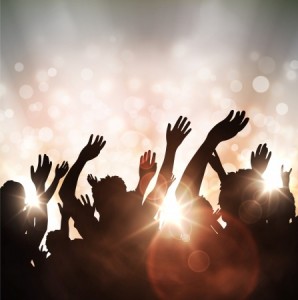 Prairie Wife: It's crazy to think that's it has already been a year since PrairieWifeInHeels.com began, today marks our One Year Anniversary! What started as a simple way for me to offer support to other women by sharing my life here on the rugged and beautiful Prairie of Wyoming, as well as my love of fashion , beauty,  good food and books…has turned into so much more. When I began this blog my goal was to be open and honest with my readers about the ups and downs of life as a woman, wife and mother on the Prairie, in hopes that along the way I would help other women to see their own strengths. My big sister Texas Two Steppin' came along for the ride to offer her words of wisdom about being a wife, stepmother, and business woman. The reaction from our readers has been so much bigger than I ever thought, and I truly feel that we have stayed true to our Prairie Wife Guarantee.
Over the last year I have had moments of frustration as sick kids, exhaustion, and life in general has pulled me in too many directions to count. There were days and weeks when I felt like I truly had no energy to give to myself, much less the blog…and feared that I would let my readers down. As I gritted my teeth and forged ahead (in true Prairie Wife style) I could see that the benefits were soon out weighing those stressful times. Chatting with my favorite author, hearing that my post made someone laugh or helped them through a hard day, not to mention sharing the stories of so many profoundly amazing men and women, has truly inspired me to become a better wife, woman, and mother.
Texas Two Steppin': This blog has been such an unexpected joy, and I am forever grateful to my little sister for asking me to come along on this ride. My "real job" doesn't allow me much time for creative writing and self expression, and I have truly loved connecting with women and men with incredible and inspiring lives. While we started out featuring stories about the fabulous females in our lives, it has been such a joy to "meet" new people, like Marissa, Connie and Kendra, who influence us but probably wouldn't be hanging out in Johnson City, TX (although they are always welcome!). And I can't tell you how special it was to represent Prairie Wives in the front row of a Nordstrom fashion/beauty event. Just pinch me! But even more special is the fact that PW and I have bonded as we've texted, emailed, philosophized and written about our passion for beauty and fashion, family and friends, and our really rural lives.
This month is all about celebrating this blog, and you our readers, and what better way than with a whole bunch of giveaways?! Every week we will have at least one giveaway starting right now! All you have to do to win a $10.oo gift card to Starbucks is leave a comment at the bottom of this post, telling me your favorite thing about PrairieWifeInHeels.com. Don't be shy and feel free to tell us a few things you like (we won't turn down more praise) or, tell us what you don't like (we can take it). We want to know what you love, so we can give you more! Earn more points by following us on social media. Don't forget to be honest, we will be checking to make sure you truly are following us.
Thanks again for all your support, we can't wait to read what you have to say!
xoxo Prairie Wife and Texas Two Steppin'
PS Don't forget to click on the Top Mommy Blogs picture to the right of the page (or at the bottom if you are on your mobile) whenever you stop by! All you have to do is click to show your support (no info from you is needed at all)!
Categories: Life As It Happens
Tags: , anniversary, blogging, Giveaway, our readers, Prairie Wife Life, tell us