Fall Fashion 2014 Trends: Dos or Don'ts
Posted September 13, 2014 by Prairie Wife - 15 comments
Fall is upon us, and while the weather is still a little too warm for chunky sweaters, jeans, and knee high boots, I'm finding that I'm O.K. with that. Frankly, I'm not quite emotionally ready for all my cozy cold weather clothes yet! Thankfully there are a bunch of new fall trends that will work wonderfully for this early Fall transition time. Our Summer 2014 Trends: Dos and Don'ts were such a big hit we decided to split our Fall post into two categories Fashion and Beauty. That way we could share even more trends (and our opinions) with our readers. So make sure you stop by later on this month to see what Texas Two Steppin' and I think of some of the latest Beauty trends. As always just click on the pic to buy!
Now for Fashion….
Socks with Heels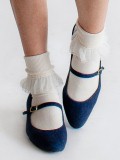 Prairie Wife: Despite growing up worshiping Cher from the movie Clueless (who totally rocked this trend) I have to say this look is a don't. It just looks too much like the women are trying to be the sexy school girl. While I guess that look works for some people…it's just not right for a Prairie Wife rocking a big ol' baby belly. I say if you are over the age of 13 take the socks off and just were your heels with a bare leg or tights.
Texas Two Steppin': I must say, when I see the trend on a 20-something model in Lucky or posing on a busy New York sidewalk in Pinterest's Street Style, I love it. There is something about the ying and yang of socks and heels that is casually cool, kind of like a Tshirt and suspenders with basic black pants. But do the anklets with ruffles work? Nope, too cutesy. Is it appropriate for rural Texas or even super trendy Austin? Not really. And does it work on a 40-year-old career woman? Absolutely not!
Stripes and Flowers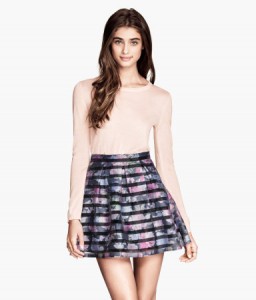 Prairie Wife: Of course, for me this trend is a do…it has flowers! But I love the little bit of edge that the bold stripes give this look. While in this skirt it has flowers and stripes together I am a big fan of wearing a striped top with a floral skirt…or vice versus. Check out my Pinterest Prairie Wife Style Board to see some more of this super fun look. LuLaRoe has some super cute floral skirts that will be perfect for this trend. P.S. Just make sure that you keep things in the same color family. This skirt would not work if the stripes were orange!
Texas Two Steppin': My formative years were in the '70s and '80s, a time when matching was mandatory. Your shoes, belt and purse would always be exactly the same color. If your earrings were silver, so was your bracelet, necklace, zippers on your pants and the hardware on your shoes. If your Flashdance sweatshirt was coral, the thick, ribbed, slouchy socks peeking out from your hi-top Reeboks better be the exact same shade of coral. Stray from this strict formula and you would be relentlessly ridiculed. Seriously. It took me about five seasons of What Not to Wear before I was willing to mix my metals and actually wore silver bangles with a gold necklace. So it was a truly liberating fashion moment for me when last month I wore a floral scarf with a striped shirt. I know, you youngsters do crazy stuff like this all the time, but this is radical for the older crowd. Because I got so many compliments, I just bought a black and white striped shirt that will go with the only floral skirt I own. I'll let you know the reaction when I finally put on this groundbreaking outfit, but done right it is a total do!
Patchwork Jeans

Prairie Wife: For me this is a don't. I'm all about holes in my jeans (it goes with my rocker vibe) so to cover them up is a big no. I love the boho chic look (fringe and calico are SO my thing)…but for me this is too hippie…too Holly Hobby. Sorry (not sorry)!
Texas Two Steppin': This is where I disagree just a bit with PW. I think most patchwork styles are too hippie dippy trippy and I steer very clear of anything that reminds me of a bedspread. But there is something cool about patches that are reminiscent of motocross or a single, very tasteful patch on a pair of comfortable boyfriend jeans (never flares). And if the patch is in a conservative pattern like tweed or houndstooth, so much the better.
Jean with Jean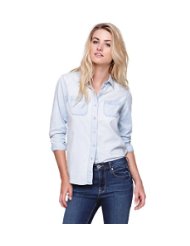 Prairie Wife: My friends can vouch that I have been wearing this look for years (so its a DO for me). And well…for The Cowboy this is his weekend uniform. Around here we call this look the "Canadian Tuxedo" and I love it. I wear my Chambray top with skinny jeans and little booties, or to really rock the Cowgirl look I'll wear a faded jean top with my dark wash boot cut jeans and my Cowboy boots. Adding some chunky bright jewelry or a sleek pair of heels to this look can really dress it up. The trick to not looking too matchy, is keeping your jean washes separate. Notice in the pic she has a light wash top and dark wash jeans, or switch it around.
Texas Two Steppin': This should be a do for me, just re-read my comments on stripes and flowers. But it is a don't, and I don't quite know why–maybe because I am so not a Cowgirl and I'm afraid I'd look like a local rancher who just came in from the fields?
Track Pants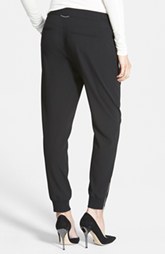 Prairie Wife: Do you really need to ask? This is a DO for me. Dressed up lounge wear? This pregnant mama is in heaven. I showed you some tapered pants from Loft in my maternity-wear post, and these track pants are very similar. The lush fabric is what keeps them dressy and work appropriate. Throw on a pair of heels, a bright T, chunky jewelry, and a structured blazer and you'll be wowing all the moms at PTO (after you kick butt at your board meeting). To bring these pants to a more casual level you can wear them with ballet flats and a closer fitting top, too baggy and you'll start to look sloppy. For a relaxing day with friends or even a busy errand day, wear them with a cute pair of sneakers and a graphic sweatshirt or sweater (no hoodies). P.S. I found a super cute pair of patterned ones at Marshalls!
Texas Two Steppin': This look isn't just for moms! My Nordstrom personal stylist turned me on to this look, and I have three pairs of silk track pants. PW's style tips are dead on, but I must admit I've never even thought to try them with sneakers. They do look absolutely fabulous with a tank and sparkly flip flops though! However, I must warn you that if your husband is anything like The Texan he will be totally confused by the look, especially if your track pants have a cool tuxedo stripe like mine.
What do you think of these Fall trends? Do you agree with us?
Categories: Prairie Wife Style
Tags: , Dos and Don'ts, Fall 2014, Fall 2014 Trends, Fashion, lists, shopping