Dress that Baby Belly
Posted July 26, 2014 by Prairie Wife - 3 comments
I have several friends that are pregnant right now (one with twins…so exciting), and I have to admit that I am feeling my ovaries ache just a touch. I have stated before that I am one of those obnoxious people that are barley sick and just love to be pregnant. And one of my favorite things about pregnancy is the fashion…I know a ton of my girlfriends struggle with this very thing during pregnancy, especially in the last trimester, but I love dressing my baby belly. I call it a baby belly because after my first two kids it was never just a baby bump! So, to help those of you ladies that are struggling with how to dress that baby belly, I've posted some pics (as always click to get directly to the link to buy) to help inspire you. I personally prefer to wear non maternity clothes. First, in my town our only choices for maternity clothes are seriously limited, and secondly, I find that I then have some cute clothes to wear in that dreary postpartum period when you still have some weight to lose. Make sure you stop by our Prairie Wife Pinterest board for more inspiration!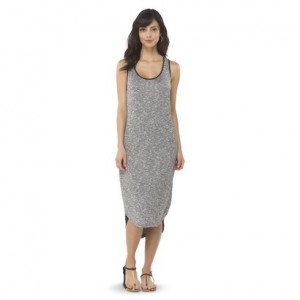 This dress from Target may look super plain to you but hang in there and let me explain. When you are pregnant for 9 months it helps to have clothes that can go from one season to the next so, I recommend a color or pattern that doesn't scream summer or winter. Add some bright flip flops, a light print scarf, and cute earrings and you're set for a summer lunch. A warm cardigan (with a skinny belt over it) and knee high boots transition the look into fall. Add some super chunky sparkly jewlry, a bright clutch and heels and you are ready for date night. When buying a dress I look for two things. 1. Length, as the belly grows the hem rises, so make sure you start with a longer hem! 2. Thicker straps. With a growing belly comes growing boobs, and there is no way I can walk around without a bra. Thick straps keep my bra hidden, and help me to be comfortable. As a side note, I tend to stay away from dresses with a defined waist (elastic) when pregnant. With my long torso it never hits in the right spot and often tends to make me look larger than I am. A dress with no waist seems to float and brush against me in just the right way, and if I want to define my "waist" I can use a belt to get it in just the right spot.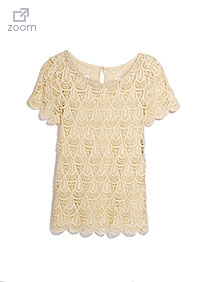 Next up is this super cute crochet top from Marshells. Not only is it on trend with the crochet but, it is appropriate for woman of all ages and sizes. Buy the next size (or two) up and it'll last you your whole pregnancy, and afterwards! I suffer from what I can "bun in the oven syndrome" which means I am always super overheated when pregnant, so I usually stick to t-shirts. This fabric is heavier which keeps it from riding up and allows it to hang nicely but, the looser cut (notice the bottom is wider than the armpit area) means that it won't be snug on your growing belly. It can easliy be dressed up or down, a must when you are trying to stick to a budget. How cute would this be with ripped skinny jeans and flip flops, or with the pair of pants below and a hot pair of heels?!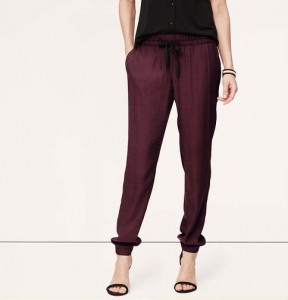 In all honesty, as soon as I am done with this post I am going to have to get a pair of these pants from Loft (I bet Texas Two Steppin' is craving a pair too). Their fit keeps them sleek and chic looking while the fabric makes you feel like you are wearing your pajamas out…is there any better combo for a pregnant woman? The elastic waistband gives you room to tighten or loosen as your belly needs, and the cut helps make your legs look miles long. With the volume at the top of these pants, you need to stick to a top that is more fitted, or one that is made of a lighter and flowy fabric. These pants also need to be worn with shoes that show some of your foot, like strappy sandals or ballet flats…though now that I think of it, they might look fab with my black heeled ankle boots from Betsy Johnson and a chunky sweater…hmmm…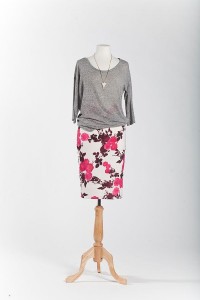 This pencil skirt from LuLaRoe is absolutely perfect for pregnant and non pregnant woman alike. The fabric has just the right amount of stretch so it hugs your curves without squeezing them. The waistband allows you to pull it up to help smooth your stomach, or push it down so it sits comfortably under your baby belly. With a flowy sheer tank and gladiator sandals it's perfect for summer, and with leggings, boots and a chunky sweater you're ready to go jump in some leaves (carefully though, watch out for the baby). Heels and a sparkly top make it perfect for your office party or date night with your hubby. LuLaRoe also has a great selection of maxi skirts that offer the same perfect fit!
What piece of maternity clothing do you have to have?
Categories: Fashion, Prairie Wife Style
Tags: , baby bump, dress the belly, Fashion, maternity fashion, postpartum fashion, pregnancy, shopping