Take Five with Texas Two Steppin'
Posted November 24, 2013 by Texas Two Steppin' - 2 comments
Prairie Wife and I are a decade apart in age, and I often feel like we were raised in totally different households. I know this will be a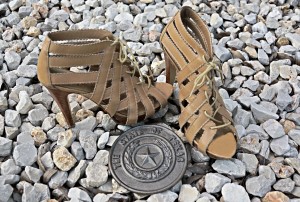 topic in upcoming blogs, but quite simply she is the outgoing, younger one, and I am the reserved, older (shall we say more mature?) sister. Yes, my career is based on public speaking and communication, but at events I would be categorized as an introvert—much more comfortable planning the party than being the life of the party. So, when Prairie Wife mentioned again that I needed to write an introduction and that my earlier blog or discussion on personal style wouldn't do, I told her to give me a number like they do on Facebook. She gave me "5," so let's see if I can give you a sense of who I am with five topics…
1. Let's start simple. I like having the TV on when I'm home, but I don't often get a chance to just sit and watch a show. When I cook dinner I turn on Top Chef or Chopped, when I clean the house I have on America's Next Top Model or Project Runway, and when I get ready for work it's HLN or Million Dollar Shoppers. I actually do take the time to sit down and watch football games, American Horror Story and Mad Men (an odd combo, if I do say so myself). But, if I was only able to watch one television show ever again, it would have to be What Not to Wear. I sooo miss you Stacy, Clinton, Ted and Carmindy!
2. My home design style is Sabrina Soto all the way. If you haven't watched The High Low Project on HGTV, DVR it immediately. P.S. I love Sabrina's clothes, hair and makeup too!
3. Let's talk food. I love to bake desserts, but eating dessert really isn't my thing. My favorite meal is fresh, raw oysters followed by a traditional Cajun shrimp and crawfish boil with potatoes, corn and sausage. I will also tell you that this is most definitely Prairie Wife's least favorite meal. We'll flip a coin to decide who gets to tell you this story in the upcoming year!
4. Alright, since we're sharing, I have a dirty little secret. On Saturdays I love to clean/organize the house. Really, that is relaxing and therapeutic for me! As you can imagine, The Texan and the stepkids don't find this nearly as fun as I do, and I'm grateful for their influence. They've pushed me way out of my comfort zone and over the years our family hobbies have included all sorts of sports, boating, horseback riding, four wheeling, fishing, jet skiing, RVing, kneeboarding and riding motorcycles and dune buggies.
5. Finally, although I am known as Texas Two Steppin', I don't know how to do the Texas Two Step or any other type of dance. So why am I called Two Steppin'? Because about a year after moving from Milwaukee in an effort to flee winters, I moved to the country to live with The Texan and his seven-year-old daughter and five-year-old son. While I refer to them as Step Girl and Step Boy in this blog, in practice they are simply my kids. Since the day I met them, I have truly loved them as much as I love their dad, and I couldn't imagine my world without them. Sure, when I look back it seems odd that I was single one day and had two children the next, but I wouldn't change a thing and am so proud of the adults they have become. This year has been an exciting one, with Step Girl starting her career and Step Boy becoming a father, and I can't wait to see what happens next with my family!
Whew, that's so much more than I usually share (can't believe Prairie Wife was able to write a short novel for hers!). Thanks PW, for just giving me "five," and if you like my link on Facebook I'll be just as kind to you!
Categories: Life As It Happens
Tags: , bio, Life With Texas Two Steppin', personal