Weekend Wear: Texas Two Steppin' AND Prairie Wife
Posted March 29, 2014 by Texas Two Steppin' - 4 comments
TX2Steppin': I have a confession to make. I do not have good "weekend style." Formal occasion-check. Zumba class-check check. Business attire-check check check. Drinks with the girls-sorta. Friday night date-not really. Fair and rodeo-hell no.
So when Prairie Wife suggested we do a blog on "weekend style" I decided to use it as an opportunity to reexamine my wardrobe and see if I could take some of my typical work outfits and make them casual. I personally challenged myself 1) not to buy anything new 2) only change one or two pieces 3) find a cute outfit for a day of shopping and 4) do a look appropriate for the seashore (where I spend nearly every weekend). So, how did I do?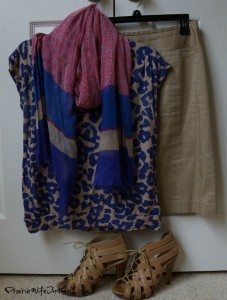 Business Outfit #1: I love T-shirts from Loft because they are dressy enough for work and always have something special (like an exposed zipper in the back). The pencil skirt is from Nordstrom Rack and fits perfect. These Chinese Laundry heels are my favorite because they go with everything, and the scarf was an impulse purchase from Loft that I couldn't live without.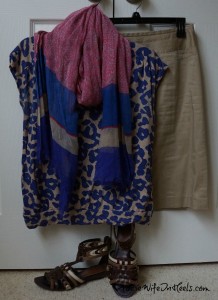 Coast Outfit #1: Replacing the heels with a cute pair of gladiator sandals by Pikolinos makes this the perfect outfit for drinks at the Tiki Bar on Friday nights!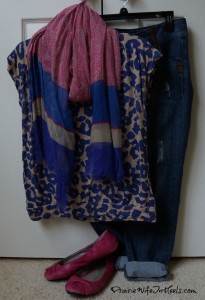 Shopping Outfit #1: Goodbye skirt and heels; hello pink Me Too flats and Democracy-Declaration of  Jean Dependence distressed boyfriend jeans from Nordstrom Rack. Looking at this photo, I bet this outfit would work with the flat sandals too. Hmm, even more options 🙂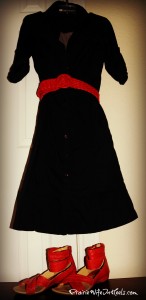 Business Outfit #2: This Esprit shirt dress has been in my closet for 10+ years and is one of my go to pieces. While it doesn't look great on a hanger, trust me when I say it looks great on when it's belted. I was feeling brave when I bought these comfy red sandals by Miz Mooz, and by some fashion miracle I had the matching belt already in my closet. Yes, I know you really aren't supposed to/don't have to match shoes and belts, but I grew up in the '80s and some habits are hard to break. The grey tank from Loft tones down the bold red and puts me back into my comfort zone.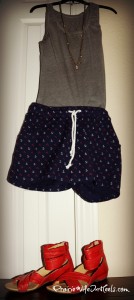 Coast Outfit #2: I love these shorts, even if I would prefer them to be a bit longer to cover my cellulite (I am over 40 after all!). And you'd never guess where I bought them–Bass Pro Shop! Of course I could do a white T-shirt or tank, but I like that the grey is a bit more unexpected. I think it has to have a necklace to give it a little something, and this one was purchased from Loft to support breast cancer awareness efforts. If it gets a bit chilly, I think this would look great with a jean jacket or even a simple white cardigan.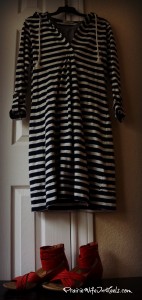 Shopping Outfit #2: This long hoodie (another find from Bass Pro Shop!) was probably designed to be a cover up, but it hits at my knee so I feel comfortable wearing it as a dress without legging or shorts. The deep V-neck is a little too deep for me, so the grey tank is a perfect, modest addition.
*All shoes in this post were purchased at Nordstrom Rack.
Prairie Wife: Alright, now it's my turn to show you my Weekend Wear! The weekends are my favorite time of the week for several reasons. The Cowboy is usually home, and our family is together–obviously the most important. For purely selfish reasons I love the weekends because I have some help! The Cowboy feeds the horses and takes the morning shift with the Cowkids. I get to "sleep in," though really as soon as The Cowboy shuts the door (and locks it to keep out the kids) I usually roll over and grab my Kindle and read for a luxurious 30 minutes! Most of my Saturdays are spent in my saggiest and most worn-out sweats and hoodie…ahhh I love it!
We only go on one date a month (which is harder to arrange then it sounds) so I didn't feel that posting a date night outfit was realistic. Now that Cowboy C (formally known as Cowbaby) is weaned I am taking advantage of this freedom and going out with the girls more often, so I thought it would be fun to show you an outfit I would wear to dinner and a movie with the gals. We have Church every Sunday (and I teach Sunday school), so that's really my most dressiest day of the week. I always go all out for church and wear full makeup and usually heels and something super feminine like a skirt or dress. Ma and Pa ingrained in me that your shoulders have to be covered in church, so you'll never see me in a sleeveless shirt or dress!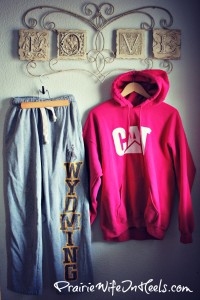 Saturday Outfit: Sloppy and oh so comfy. I live in these Wyoming sweats (or one of the other 3 pairs I own!). We can purchase University of Wyoming college attire from our local Target; that's where this pair came from. My CAT hoodie was a surprise gift from The Cowboy after he visited the CAT factory in Peoria, Illinois.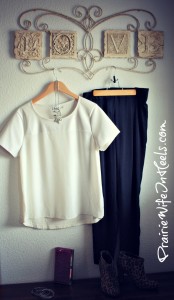 Girls Night Out Outfit: We usually go out to dinner and a movie so I love to get a little dressy, but I still want to be comfy as I sit and watch a movie. This light weight White T-shirt is DKNY purchased at Marshalls. It has a super cool white "leather" detail on the top. It is flowy and may look big but, one of the benefits to having no boobs (I never had much anyway, but nursing took away what I did have) is that flowy tops always hang just the right way and make me look super slim (trust me, try it out). The black pants are from Loft and taper at the bottom. They are made out of  a super light fabric and feel just like pajama pants, perfect for curling up at the movie theater. The leopard booties, silver necklace, stackable bracelets, and purple clutch all came from Target and add a little bit of the rocker edge I love to this outfit!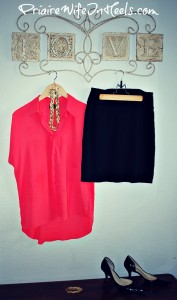 Church Outfit: I never shy away from color, even on Sundays! This bright coral top from Target has a higher neckline and short sleeves that allow me to pick up Cowboy C and teach Sunday school comfortably. I tuck it into my favorite black pencil skirt from Express (5 years old) and add some sensible (for me) heels from Anne Klein for a more polished look. The bulky gold jewelry from Francesca's (my favorite boutique) adds a little bit of edge and keeps the look from being to stuffy.
Whose look matches your personal style better, Texas Two Steppin' or Prairie Wife? What do you wear on the weekend?
Categories: Prairie Wife Style
Tags: , casual, coast, date night, dress, sandals, style, sweats, weekend