Prairie Wife of the Week October 25, 2013
Posted October 25, 2013 by Prairie Wife - 1 comment
As most of you are aware, October is National Breast Cancer Awareness Month. What better way to honor the women and families battling with Breast Cancer, than an interview with Breast Cancer survivor Texas Two Steppin'? She will be a frequent contributor to our site. She is one of my heroes, and my big sister. Her grit and grace as she faced Breast Cancer head-on make her our Prairie Wife of the Week.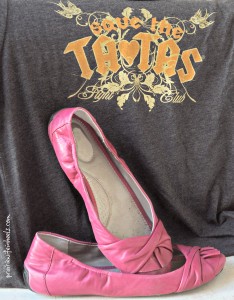 Prairie Wife (PW): First off, why don't you tell us where you are now in your journey?
Texas Two Steppin' (TTS): I completed my treatment and frequent oncology visits in January 2012 at my 40th birthday—a great way to celebrate this milestone and new decade! I have since graduated to 6 month mammograms and checkups, but I want to make sure I am doing everything I can to beat the odds that it will reoccur (a high probability since I don't have a family/genetic reason for having cancer and was diagnosed so young). Estrogen causes my cancer to grow, so I take a drug each day to suppress the hormone–basically putting me into menopause with all the joys like hot flashes and weight gain! The doctors say exercise and eating right are the key to losing weight and keeping healthy, and dang it if they aren't right. I'm now addicted to Zumba, Kale and greek yogurt; much better than my prior lifestyle focused on work and pasta.
PW: Walk us through how you first discovered you had breast cancer.
TTS: My story and my cancer aren't typical, but it emphasizes the importance of self exams and working with your doctors. After finding the lump and having some tests I went to a wonderful breast surgeon for a biopsy. As I was on the table they felt that the "lump" had shrunk and must have been just a cyst that should be observed. Nine months later, when I went in for my second in-office visit, she decided to drain the cyst. I got a call a few days later that as a precaution she had sent the sample in for testing. That's when she was shocked to learn I had cancer in my left breast.
PW: What led you to choose the treatment options you did?
TTS: Cancer and the related treatments are as unique as the women who are diagnosed with this disease. I had a wonderful oncologist who shared with me the odds for life expectancy for stage 2B lobular cancer based on different options. Because I was under 40 and below the average age for a breast cancer diagnosis, we threw everything at it—chemo, radiation, estrogen suppressing drugs, etc. I also wanted to give back and help other women so I participated in a clinical trial and underwent an experimental treatment.
PW: What advice do you have for other women that are beginning chemo/radiation treatment?
TTS: I have enough advice to write a book; not a blog! Two key things—trust your oncologist's advice and plan. The Internet is for shopping, not researching treatments that conflict with your oncologist's treatment and reading about diets and drugs that weren't customized for you. Also remember, everyone wants to share their breast cancer story with you (many negative) but you need to be strong and focused on writing your own ending to your cancer story.
PW: I know every person is different. From your experience, what are the do's and don'ts for friends and family that know someone who is going through cancer treatment?
TTS: I was very lucky and able to work during my entire treatment. Many of my coworkers still don't know that I had cancer and that really helped me feel "normal." So I suggest you respect the fact that a friend with cancer may want to keep it private and deserves to tell people in her own way. My family and I never focused on the cancer; we focused on having fun and our next adventure. After each "hard core" chemo treatment we planned a vacation or special treat—camping, going sledding, hosting a red carpet Oscar party, etc. Although we had tons of support available, we tried not to call on anyone because we knew keeping our normal routine would be best. One of the most interesting phenomena is that many cancer patients get used to all the attention and when they no longer have chemo, radiation, constant doctor visits they have trouble enjoying their "normal" life.
PW: Anything else that you think women need to know about Breast Cancer and the ups and downs of the diagnosis and treatment process?
TTS: My surgeon said it best, "It will be a tough nine months and then you're done." But for me, breast cancer was a positive; for example I never knew how many people loved and truly cared for me and my family before this experience. I have learned how to say "no" to the things that don't challenge me or make me a better person. And I have learned how to be a more supportive and understanding wife, stepmother and friend to all the other "prairie wives" I know.
Categories: Life As It Happens, Prairie Wife of the Week
Tags: , breast cancer, Breast Cancer Awarness, Friendships, positive attitude, Prairie Wife of the Week, Texas Two Steppin'