Fall 2013 Fashion Picks
Posted October 25, 2013 by Prairie Wife -
Before I start, I feel like I need to tell you a little more about who I am, though looking at my fashion picks will probably give you a good idea! After all, to quote Rachel Zoe, "Style is a way to say who you are without having to speak."
First, keep in mind I am a 30 something mother of four Cowkids. The main reason I get out of sweatpants is to go to church or volunteer at the kids' school. In Wyoming, let's face it, there are not many events that aren't jean appropriate. I do get dolled up when I meet my friends for coffee (I don't want them to be embarrassed by me) and for date night with The Cowboy. I have been known to get "dressed up" to go run errands but, I usually pack those in on a volunteer day when I am already wearing pants that button.
That being said, I love heels (hence the name of my website). Most of the time when I am dressed up, I have on nothing less than a two inch heel. Back before I had the Cowkids, I rocked heels every day to work. My students (first and second graders) would look at my shoes first thing each day, and every girl had their favorite!
I ran into a gal I hadn't seen since Cowgirl G was born, at the kids' school this spring. Cowbaby was a few months old and we were all outside watching a bunch of preschoolers participate in track and field day. She came up to me and said "I wasn't sure if it was you or not, then I saw your shoes and I knew it was you!" What can I say; everyone has their signature piece or color.
I am still practical; after all it does regularly snow 9 months out of the year in Wyoming! I own tons of cute ballet flats, flip-flops in every color of the rainbow, and I love all the riding boots that are so on trend right now.  Even though I have lived in Wyoming for over 13 years, I can't say that I dress cowgirl, it's just not me. I of course have cowgirl boots and jeans that I wear riding, or to the rodeo. But overall, the only way I can think to describe my style is rocker/country/chic. As we get to know each other through this blog and Pinterest you'll see exactly what I mean! Below are the pieces that I just had to have this fall to freshen up my wardrobe. You can use them to dress up or down. If you go to the Prairie Wife Style board on Pinterst you'll find lots of ways to mix and match them!
Blazers
Blazers are very trendy right now; you can't look at a magazine without seeing someone wearing one (usually with a big slouchy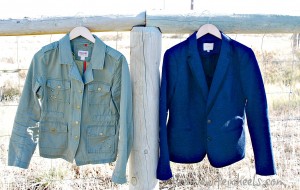 bag, jeans, and heels). In Wyoming layers are a must. The fall days start out at about chilly 20 degrees and are a toasty 50 by lunchtime. Being able to remove or add on a cute jacket is a must.
I purchased the army green blazer/jacket at Target. I love the little bit of rocker edge it has with the gold studs but, it is slightly fitted, which keeps it sophisticated. I wear it with jeans, skirts, and even dresses.
The navy blazer with black piping is from LOFT (online). It was a big purchase for me; I usually don't spend more than $50 on one piece. I really felt like it was versatile and I would get tons of use out of it. I can wear it with jeans or dressy black pants. I've even worn it with some of my skirts. The trick with this blazer is to roll or push up the sleeves; this keeps it from looking like you are wearing your mom's old suit coat.
Pants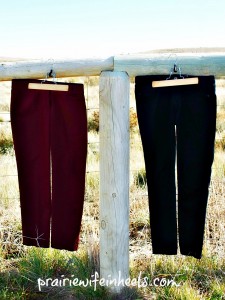 I know that everyone is wearing black leggings, and I can't figure out how you can look so cute in them! I wear leggings under dresses and loooong tunic tops but, on their own I just can't do it. Every pair I try on either shows my underwear (after 4 kids I am not wearing a thong), or it gets all see-through on my thighs. Maybe I just have the wrong thigh to butt to waist ratio? I was so excited to find these black denim leggings at Target. They fit great on my butt and thighs, and are not see-through in any way. They offer the same look as cotton leggings, but are warmer, and sturdy enough to handle Cowboy W crawling in my lap with is spurs on.
The other pants are a deep wine color and are from LOFT (Marisa ankle cut, online). I saw them in so many magazines (Self, O (Oprah's magazine), Glamour, and InStyle) that I just had to try them! All of the magazines said they were the perfect fit, and super classy. And they were right. I got the ankle length because they look great with any kind of shoe. I know they don't look like much on the hanger but, trust me, get a pair and try them on-you'll be so happy you did.
Shirts
Stripes are everywhere this year! I see them on pants, tanks, long sleeve shirts, socks, even purses. I am really into the color navy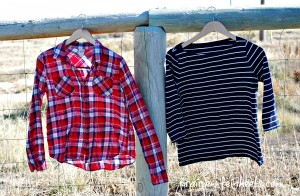 right now (apparently it's the new black) so this navy and white striped shirt (from Target of course) is a great addition to my closet. I love the boat neck and the ¾ length sleeves. Dress it up with black pants and a blazer or just put it on under a hoodie with some boyfriend jeans and sneakers for an errand day.
Maybe it's the Prairie Wife in me, or perhaps an echo of my high school grunge days, but I love a cozy soft plaid shirt (Target has a variety of colors). They are the perfect way to add a pop of color under a sweater and look super cute with skinny jeans and brown riding boots. They are timeless, and with all the different colors, you definitely have more than a few pieces already in your closet to go with them.
Shoes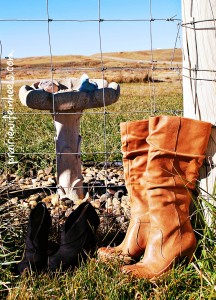 I am a boot fanatic. It's really easy to justify a pair of boots here in Wyoming with all the cold weather and snow. This season I bought this awesome pair of brown boots. The Cowboy was not very pleased, and insisted I explain to him how they were different from the four other pairs I have. It was good practice for this. They are a beautiful camel color, and slouch in just the right way. They have a nice tall heel and a hidden platform so they are super comfortable. The icing on the cake is; I got these Jessica Simpson boots 50% off at Amazon.com!
These little black booties are actually a purchase from last fall (Target). But, you can find black booties everywhere this season. I particularly like the cut on these; they look sophisticated with a little bit of rocker edge. They are perfect with jeans that are cuffed right at the ankle, dress pants, and thick black tights with a skirt or dress.
Categories: Prairie Wife Style
Tags: , fall 2013, Fashion, pants, Prairie Wife, Shirts, shoes