Sister: A Novel by Rosamund Lupton
Posted January 18, 2014 by Prairie Wife - 2 comments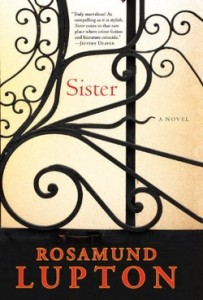 I know that crime novels are a really big genre right now, but frankly I just really don't like to read them. I usually read books to escape from reality, so the idea of spending hours reading about violence, death, and emotional anguish doesn't really appeal to me. But, I read a review of Sister: A Novel by Rosamund Lupton, and despite the fact that it had all three of the things listed above, I decided to try it. I am glad that I did, this book was absolutely amazing…I mean really, I can't recommend it to you enough! When I finished this book I literally sat there for several minutes in deep thought, and then felt an instant need to read it again!
This story tells the tale of two sisters Tess and Bee. Though they are separated by an ocean they manage to stay close through letters. When Tess is told that her sister is missing, she heads overseas expecting to find her somewhat eccentric and irresponsible sister quickly, and give her a firm talking to…instead it is discovered that Bee has commit suicide. Tess is left stunned and aching, and just not believing what everyone else says is true. Despite the police and her family's insistence that she is simply in denial, Tess trusts her instincts and heads out on her own to find the truth.
I don't want to ruin all the plot twists by giving you too much detail. I will tell you that Tess uncovers both an illicit affair and a medical mystery that the police were completely unaware of. The reader travels on the journey of discovery with Tess, and we aren't given any more information then Tess as the twisted plot unravels. Lupton's clear details and organized writing made it easy to follow along on the journey with Tess. I absolutely loved trying to keep one step ahead of Tess. When I found myself coming to a firm conclusion about what happened to Bee, all I had to do was read a little bit more to be proved wrong time after time! The ending was absolutely shocking, and it was then that the true genius of Lupton's writing was revealed to me. If you are looking for a fast paced mystery novel that will keep you up for hours, this is the book for you!
Categories: Product Reviews, Reviews
Tags: , a novel, crime, lupton, rosamund, sister, writing style