Prairie Wife of the Week October 3, 2014 #giveaway
Posted October 3, 2014 by Prairie Wife - 25 comments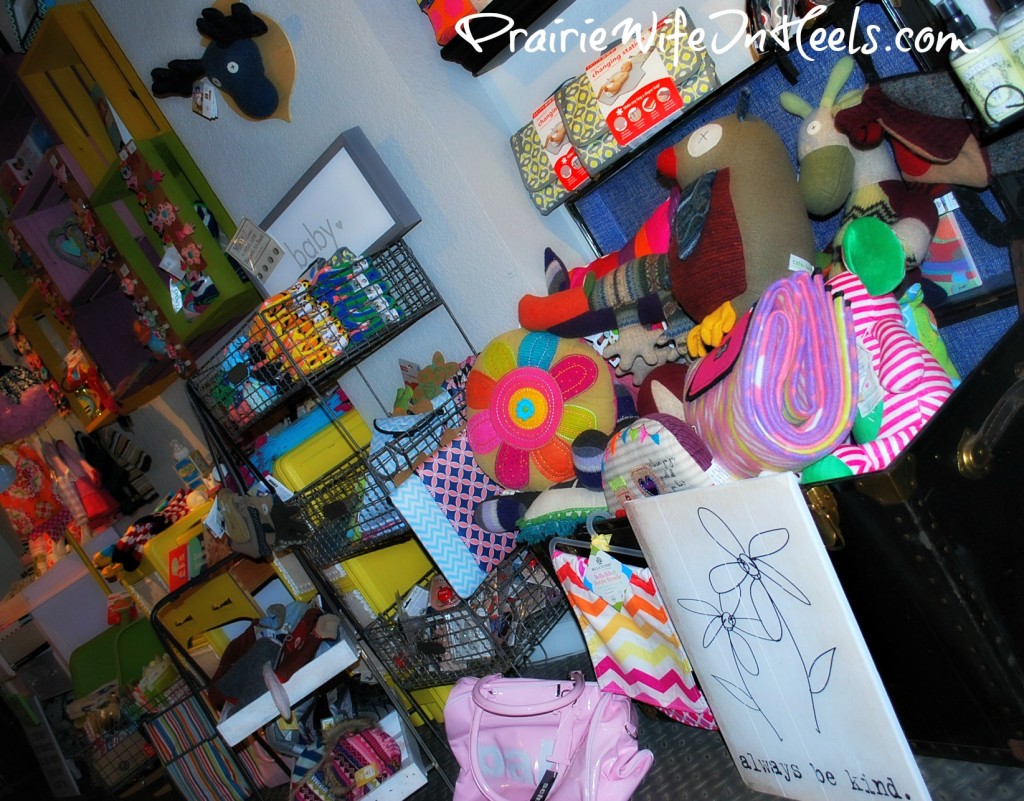 A big part of being a Prairie Wife is "loyalty to friends and family" and if a Prairie Wife loves something she tends to shout it from the roof tops! Today I am here to shout about one of my favorite places to shop here in Wyoming. When I walk in I know will always find just the right gift for my girlfriends (and a little something for me) and the darling baby gear has me wondering if maybe I should find out what CowBaby5 is going to be. One of the first things I did with Texas Two Steppin' when she came to visit this Winter, was stop by my favorite boutique The Floral Rhino (139 South Center Casper, WY (307)265-0063), and do a little shopping. As we exited the shop into the freezing February air, Texas Two Steppin' was so aglow over her latest finds that she didn't even complain!
I've known Marcy, the owner of The Floral Rhino, for a few years now. Our boys attend the same school and have been in the same class together several times but, until this interview I've never had the chance to sit and chat with her. Now that I have…I'm afraid I might just have to keep on coming up with excuses to have coffee with her. Marcy's obvious passion for her boutique and her customers shone through as we chatted about her journey from stay at home mom to small business owner. Her confidence in her ability to get the job done is contagious, and so is her laugh. Marcy is the perfect Prairie Wife of the Week not only because of her willingness to listen to her true self but, because of her honesty in admitting that things aren't always perfect. Her knowledge that family should factor into all areas of her life is an example to us all, and her commitment to her community is sure to have a positive impact.
This month is PrairieWifeInHeels.com is celebrating our One Year Anniversary with a month of Giveaways. After you read this interview take a moment to enter to win a $25 gift card to the Floral Rhino. Don't worry if you don't live in Wyoming, they have an online boutique! Marcy also has a special deal for ALL of our readers. Stop by The Floral Rhino and mention this article and get 5% off! Also, The Wyoming Woman's Expo is coming to Casper, Wyoming this weekend. The Floral Rhino will have a sponsor booth so make sure to stop by! Click here for the address, phone number, and hours of The Floral Rhino.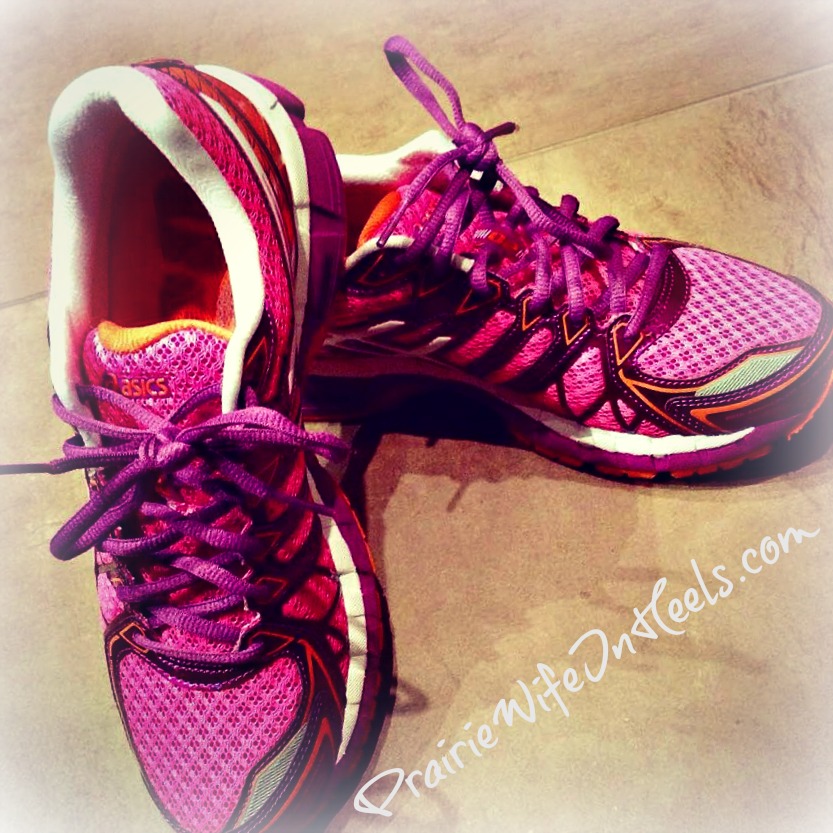 Prairie Wife (PW): First tell us a little bit about your family?
Marcy (M): Though I was born in Utah, my parents were both Wyoming natives, and I grew up in Cody, Wyoming from the age of two, along with my older sister. I met my husband Brian when I was living in Dallas, TX teaching a High School business/computer course. My cousin is actually the one who introduced us, though it took him months of trying to finally make it happen! We did the long distance thing for a few months and then when the school year ended, I moved to Laramie, Wyoming to be with Brian. We were married a year and a half later. Soon after we married, we moved to Casper, Wyoming, and he started his Crazy Rainbow fishing guide business. When we became pregnant with Brice, my first son, we purchased the Ugly Bug Fly Shop. Looking back, there were some crazy years for us, but we seem to have made it through just fine. Isn't it amazing how things happen?
PW: You are the owner of one of my favorite boutiques, Floral Rhino. Have you always wanted to own a boutique?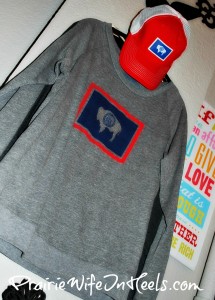 M: I actually worked retail with my parents all of my childhood and hated it (mostly because it was rodeo themed, and I am not a cowgirl!) So, if you had told me that one day I would be running my own boutique, I'd have called you crazy. It's actually something that just evolved from an innocent statement…I love to buy gifts for friends; it's such a joy to me when I can find just the right gift. For years I have kept a notebook full of ideas and products. When I came across something that struck a chord for me, I would simply jot down the brand of gift and the name of the friend it would be perfect for (or myself). The notebook was my go-to for ordering online.
My family travels quite a bit, and I enjoy going into boutiques with my little notebook and seeing all the variety of products from town to town, country to country. I felt disappointed that Casper didn't have a boutique that offered the gifts I wanted for my friends and family. I would have much rather spent my money here in Wyoming. One day I was complaining yet again about this void, and my husband looked at me and said, "Why don't you do it?" It was when my second son was getting ready to enter Kindergarten, and the timing was right for me so…I did it!
PW: How did you decide on the name and the vibe for your boutique?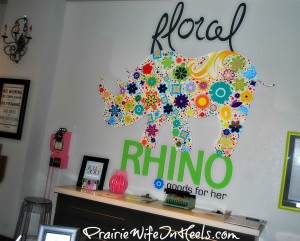 M: I spent days and weeks brainstorming, and I had a huge list of names of every flower and animal you could think of. I really wanted something that was unique and feminine but not too delicate. Then, like these things do, it just came to me! Right as I thought of the name the Floral Rhino, a picture of our logo came to me as well. It was fate, I guess! As far as our vibe…that's a hard thing for me to define. I wanted to not be blatantly cowgirl or country (we already have some amazing boutiques carrying those products here in Casper) but still fit the unique Wyoming vibe of chic yet practical, tough yet feminine, and urban but casual. I guess you could say us Wyoming women are a mixture of many great qualities, and the somewhat eclectic feel of my store reflects that! My desire was to meet the needs of the women of Wyoming. I want my store to be a place you walk into looking for the perfect gift for that one person, and instead find the perfect gift for everyone on your list and a little treat for yourself too!
PW: Do you have a background in business?
M: As I mentioned before, my parents were always business owners, and I learned a lot from watching and helping them. I have dual degrees in Business Marketing and Management, and I spent a lot of years in that field working for a variety of different businesses. Because of all this and my experience with my husband's businesses, I wasn't intimidated to start one of my own.
PW: Can you tell me what setting up a boutique involves?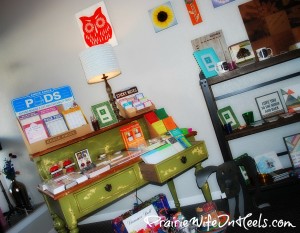 M: First, I had to find the space for the store. I was lucky that between family and friends I had a connection for the perfect downtown location. It actually started as an office for me to help with some of the family accounting, and I was able to transform it into the boutique. I met with a contractor to modify the space and piece by piece began to gather up the furniture and cases for my displays.
I had to apply for all the permits and the tax paperwork, which is no fun but necessary. I had a financial adviser that helped walk me through the process. As far as getting stock, I simply started out by contacting my favorite companies from my notebook, and I started wholesale accounts with them. Then, I began meeting with company representatives out of my home until the boutique space was finished. For our soft opening, I did a private event with friends, family, and some people from the community. I am so thankful that we did that. It really allowed me to see what was popular and get some ideas in place for the next week when we officially opened our doors!
PW: How do you decide what brands and products you are going to sell, and could you walk us through your process for picking out your products?
M: Just like when I was shopping for my friends and family, if I am in a store and there is a product I like, I write it down in my notebook. Now, instead of buying it then or ordering it online, I just contact the rep. They often let me know of other products that I might be interested in. For right now, I buy things I like and so far it seems to be working.
PW: What have been the pros and cons of being a small business owner in Wyoming?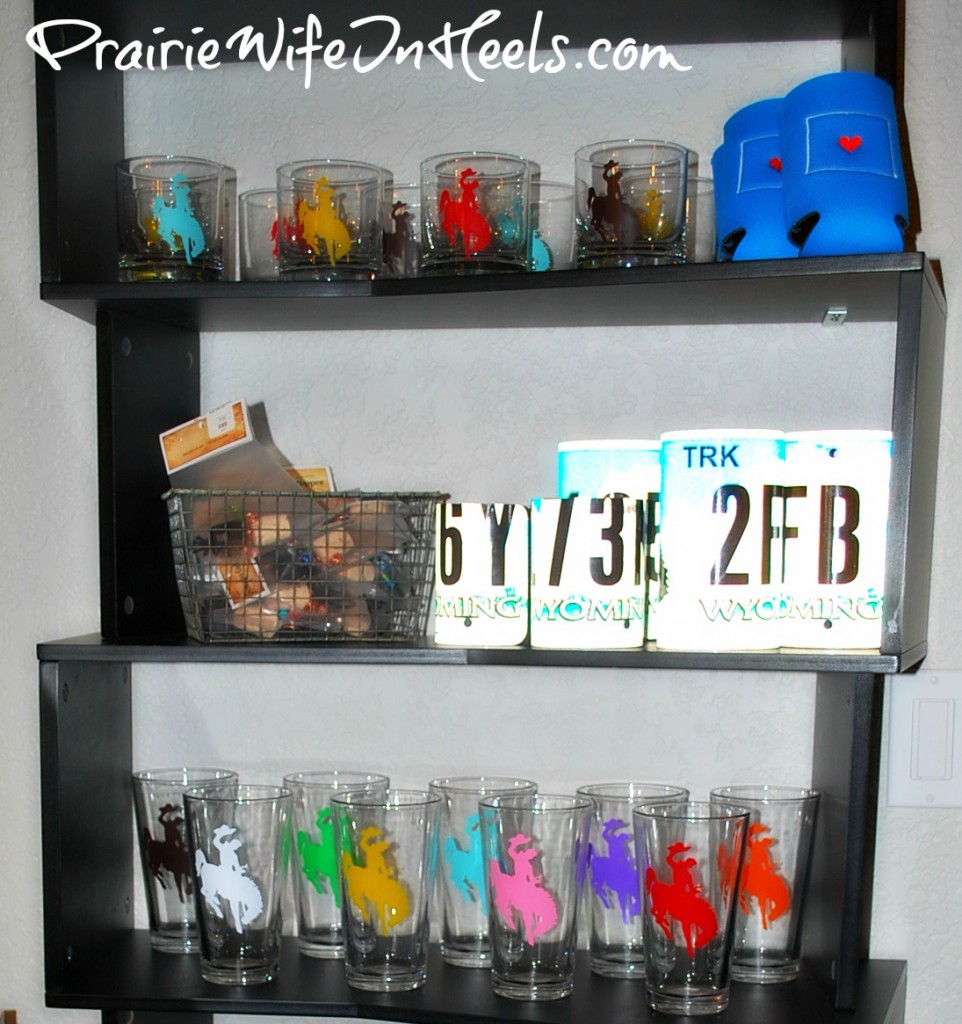 M: It'll be three years at the end of October since we first opened. The lack of population in Wyoming can be really difficult. When it is the holiday season, we are really busy, but the rest of the year you just never know when our customers will be coming in. Drawing people to the store can be hard. In Wyoming, you simply can't underestimate the power of word of mouth. The longer we have been here, the more people learn about us…so if you stop by and love us, tell your friends about it too! A major positive is the loyalty of our customers. In Wyoming, if people love you, they support you in any way they can. I am really proud to have brought something new to our town, and I love being a positive part of the community.
PW: Any advice for other women that are dreaming of setting up their own boutique?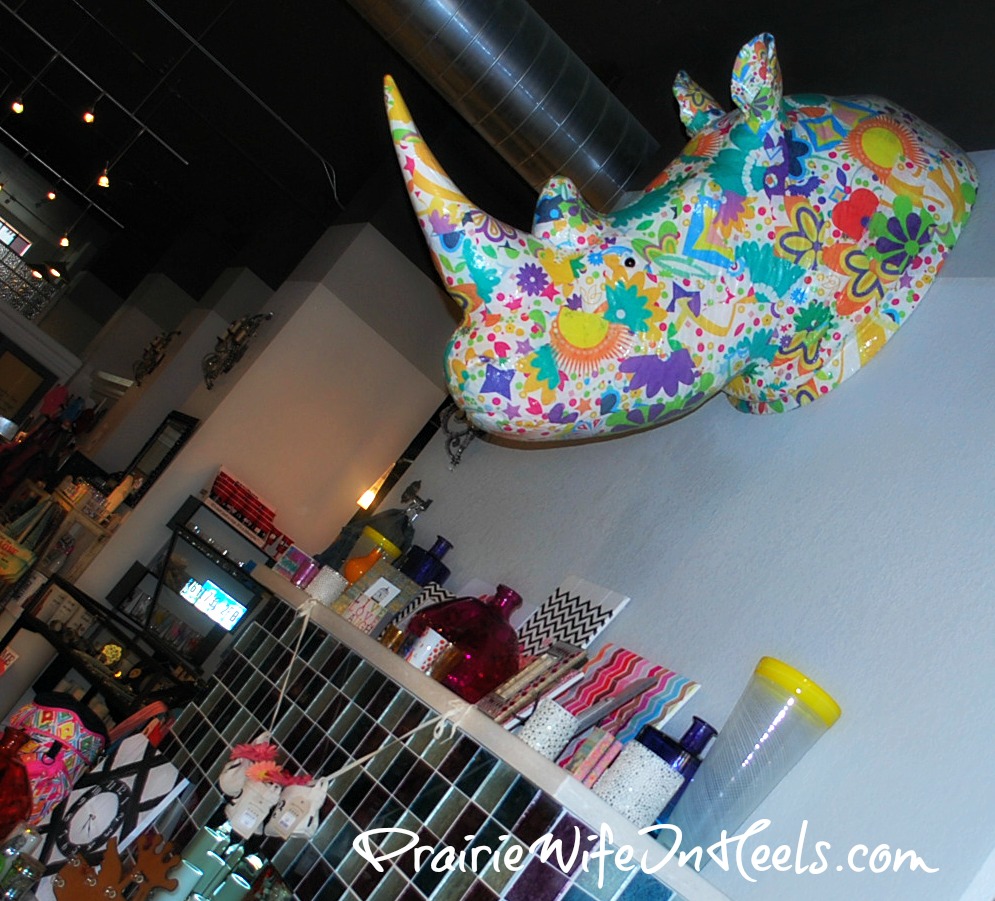 M: Make sure you love the products you're selling, be true to yourself, and come up with your own special niche. There are going to be long hours and there may be sacrifices that need to be made. You have to relinquish some of the control to others and be OK with chaos at times. Dot your I's and cross your T's with the financial aspects and know when to seek help from the professionals. In the end, remember to breathe. If you are doing what you love and giving it all you can, things will always work out in the end.
PW: How do you keep your balance (sanity) between being a woman, wife, mother, and business owner?
M: I have a very flexible and amazing family. My husband and kids are so supportive and understanding about when I need to focus on the boutique. It helps that Brian is a business owner himself, and he knows what the first few years are like and supports me in the same ways I supported him. I am so thankful for my ability to focus and get the job done, as well as being able to multitask…a true life savor!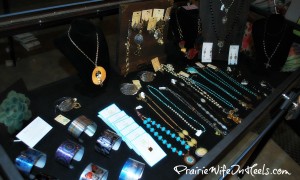 I find that making jewelry helps me to keep my mind in the right place; you might say it's my Zen. I belong to a Bible study group, which helps nourish my soul. To keep my body strong, I try to spend time in the Wyoming Mountains hiking, running, and snowshoeing. I travel and love to see new places, which helps refresh my creative spirit. A lot of these things I can do with my family, and it keeps us focused on spending time together and making memories.
PW: What are your professional goals over the next five years?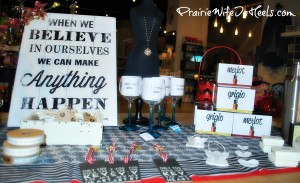 M: Stay above water…LOL! I don't see myself expanding my store physically; I really enjoy having a boutique that offers unique handpicked gifts to my customers. That personal touch and being hands-on is what brings me the most fulfillment. Continuing to draw more customers to the store and continuing to get the word out would be wonderful.
PW: Any last Prairie Wife words of wisdom?
M: "Whatever you want to do, if you want to be great at it, you have to love it and be able to make sacrifices for it." Maya Angelou
Take a moment to enter to win a $25 gift card to the Floral Rhino. Don't worry if you don't live in Wyoming, they have an online boutique! Marcy also has a special deal for ALL of our readers. Stop by The Floral Rhino and mention this article and get 5% off! All you HAVE to do to enter is leave a comment below (scroll to the bottom of the page). Earn more points by following us on social media. Don't forget to be honest, we will be checking to make sure you truly are following us.
Categories: #GiveAways, Life As It Happens, Prairie Wife of the Week
Tags: , Boutique, Floral Rhino, gifts, Giveaway, Prairie Wife of the Week, shopping, small buisness