Cinco de Mayo Taco Soup
Posted May 5, 2014 by Texas Two Steppin' -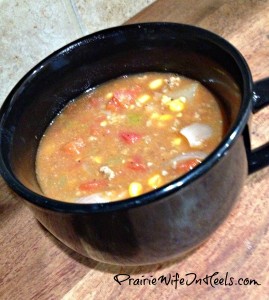 May 5 is Cinco de Mayo—a celebration of Mexican-American heritage that began as a way to commemorate freedom and democracy during the first years of the Civil War. Since I live in Texas and eat Tex Mex at least once a week, I was asked to supply the main meal recipe for this week. Now, this is not a traditional Mexican meal or even a traditional taco soup, but it is quick, easy and will appeal to everyone in your home. If you feel you family can handle some more spice, feel free to add a chopped jalapeno (or two). ¡Buen apetito!
Basic Soup:
2 lbs. ground sirloin (If you would like to use another type of meat, feel free. I've even substituted two cans of black beans for a vegetarian take on the soup)
3 large chopped onions
4 garlic cloves, chopped
2 cans Rotel (10 oz. each) (This is a staple in Texas kitchens and is basically a combo of tomatoes and green chiles. If you can't find it in your supermarket you can substitute fire roasted, diced tomatoes and add another can of green chiles.)
2 cans (4 oz. each) diced green chiles (I promise that these aren't hot and spicy, but you can omit them if you are nervous)
1 can (6 oz.) tomato paste
3 packages taco seasoning
32 oz. beef broth
2 cans (14.5 oz. each) diced tomatoes
2 cans (14.5 oz. each) cream style corn (I know this sounds loco, but it makes for a richer soup. I now use it in many of mine; it's especially good in potato soup)
2 cans (14.5 oz. each) whole kernel corn
Toppings:
Cheddar cheese, green onions, sour cream, tortilla chip strips
In a large pot, brown the ground sirloin, seasoned with one package of taco seasoning, over medium heat. Drain excess fat, and sauté onions and garlic until translucent. Add taco mix, Rotel, chiles, tomato paste, and about 24 oz. of beef broth. Stir thoroughly and bring to a boil. Add diced tomatoes and both types of corn. Stir again and slowly add remaining broth until it is the consistency your family prefers. If it is still too "chunky," remember you can always add additional broth or water. Heat, add your favorite toppings and enjoy!
Categories: This and That
Tags: , beef, recipe, rotel, soup, taco, Tex Mex