Planning a Child's Birthday Party
Posted May 4, 2014 by Prairie Wife - 3 comments
Birthday's are always a big deal around here, I totally admit that I tend to go a little crazy, it's just so much fun and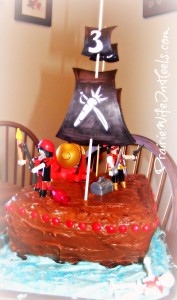 the kids are always so excited! When I started as a mom it was way before the whole Pinterest phenomenon, so most of my ideas for the kids' birthday parties had to come from me, and the kids favorite books at the time. We had a Buccaneer Bunny Pirate party for Cowboy J and a superhero party where the kids made capes to take home. My favorite for Cowgirl G was a Fancy Nancy party with a fashion boutique and a modeling show (read the book it is so cute)!
Now with Pinterest you can simply type in your theme and be barraged with a million ideas for how to create the perfect birthday party. I have found that this can be both a blessing and a curse…I was super proud of my cakes until I saw the Cake Boss type beauties that mothers across the nation were whipping up for their kids. And while I appreciate the darling theme parties, I am not going to turn my house into a princess castle complete with a pumpkin carriage for kids to ride in!
I think that over the years people have somewhat gotten trapped in the thought that bigger is better. While I support the idea of a theme party, friends over, and a bunch of games I am not going to throw a party for my kid that costs more than my wedding! On the practical side, with four kids I simply can't afford to have a big bash at the pool or bowling alley for each kid every year. So around here we rotate the big parties with smaller parties at the house. Cowboy J had a bowling alley party last year so this year we just had a quiet family party. This year Cowgirl G is having a PJ party with a few of her friends at the house, so probably next year will be a big party year for her. At 4 Cowboy Wes really doesn't care about a big party, so we will just celebrate with our neighbors and his best buddy here at the house.
Below is a list of what I do to keep our parties both festive and budget friendly. Don't forget to stop by and visit us at Pinterest for some inspiration!
• Pick a theme with your child; it just makes things easier to plan. We really like book themes around here, like Cowgirl G's Pinkalicious party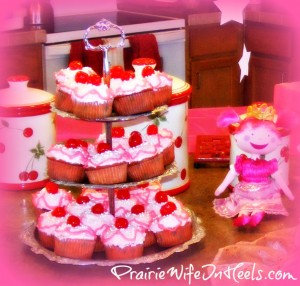 (and then one of the activities can be reading the book).
• Invite as many friends as your child is old (6 friends for a 6 year old etc.).
• Make it clear if you expect parents to stay or drop their kids off (or if you don't care).
• I find that 3-4 hours is the perfect amount of time.
• Stagger the supervised activities with free play time. I really like them to just play for the first 30 minutes while all the friends are arriving. Then pull them together for a game or activity and let them loose again while you clean up and get ready for the next activity.
• For a 3-4 hour party I plan 2 games with an extra one just in case. It's amazing how much time 2 games, cake, and present opening can take!
• Buy decorations that can be used more than once. We have used Cowgirl G's flower decorations for a Teddy Bear tea party theme, Pinkalicious, and Fancy Nancy!
• Making a theme cake is fun and the kids love it but, sometimes you just don't have time! Make cupcakes and buy sprinkles that coordinate with your theme, and then let the kids decorate the cupcakes themselves!
• I like to send a craft home rather than a goodie bag, it allows you to have an activity and something extra special for them to take home.
• Think nontraditional for goodie bags, one year we sent a book home with each kid that matched the theme. It was so much easier that stuffing bags and cheaper too!
• If you are having an outdoor party, make sure it can easily be transferred inside; you never know what Mother Nature will do!
What kind of parties have you thrown for your kids? I'd love to get inspired by you!
Categories: Life As It Happens
Tags: , Birthday Parties, cakes, motherhood, parenting, party planning