Prairie Wife of the Week January 10, 2014 (artist Ginny Butcher)
Posted January 10, 2014 by Prairie Wife -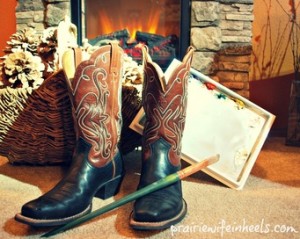 I met Ginny when we moved to the Prairie Homestead almost 6 years ago, and she has since become not only a close friend but a mentor as well. Her open and honest advice about life as a woman, wife, and mother has kept me from stepping in more than a few gopher holes. Add to this a great sense of humor and a desire to share the beauty of the world with others, and I'm sure you can see why she was the perfect choice for our Prairie Wife of the Week.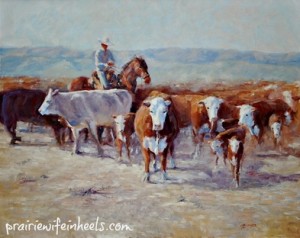 (The above picture was painted by Ginny for The Cowboy's 30th birthday gift)
Prairie Wife (PW): First tell us a little bit about your family and who you are right now.
Ginny (G): I've been married for 17 years and I live with my husband, dog and cat, outside of a small town in Wyoming. I have a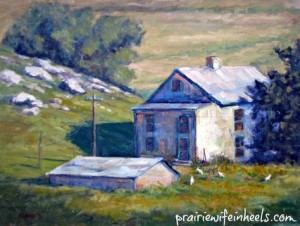 son and a daughter and two step sons. This year I am taking steps to reassess who I am as an artist, my style and personality as a painter, and how to better market my work. It has taken me years to form my identity as a painter and now because my main focus is my art, I am beginning to mature as an artist.
PW: When did you first realize that art was important to you?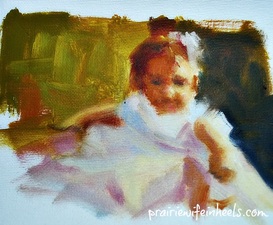 G: I don't ever recall a time when it wasn't. I have always identified myself as an artist and wanted to paint pictures for my career. As a child I remember painting outside with my brothers; we were painting a picture of our house. I always got watercolor sets for any gift giving occasion. My mother was a professional artist in Boston, and she gave me art instruction in drawing. I just thought that was normal, I didn't' realize until I was an adult that it wasn't the normal experience. It was so helpful to me as a budding artist. As a teenager I spent hours drawing hands, faces and feet. Later on I learned that those were called studies, though I had no idea then! When I shared my notion of "painting pictures for a living" with the adults in my life, I was often met with the more practical advice to become an art teacher or go into commercial art.I didn't want to do either of those things so I rather rebelliously turned my back on the whole idea of a career in anything.
PW: How did you fit your art into life as a single mother?
G: As I said I didn't paint for years, about 20 years. So, when I first became a mother I wasn't painting. When I became a single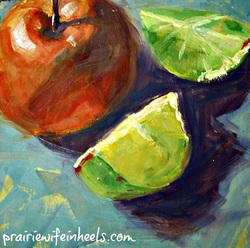 mom I had the opportunity to attend college and I had to take a Fine Arts course. I chose drawing and the instructor asked me why I was in the Elementary Education program. He felt that my drawing ability was equal to that of the top 10% of the professional art community. I wasn't that excited about being a teacher anyway, so I changed my major to Fine Art. I started to paint a little bit at home but I was a single mother and working two jobs, so most of my paintings were simply to complete assignments. After I graduated, I did a little painting here and there, but I was still so busy with the necessities of raising a family that I wasn't able to do much. When I remarried, and only had to work one job (and had some help at home), I began to immerse myself in art again.
PW: What led you to make the decision to try and have art be your "job"?
G: I took a workshop with Dinah Worman (a Taos, New Mexico artist) and she said I should put my work in a gallery; it was another important moment for me as an artist. It encouraged me to take my art seriously and go for it. As I said, I always have considered myself an artist, but this is when I began to focus on painting as a profession, and to try to sell my work. I started to enter painting contests and to show some of my paintings in local galleries..
PW: How have you seen yourself change as an artist over the years?
G: I have grown in patience and perseverance. My work has matured over the years but, I am finding that it is a lifelong pursuit. I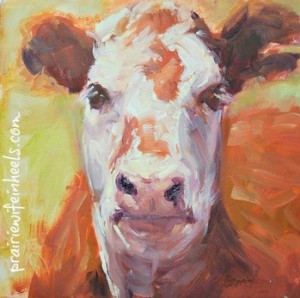 have been a professional artist long enough to know that there are only milestones along the way, no arriving. I started out working mainly in pastels and then I switched to oil because I admired so many oil paintings. While I still occasionally work with pastels, I just love oil painting. It satisfies my spirit in an unexplainable way.
PW: What do you do for inspiration, how do you keep from getting bored with a medium or subject matter?
G: I know now that inspiration has more to do with my attitude than anything else. I don't always feel inspired but, if I redirect my attention to playful exploration I find that inspiration soon comes. For example right now I am painting using only four colors; white, black, red, and yellow ochre (the Zorn pallet). It has taught me about color relationships and how important they are in making a great painting (see pictures below). I feel that God has put so much beauty on this Earth, when I paint I know that I am sharing that beauty with others. I want my art to give hope and comfort to others.
PW: How do you share your love of art with others?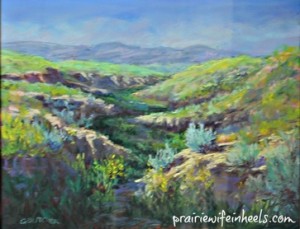 G: Well the first art class I ever taught was a 4 week long Plein Air Class (outdoor painting). It was ironic because I hadn't painted Plein Air since my brothers and I painted our house as children! But it turned out alright, and taught me a lot, and my students learned a lot too.
I have taught a few workshops in the past and I am always available to do more. I meet with a group of local artists weekly and we keep each other encouraged. I have a blog Ginny Butcher's Almost Daily Paintings.blogspot.com and I have a Facebook page. And just last year I painted a mural at our local community center. My work is featured at the Deselms Fine Art Gallery in Cheyenne, Wyoming, Blackhawk Gallery in Saratoga, Wyoming, and on Dailypaintworks.com, and of course my studio is always open!
PW: What advice would you give someone that is interested in becoming an artist, or looking to learn how to paint?
G: If you are interested in becoming an artist don't be afraid and never give up. Don't listen to the naysayers; be like Nike "just do it!" Find good instruction and encouraging helpful people. There is so much on the internet; it is an amazing resource for instruction, never underestimate the power of YouTube. Set flexible goals for yourself, and paint as much as you can.
PW: What are your future goals for yourself?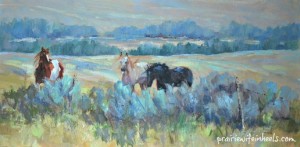 G: Improve my work, teach more, participate in bigger shows, and join more galleries.
PW: What is your favorite work that you have done, and why?
G: I don't have a favorite. I guess I can say that my favorites are the ones where I learned something new, or achieved a new understanding of the process as I painted. It always seems that the paintings I like the least are the ones that sell first at show!
PW: Any last Prairie Wife words of wisdom?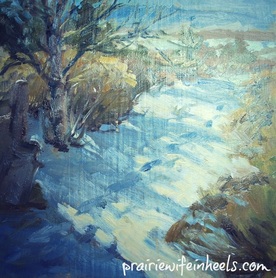 G: Throughout the years there have been many areas of my life where I have been unsatisfied. When I feel myself struggling, I have learned to set a goal and trust in the process. This journey always leads me above and beyond where I planned to end, you just have to stay focused and determined and stick with it. Follow in the footsteps of others, but don't reinvent the wheel. There comes a point when you need to take courage, and make your own way.
Categories: Life As It Happens, Prairie Wife of the Week
Tags: , art, paintings, prairie, wife