A Winter's Tale by Trisha Ashley
Posted December 12, 2013 by Prairie Wife - 1 comment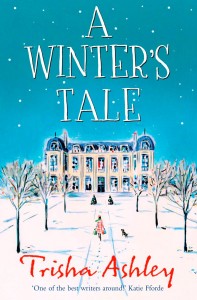 I am not ashamed to say that I love all things British. I can't really tell you when my obsession with things "across the Pond" began. Maybe it was when I watched the movie Mary Poppins, or when Pa read me The Secret Garden for the first time, or in grade school when I first began to read Mary Stewart (Cowgirl G is named after one of her characters). As I grew up I couldn't get enough of British accents in movies and books set in England in any time period. I even threw a tea party for my friends and their little girls when Prince William and Kate got married. Other than accidentally setting the tea bags on fire, it was a smashing success! And don't even get me started on the absolute amazingness (yes spell check I know that's not a real word) that is Downton Abbey!
Over the years I have amassed quite a collection of authors I enjoy from England, I just love reading about people eating biscuits (cookies) while wearing pullovers (sweaters) and getting a box of nappies (diapers) out of the boot (trunk) of their car. I thoroughly enjoy Jill Mansell, Helen Fielding, Natasha Solomons, and of course J.K. Rowling.
But, this year I made the discovery of an author that has now moved into my top 10 favorite authors of all time. I found a book that had me glued, A Winter's Tale By Trisha Ashley. After stumbling across this book (it was the second of hers I had read) I rapidly devoured all of Trisha Ashley's books that were available on the Kindle. Thankfully I discovered her just a week before Cowbaby was born, so I had lots of late night hours to read. And, even though it sounds a little crazy stalkerish, when she started to follow Prairie Wife on Twitter I did a little happy dance in the middle of the Denver airport, and took a screen shot. After my heart rate finally returned to normal I called The Cowboy and said, "She knows I exist!" Of course if she reads this she may promptly unfollow me on Twitter, but I will still have the screen shot I took! For more information on Ashley go to her site, http://www.trishaashley.com/
What draws me to Ashley's work is her strong female characters and eccentric English village settings. Her female leads have just enough personality quirks to make them familiar and real to the reader. Who doesn't overindulge in cake and bacon sometimes? As I read her books I find myself instantly rooting for the female lead to reach her happy ending, and longing to live in the neighboring cottage just to keep tabs on all the events! Because it was the book that lead me to Trisha Ashley; I decided to review A Winter's Tale.
A Winter's Tale starts out with Sophy inheriting an ancient family manor that is slowly falling down around her elderly family's ears. Add a dark and brooding head gardener, a dashing cousin, a ghost, and more than a few other eccentric characters and you have the whirlwind that becomes Sophy's life. Though we have an inkling that Sophy will buckle down and take over, there are just enough obstacles in her way to make you wonder if she should stick around, or turn tail and run! In true Ashley style Sophy is a strong woman with brains and grit (sounds like a perfect Prairie Wife to me) looking for her place in the world. During her journey she runs into a man, and will need to decide if he is worth her time. This book made me laugh out loud repeatedly; and I have to admit I felt a small sense of loss when it was done. Thankfully Ashley has six other books that take place in or near the same Lancashire village, and familiar characters from other books tend to show up, so I didn't need to mourn for long!
a Rafflecopter giveaway

Categories: Book Reviews, Reviews
Tags: , a winters tale, Book Review, Brit Lit, Chic Lit, trisha ashley