Gone Girl by Gillian Flynn
Posted August 9, 2014 by Prairie Wife - 6 comments
So…I have to admit that I am a little late to get on the Gillian Flynn Gone Girl bandwagon. Really it's because I'm a bit of a snob. I get a lot of ideas of what books to read from book reviews, but more often than not I find that the books that are shouted about the most don't end up being that great. Perhaps it's the built up sense of excitement and high expectations, but I find that I've been disappointed more than a few times.
I also fully admit that I put most of the books I want to read onto my Amazon.com wish list (best invention ever), and then wait until they get to a certain price point. Unless they are written by a favorite author or the final book in a trilogy I just can't wait to read (The Book of Life by Deborah Harkness was worth the 11.99) I can't justify paying full Kindle price, especially when I read on average 2-5 books a week. Maybe waiting a year to read a book takes some of the shine away as well.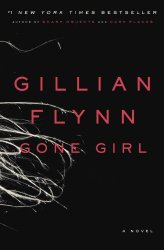 I am here to say with hat in hand that Gone Girl by Gillian Flynn deserves every single bit of praise that it received and more! If you don't like, dare I say love, this book I am going to seriously question whether or not we can be friends. In short Gone Girl is about a woman (Amazing Amy) in her late 30's who simply disappears. The first part of the book is told by real time comments from Amy's husband and her diary entries written over several years. The quest for her takes over a small Mississippi town, and eventually the nation.
I'm not afraid to say that I was absolutely convinced I knew exactly what happened by the time I got to part two of the book. I even wrote my opinion on Facebook…only to be completely floored once I began Part Two. Gillian Flynn is a plot writing genius! I'm not a big fan of mysteries, I've only found a few others that were worthy of a review from me in the past year, but this book is so much more than a mystery. It's a book with romance, suspense, thrills and a who-dunnit of the best kind. Gone Girl is a voyeuristic look into the deep inner psyche of a marriage that will make you hug your husband when you are done…and then have him read it so he appreciates you too. BUY THIS BOOK…and read it!
Have you read it? What did you think (put "spoiler alert" at the top of your comment please)?
Does it sound like a book you would like?
Categories: Book Reviews, Reviews
Tags: , Book Review, Gillian Flynn, Gone Girl, Mystery, Romance, suspense, thriller