Every Woman for Herself by Trisha Ashley #giveaway
Posted May 8, 2014 by Prairie Wife - 14 comments
It's snowing as I type this…really and truly snowing. We had a few days in the 70's. Days full of sun and dare I say hope?! And now snow again; Mother Nature is truly teasing me in a most unkind way. I know that it will be a muddy, cold, windy, night to do chores but I have a flickering light at the end of this snowy Spring tunnel. I've made it no secret that Trisha Ashley is one of my favorite writers ever. Through the wonders of Twitter I have been lucky enough to catch her eye and we have conversed through Tweets and e-mail. She even commented on my review of her book A Winter's Tale but alas, when we changed to our new website it was lost…sigh!
But back to the light…Trisha Ashley has just re-released her book Every Woman for Herself! It has a snazzy new cover and some delicious new recipe's added to it. I can attest to her ability to whip up a delicious meal in the kitchen. Under her sage advice I made my first Mince Pies, they were a huge hit with all the Cowkids.
Every Woman for Herself was the first of Trisha Ashley's books that I ever read, so it holds a special spot in my heart! This is a light hearted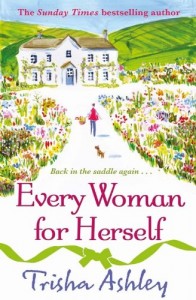 book about a recently divorced woman (good riddance to her jerk of a husband) and her relocation back to her childhood home. The main character Charlie, is a middle aged woman who is finally learning just what she is made of. Charlie is enduring but has more than enough sass to keep you interested, and I loved traveling with her on her journey of self discovery. The plot hums along nicely with quirky characters (a witch and a crazy stalker just to name two) and a brooding yet charming love interest. This book will leave you with a warm glow (which I really need in this terrible weather) and a sense of satisfaction, I highly recommend it for a relaxing read that will make you crack more than a few smiles and maybe even giggle out loud!
Enter below to win a copy of Every Woman For Herself signed by the author Trisha Ashley!
Note: We'd be more than happy to ship a signed book across The Pond if our winner is in Europe!
Categories: Book Reviews, Reviews
Tags: , Book Review, Brit Chic Lit, Chic Lit, Fiction, Giveaway, signed copy, Trish Ashley