Summer Vacation for Our Prairie Wives
Posted August 14, 2015 by Prairie Wife -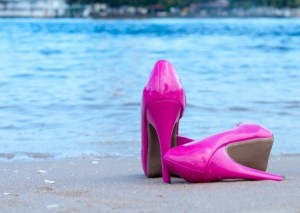 Some of you may have noticed that our Prairie Wife of the Week feature went to every other week after LittleMissH was born.
I've had some readers asking what's going on and wondering if we've run out of Prairie Wives to interview…I assure you that is not the case at all. If anything we have more than ever, as we have more and more fans of our blog telling us about wonderful Prairie Wives in their lives.
Just to give a quick idea about how our blog works, the majority of the posts are written by me, Prairie Wife. We have two frequent contributors TallGirlJ and BonitaBlueEyes and of course my big sis Texas Two Steppin' contributes when she can. I sneak in my writing time between taking care of the 5 Cowkids, doing chores in the house and outside with animals, spending time with The Cowboy and taking a few minutes of time to hang out with my friends and family…somewhere in there is also sleeping and working out. I also need to spend time online doing posts on Social Media, responding to e-mails and trying to keep an eye on all the amazing blogs out there I love to read. All in all I currently spend anywhere from 3-6 hours a week doing work for the blog. Luckily my busy brain is full of ideas and life keeps on throwing new things at me to write about, so to sit down and write a post takes me usually only 30 minutes to an hour depending on the length, topic, and editing (adding pictures and links) that it requires.
On the other hand, our Prairie Wife Interviews tend take between 3 and 5 hours for each one. I first need to contact the future Prairie Wives and share our Prairie Wife Guarantee with them and make sure they feel comfortable with my vision for the interview. Then I need to write and send interview questions to them. After that I have to either meet them in person or do a phone interview. Then comes the editing. There is always extra pressure to do a great job with this part, after all I want them to be proud of the final product. We don't put anything up without there final approval. Like me, most Prairie Wives are pretty busy gals, so there can be some delays with all this communicating!
With Summer here I've found that many of our Prairie Wives are traveling or simply up to their neck in activities and family fun…and frankly I'm finding I'd much rather get outside with the Cowkids than sit in front of my computer typing away.
So…I've decided that we're going to take a bit of a break from our Prairie Wife of the Week posts. Have no fear they will be back in the Fall! But, I'd rather take some time off, then put out interviews that are not our best work. I'm sure you agree!
Just as a teaser I'll let you know that in our Fall lineup we have a follow up interview with Sarah where we learn how her adoption of Vitaliy from the Ukraine is going, a female tattoo artist that has opened up her own shop, a children's book illustrator, and I've got a few big name interviews that I'm waiting to hear about (fingers crossed for me)!
If you know of anyone you'd like us to add to our Prairie Wife schedule leave their name in the comments section. We've had some big names on the site and I'm more than willing to ask anyone, so let me know whose story you want to hear!
Copyright: pipehorse / 123RF Stock Photo
Categories: Prairie Wife of the Week
Tags: , interviews, Prairie Wife of the Week, summer, summer vacation, taking a break