5 Ways to Fall In Love With Running (again)
Posted June 27, 2015 by Prairie Wife -
Raise your hand if you love to run! I bet we have a mixture of reactions there. Die hard runners and newbies are fist pumping with a smile on their faces. Some of you are rolling your eyes and clicking the close tab. While others of you are remembering when you used to love running, and probably feeling a little defeated that it just isn't what it use to be for you. I began running five years ago before I became pregnant with Cowboy W, and while it took me weeks to run even one mile without stopping I fell in love with it! Now I'm up to being able to run a 10k in under an hour and a new goal of a half marathon is in my sites. I plan to reach that goal next year, it would be too much stress to try and reach it this year, so soon after the birth of LittleMissH. That being said I have found myself feeling bored with running and more often than not my motivation just isn't there. Once I force myself to get started and hit that 1 mile mark, I get the "runners high" and all is well but, I wanted to share some tricks I have been using to find that motivation to get going!
1. Update Your Playlist
This is one of the easiest ways to freshen up your run! I always find that when I add a few new songs to my running playlist my whole run seems more exciting. My current favs are Geronimo, Shut up and Dance, and Fight Song…as soon as they start to play I find myself smiling and kicking it into high gear! Don't forget to add these great songs too.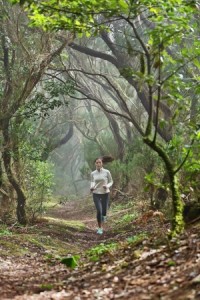 2. Run Somewhere New
For the sake of ease (remember I have five kids and a husband that's gone all week) I usually run in two places. Either the dirt road outside our house or the two lane highway located by TallGirlJ's place. While the Prairie views with the mountains and cows in the background are stunning, I'm getting a little bored with my route. The other day I switched it up and ran at a park in town, it felt great, challenged me in new ways, and resulted in one of my best running times of the summer! Just switching your route every few weeks is a great way to get re-energized!
3. Reward Yourself
One of the best ways for me to ensure that I keep on running is to set a goal for myself. Sometimes it's a time goal, more often than not it's a distance one, and currently it's a weight loss goal (10lb of baby weight left). For me the best thing to keep me motivated is a little bribery! When I lost my last 10lb I went in and got a new pair of running shoes and a few new bright colored running tops (maybe get yourself one of our awesome Prairie Wife shirts). Not only did it feel great to buy the new workout gear guilt free but, my new gear makes me more excited to get dressed and go.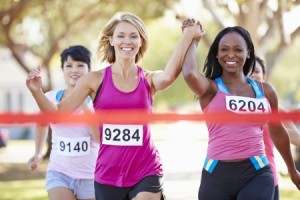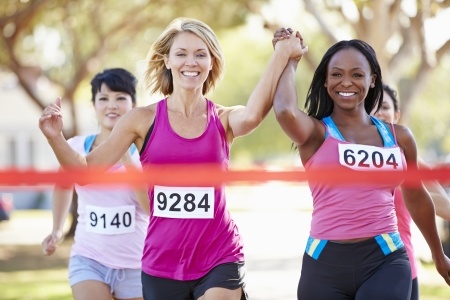 4. Use the Buddy System
Over a year later and I still love my FitBit, feeling it vibrate and declare I met my step goal and then taking a look at all my extra steps on my running days is a big motivator for me. FitBit recently added challenges to their software and I love to do these! You simply pick a list of friends and challenge them to meet their goal or beat you in steps over the course of a day, weekend, or work week. Seeing everyone racing to beat me ensures I don't skip my run, and I even tend to push it a little farther. I have found that scheduling to run with someone else (read about our mama boot camp here) not only ensures that I won't skip my workout but, we tend to touch base over the course of the week as well and encourage each other.
5. Enter a Race
TallGirlJ and I signed up for an Insane Inflatable 5k last year when we were still pregnant. We knew that paying the money and having a race to prepare for would get us off our postpartum butts and moving! Nothing is more exhilarating than meeting up with a bunch of friends to run/walk a race! The fun of making some great memories (follow PrairieWifeInHeels.com on Instagram to see pics) and having my family at the finish line to cheer for me can't be beat. I also love that so many races take the money and donate it to a great cause, it's a wonderful way to help myself and my community! Get inspired by reading about this Prairie Wife who completed the Boston Marathon.
What keeps you motivated to keep running?
Copyright: stockbroker / 123RF Stock Photo
Copyright: maridav / 123RF Stock Photo
Categories: Health and Wellness, This and That
Tags: , exercise, Health and Fitness, Health and Motivation, healthy living, love running, motivation to run, running, running tips, workout