Sometimes you Just have to Dance
Posted July 16, 2014 by Prairie Wife - 4 comments
These last few weeks motivation to be productive has been more than a little lacking around here. Well…actually…it's been pretty non existent. The Cowkids have been averaging two baths a week, and I can't really remember the last time I mopped the floor. We've been having a blast going to the beach, playing with friends, and just hanging out. By the end of the day I haven't really been feeling like sweeping or doing chores, so I haven't been.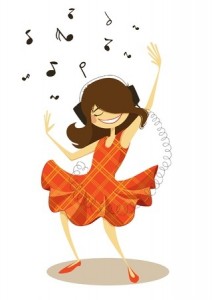 While living out of laundry baskets for the last week has been a little tiresome, The Cowboy hasn't left me yet…so I'm choosing to enjoy it! As I went for a run this weekend I was struck by how motivating music is for me. My ipod battery died when I still had half a mile to go, and it was all I could do not to just lay down on the road. Then I had the extreme pleasure of a girls night out with CollegeBFF and TallGirlJ. We went out for dinner and then headed to the movies to see Tammy. It was pretty hilarious! I can't say that it's a must see but, if you're looking for an excuse to leave the husband with the kids and have some laughs it's perfect. The beginning of the movie started with a super cool rock song, that had TallGirlJ and I singing along (along with half the movie theater), much to CollegeBFF's embarrassment. That led me to this post. Click play, watch a few of these videos, sing and dance along, get some energy, and put that smile on your face!
Here is the song from the opening scene of Tammy…
I love this song, I know that the Dixie Chicks have gotten some crap for their political views, but this song is FUN!
This goes out to all my 90's girls…
OK just one more super girly one…
This is just a great happy summer song, and it makes me smile every time I hear it!
This was THE song we listened to when we were getting ready to go out and party in college!
Everyone has someone that they wish they could send this song to…every time I hear it, I just want to be better!
If you can listen to this and not feel the urge to at least move your head…we can't be friends.
I'll end on this one, I have so many memories with this song and it always makes me smile and think of nights dancing with The Cowboy under the big Wyoming sky.
What song makes you smile?
Photo Credit Copyright: tatianaobukhovich / 123RF Stock Photo
Categories: Life As It Happens
Tags: , Dance, fun, motivation, Music, Prairie Wife Life, videos