Summertime Pasta Salad
Posted July 14, 2014 by Prairie Wife -
This is by far one of my favorite summer recipes! I've been making it for years and it never fails to delight my guests both young and old alike. It is simple to make and just takes two seconds to throw together. It's full of fresh light flavors and not only does it keep fresh in the fridge for days (when covered properly), but by adding chicken or even cooked Italian sausage it can easily be turned from a light lunch or side dish, into a filling dinner! I have to admit that with this recipe I can't give you exact measurements, it's really just something that I throw together and then just taste test to make sure it doesn't need a pinch more of this or that. Normally I'm not a stickler for fresh ingredients but in this recipe you MUST use fresh Basil (not dried) and Mozzarella (not shredded). The Spice Island Garlic and Herb Dipping Spices are vital as well! Give this recipe a try next time you have a guest over for lunch or are attending a neighborhood BBQ, I know you'll come back to thank me 😉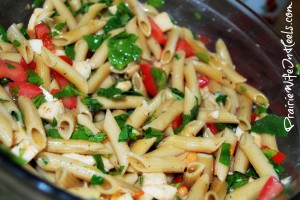 Summertime Pasta Salad
Cooking Time 12 minutes (pasta) Prep Time 5 minutes
Serves 8-10
Ingrediants
1 box of whole wheat or regular pasta, any shape is fine
12-16oz of Fresh Mozerella1/2 cup of Fresh Basil
3 cups of halved Cherry Tomatoes (any kind of tomato will work)
Olive Oil
Spice Island Garlic and Herb Dipping Spices in an adjustable grinder
1. Cook Pasta according to directions on box, drain and place in large bowl.
While Pasta is cooking…
2. Cut Fresh Mozzarella into bite sized squares and add to large bowl.
3. Coarsely chop Fresh Basil leaves and add to large bowl.
4. Add Tomatoes to bowl.
5. Drizzle Pasta, Mozerella, Basil, and Tomatoes with a hearty amount of Olive Oil.
6. Grind Bread Dipping Spices liberally over the top of the pasta, it's better to add a little at first, you can always add more.
7. Mix all of the ingredients together and taste. If it seems a little dry add more Olive Oil, if it needs a bit more flavor add more bread spices.
8. Place in fridge covered and serve cold to guests.
Categories: Recipes, This and That
Tags: , BBQ food, cold pasta salad, meals, On the Side, pasta salad, quick and easy, recipe