Beauty Buffet
Posted July 12, 2014 by Prairie Wife - 2 comments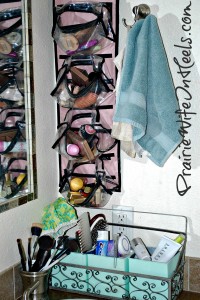 Sometimes there are things in this life that just make me angry…but I usually find that the anger almost always works in my favor because it spurs me to do something that I might not have normally done! Lately as I have been putting on my makeup it has turned into an anger causing situation. Because of my beauty addiction I have a ton of products, maybe a few too many! Up until the last few months it was manageable but because of my fabulous new products from Wantable.com (none of which I am willing to get rid of) I found that my makeup case was starting to become over stuffed. Whenever I reached for a product I found myself having to dig through makeup, or take out a bunch of products and set them on the counter. This resulted in Cowboy C reaching up and running away with my eyeliners and blush, and me being late and flustered on one to many occasions. The final straw was when I went to get out my eyebrow pencil and my Naked2 pallet fell out and into the sink. When I opened it up and saw that one of the powders had cracked, it was the final straw. Something had to be done! My lack of makeup organization was turning my fun and soothing makeup routine into a stressfull mess. I was fine with my container on the counter that held my hair and hygiene products like my Rodan and Fields Skincare Routine and my Heir Atelier Makeup Prep…so that got me thinking about a counter top organizer.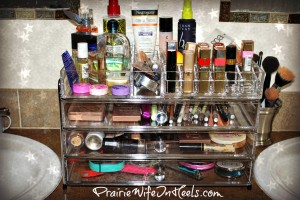 As soon as I had a moment I sat down at the computer and did some searching. After checking out the containerstore.com and amazon.com I went with this makeup organizer from amazon.com. It was more than large enough to meet my needs, but small enough to fit in the space I had planned. When buying a counter top organizer I encourage you to pull out a measuring tape and measure the exact space you have available, and then make sure the container you pick fits in your chosen spot! I also took this opportunity to get rid of any outdated makeup or products I honestly just don't use anymore. I've been using my organizer for almost a month now and I have to tell you…it is amazing! Putting on makeup is back to being a zen experience. When the Cowboy came home and saw it on the counter I was ready for a bit of a scolding…instead he just walked out and said "What's with the Beauty Buffet?" and the name was coined forevermore!
On the top I have all the things that I usually need every day. My face sunscreen and my Urban Decay Primer Spray, perfume, and the few products I use for my five minute every day face. There were great lipstick organizers which I love because it allows me to see at a glance my color choices.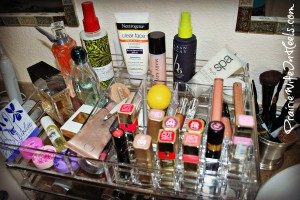 Next drawer down is all of my eye makeup. My multitude of liners (I am obviously addicted) are now easy to see and grab, and there is plenty of room for my Naked2 pallet, mascara and Pixie eyebrow pencil and gel.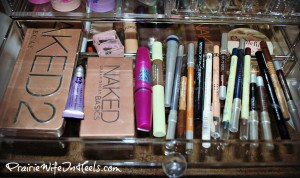 Then I have all of my face products like my Naked Foundation and blush, various highlighting and contouring products, and setting powders.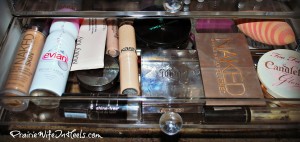 Lastly I have a drawer full of all those things that normally end up spread across the counter; fingernail clippers and a file, my extra FitBit bands, mirrors for checking the back of my hair, pony tail holders, and headbands.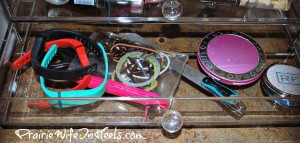 I encourage you to take a moment this summer and go through your beauty products, get rid of your old or unused makeup, and get organized. Not only will it cut down on your prep time but, it will make you makeup routine the zen experience you deserve.
How do you organize your makeup?
Categories: Prairie Wife Style
Tags: , bathroom, Beauty, Makeup, Makeup tips, organization