Wantable
Posted April 12, 2014 by Prairie Wife - 1 comment
Note: I was NOT financially reimbursed in any way for this review. I purchased my Wantable box with The Cowboy's hard earned money…shhh don't tell him!
I have already mentioned how much I love Twitter. Its been a vital tool for me as a blogger and a great way to socialize with people from all over the world. I've "met" some amazing people including one of my favorite authors, an amazing jewelry designer, and some super driven woman (who have created an incredible product). But, I am equally fond of Facebook. It has been wonderful to get in touch with friends from grade and high school. With my family living so far away, it is fabulous that they can log on and see pictures of the Cowkids almost daily. One of my best friends from second grade on (BeautyGal) found me on Facebook, and we've been in touch for years now. Last time I flew back to The City we got together…and it was like we were sophomores in high school again–giggling and talking about makeup. She chatted with me about her new job working for a company called Wantable.
I'm sure a lot of you have heard of "beauty boxes" where you pay a flat rate and a box of products are sent to your door each month.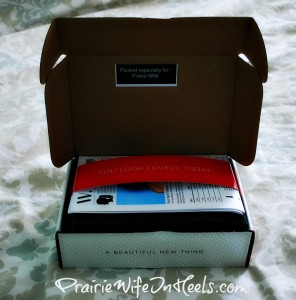 In theory these sound great; they even have bacon boxes now! But, my concern has always been…what happens if you only like one product? For example, the Ulta.com packages always come with a bunch of free samples. Usually I only really use one and the rest sit on the counter, eventually ending up in the trash. Also, what if money suddenly gets tight and you can't justify the expense each month?
Wantable is a subscription service that sends you a box of products to try each month, or you have the option to sign up for just one delivery if you have commitment issues! When BeautyGal started to talk to me about Wantable, I told her right away why I wasn't too excited about the whole "beauty box" idea. There are several things that BeautyGal told me about Wantable that convinced me it was worth a try.
·         They offer three b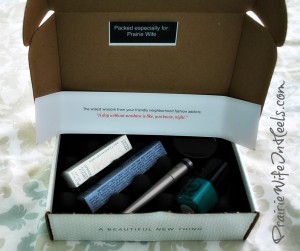 ox types-Makeup, Accessories, or Intimates
·         You answer a series of questions about your personal tastes and preferences (it took me five minutes)
·         They use this data to fill your boxes with goodies that are perfectly suited to you
·         Your first box is delivered to your door in a few days
·         Return any products you don't like (for free), no questions asked…and a new product will be sent to replace it
·         You will never get anything that you put on your dislike list and mostly what you put on your love list
·         You can easily cancel your subscription at any time
When I got back home I took some time while the Cowkids were napping and answered their questions for my subscription. I, of course, picked the makeup box. You know me, I love to try new makeup trends! Like the good little sister I am, I shared the site with my big sister, and Texas Two Steppin' went for the accessories box (watch for a post about that later). Within three days of putting in my order my box was here…and so cleverly packaged too! It was like it was my birthday, and I couldn't wait to tear into it and see what goodies were waiting for me!
I wasn't disappointed! I had a super foxy red lipstick, fun teal nail polish, sapphire eyeliner, highlighter powder, and liquid eye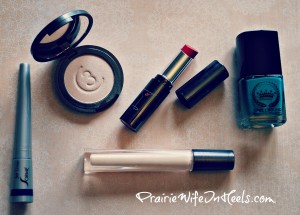 shadow. The red lipstick was obviously a hit with me, and the blue undertones go perfectly with my medium skin. That night I painted my toes the super beachy teal color, and days later they are still in great shape. I have never tried liquid eye shadow and frankly had the most reservations about this product. But, just like the lipstick and highlighter, it went great with my skin tone. It's a light cream color that brightened up my whole eye area. It never sunk in my eyelid creases or smudged, even after I took a nap. The sapphire eyeliner is something I never would have picked but, I've worn it twice now with a light brown eyeshadow, and it adds just the right amount of variety to my daily look.
My favorite feature is the paper insert that lists all of the products as well as a short explanation of the brand and how to use them. It also includes the estimated retail value of the products (the listed prices matched what I got when I Googled the products). I paid $35.00 for my box and it had a retail value of $90.00 worth of products! Yup…that's a $55.00 difference! I was sold anyway but after doing that math…well I couldn't wait to tell our readers about it.
Not only did I get some wonderful new products that look fabulous (if I do say so myself), but I tried some new trends that I would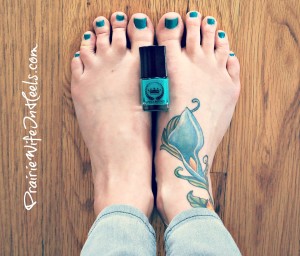 probably have passed up! Now I'm bouncing up and down in anticipation of what I'll be getting next month. I also need to mention that they do gift subscriptions (or one-time boxes) as well. You simply pay for the box and they email the link to your lucky friend. She clicks the link, answers the questions, and a perfectly tailored-to-her box arrives at her door in days!
Try out Wantable.com–you gotta have these boxes! Click on our handy links (located in the upper right side of our site) to go directly to the site, and tell them that PrairieWifeInHeels.com sent you!
Which type box are you dying to try?
Categories: Reviews
Tags: , accessories, Beauty box, beauty products, gift ideas, subscription, treat, Wantable