Prairie Wife of the Week July 18, 2014
Posted July 18, 2014 by Prairie Wife - 1 comment
I first met this week's Prairie Wife of the Week in Nice, France. As The Cowboy and I exited our plane, found our luggage, and forged ahead through the small airport we were both a little nervous. We had never traveled this far from home, and while we were thrilled to have won a trip to France we were apprehensive about how traveling with a tour company would go. When we finally spotted our Tour Manager she greeted us with a bright smile and a cheerful "Bonjour!" I immediately responded with a hearty bonjour of my own (The Cowboy simply said hello) and we proceeded to make small talk. As The Cowboy and I continued on our French Rivera tour with Collette Vacations we got to know Maryse (pronounced Mah-Reese) quite well. After all, we stared and ended every day with her, and often spent hours wandering the streets and markets of France by her side. Her vast knowledge of the French culture, and her humor and sharp wit made us feel at ease asking any and every question that came to mind. Her familiarity with the area, and amazing recommendations for places to eat (I would love to go back to the Glace shop in old Nice for some delicious ice cream) ensured that we had a trip full of memories. Settling in alongside her for long and luxurious French meals, filled with divine food and even better conversation, are some of my favorite memories of the trip. By then end of the trip I knew I had to share her story with my readers. Her spirit of adventure, ability to adapt to numerous situations, and her obvious love of our world and the cultures in it, make her the perfect Prairie Wife of the Week! As a side note, I wish I could have recorded her voice as we chatted, as soon as heard her beautiful Quebecois accent it made me smile…and crave a croissant!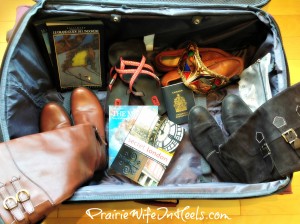 PW (Prairie Wife): First tell us a little bit about your family.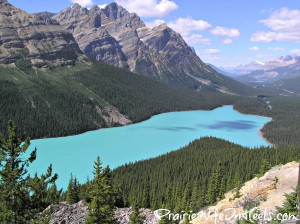 M (Maryse): My family is about as small as it gets! Both my parents are still alive and I have one brother who like me, is single with no children. My mom always jokes at Christmas that if everyone shows up there will be four! I grew up in Granby, Canada. It is located about an hour south-east of Montreal. I grew up speaking French – with my friends and family, the whole province is predominantly French-speaking. I grew up with my parents traveling a fair amount; they would go off together to places like Europe, Tunisia, and all over North America. Because of my parents, the idea of world traveling was a perfectly normal part of life. I am very grateful to my parents for never trying to force me to settle down. Whenever I come back to Canada after traveling, it is a good feeling. I love going away and I love coming home. My favorite thing about my hometown is all the green, beautiful parks, the old mature trees and the nearby countryside. Nature has always been soothing to me.
PW: You've been working for Collette Vacations for eight years now, how did you become interested in being a tour manager?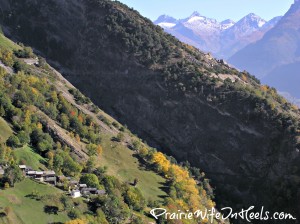 M: It was never anything that I had specifically focused on and worked towards. I loved to travel but had never really considered being a Tour Manager for a career choice. When I was younger I would spend a year backpacking and exploring the world, then I would come back to Canada to make just enough money to head out again! I went on so many adventures… Riding a motorcycle in Bali, working with sheep shearers in the Australian Outback, hiking in Nepal in the Himalayan Mountains, camping in the Kalahari Desert in Africa, and riding on the top of a bus in India…just to name a few!
While home in Canada I bumped into a friend of mine whom I hadn't seen in 10 years, and rekindled our friendship. It turns out that she had spent the last 10 years working for Collette Vacations as a Tour Manager; she mentioned that with my travel experience I would be perfect for the job. I said "No, not interested!" but, she kept on bringing it up, over and over. So, out of pure exhaustion I gave in and had her tell me what it involved…It wasn't what I expected it to be. I thought it would be very routine and somewhat like babysitting. Frankly the truth was that I had always been afraid of public speaking! I even dropped a course for University because I heard they had presentations and I was terrified. I was sure that there was no way I could spend my days talking to a group of strangers, like a true friend she told me I could handle it.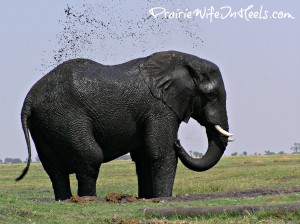 I decided to try it and did a weekend workshop with a local event company, just to see if it was for me. We did a mock airport greeting and each person had to talk for 5 minutes on the microphone while traveling on the bus. My heart was racing when I went up to give my speech, I couldn't tell you a thing I said! When I sat down I realized I was still alive, and each time it got easier. So, I applied for a Tour Manager job with Collette Vacations. They are very thorough and it is a tough process. They are looking more for a certain type of person rather than someone who is fluent in a variety of languages or a history buff. Languages and History can always be taught but, patience, kindness, and an ability to put others at ease cannot. My first opportunity with Collette Vacations was a onetime contract tour to South Africa. The experience was amazing! I literally had to pinch myself while staring at a magnificent elephant standing very close to me. I was in Africa and I was earning money!
A few months following that, when it was the once-a-year hiring time for Collette Vacations, I applied and they hired me as a full time Tour Manager. I've been with Collette Vacations for eight years now, I love it and I am so thankful for my friend's persistence!
PW: Can you walk us through your schedule and responsibilities when on tour?
M: I'm away from home on average 190-195 days of the year. The schedule is never the same. I can be home for as little as two days or as long as two weeks. Sometimes I go for one tour or I may do up to three tours in a row. Any tour manager can book time off, especially if we put in a request before they make up our schedules. From September 1st to November 15th is our busiest time, so they ask that there is no requested time off. If we are home during the busy time we need to be available as a substitute in case another tour guide is sick or injured. We all have a supervisor, and they work really hard for us and make sure our schedules are not too overwhelming. It's really nice to know that they have our backs!
When I'm on tour my responsibilities are endless! The hours are long but they are enjoyable. As soon as I step into the dining room for breakfast, my day starts. I always get up before the groups and usually go to bed later. There is paperwork to do and a lot of planning. When we leave the hotels I am responsible for bags and people, and making sure all the incidentals are taken care of. I always need to be about half a day ahead of what we are doing. You don't want to be caught off guard with 40 people relying on you. Lunch and Dinner reservations need to be checked and I always discuss things with the driver. It's important to make sure we are on the same page with the days schedule and route.
A "typical day"…I get up and (sometimes) eat breakfast, check bags, make sure everyone is accounted for and head off to the first destination. As we drive I share information with my guests and I try to get them excited about what is coming up. For a Tour Manager it's important to make sure there is a good balance between information, quiet time, fun and and sightseeing. Once we arrive at our destination I make sure our guests get the most out of that visit. Sometime people have special request that I try to accommodate. I try and point out things that they may be interested in.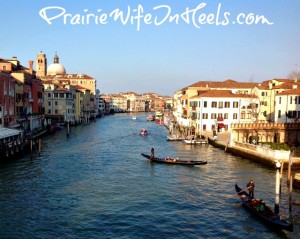 Every place is different; sometime the group walks along with me, sometimes guest break off for free time and go wherever they want or, we may do a walking tour with a local guide. I also make sure I am there and easily accessible if there are any problems. Hopefully everyone returns back to the bus at meeting time (luckily, they usually do)! We then head back to the hotel or continue on to another gorgeous site. More often than not, dinner is included and we go enjoy the evening all together. If it's a free night I try to point out several good places to eat within walking distance, and give them directions.
PW: I have to ask, what do you do if you have a guest that is overly rude or just can't be pleased?
M: I guess my answer to this is quite simple. I will try to make everyone happy, and I know if I have someone who is just miserable chances are it's just the way they are…but I will still give it a try. I know that if they just won't come around, I have 40 other lovely people to focus on and spend time with. I know it eventually may come to the point where I need to put my foot down, but in eight years I haven't had that happen yet.

PW: Any funny stories to share from your experiences with guests?
M: There are so many small but funny moments, but you really had to be there to enjoy them! I can share with you a touching story. Two guests were traveling with me on a tour to Portugal. They were 75 and boyfriend and girlfriend. The boyfriend got lost and wasn't back at the bus at meeting time so, the lady was quite worried. I told her to stay by the bus and to let me find him; I had a good idea where he might be. I easily found him and brought him back. A year later a big box arrived at my door, I wasn't' expecting anything and it turned out to be a box from the lady on the tour. She knitted me a beautiful throw blanket! I actually just saw her last month in Paris. She was on another Collette tour and saw me in passing, she recognized me and came up to me, and it was really wonderful to see her. There are so many moments like that; I get so much out of my job. I really do.
PW: Where have you traveled, and can you share a few of your favorites and why?
M: My own travels have taken me to numerous countries in Western and Eastern Europe, the southern part of Africa, Australia and New Zealand, South-East Asia and Central America.
As far as my favorites….? I have to say, I would gladly go back to every country I've been to, but if I must pick a few…
Jordan & Egypt – The history of these countries will blow your mind! The locals are so inviting and generous and kind. There is nothing like cruising down the Nile at sunset or sunrise, while life quietly unfolds in the fields or on the shores as we are passing by.
South Africa – It is stunning and scenic with many kinds of landscapes. You can visit wild penguins, or a winery, go for a game drive and hopefully see the "big 5" (lion, leopard, rhino, elephant and buffalo), drive across a rugged mountain range, visit the gorgeous and colorful city of Cape Town, etc….
Morocco & Andalucía (southern Spain) – I love the Moorish (northern African) influence you can see in Andalucía and the beautiful white villages of Andalucía perched on a mountain top or hillside. I love the music… it's full of passion, I love the medinas of Morocco (old section of ancient cities). Morocco is just exotic enough and the food is super delicious.
Portugal- For its rugged endless coastline, yet gorgeous beaches. You can't escape the country's love for ceramic tiles, which they will put everywhere, even to cover entire houses! They have amazing fish and seafood, wonderful port wine and warm people. For me Portugal has a rustic and unpretentious beauty. It's also a country where you can feel its' soul. Then, there are the islands belonging to Portugal – the Azores and Madeira groups of islands out in the Atlantic – the scenery there will astound you.
Bali, Vietnam… Scenery that is straight out of National Geographic magazines. Excellent food and wonderful locals. The children are happy playing with sticks and rocks, and they have the most beautiful smiles!
PW: As a world traveler I'm sure you've seen so much, can you tell me if there is anything that seems to be true across many cultures?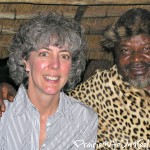 M: It's simple really, kindness and courtesy work magic everywhere…and so does a sincere smile. If you can learn to say hello, thank you and please in the language where you are traveling to, it will open up any door that you need, and puts smiles on everyone's faces.
PW: What cultural differences have surprised you the most?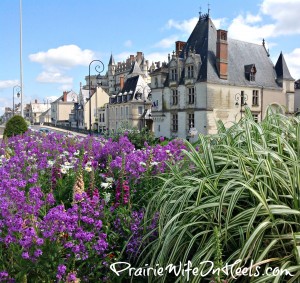 M: The differences in the pace of life…in places like the south of France, people don't live to work but they work just enough to live and they enjoy life. They will not hesitate to take a two-hour lunch and savor every minute of it. Waiters in France will not bring you your bill until you ask for it; it would be considered rude if they did. They are not trying to rush you out to reuse the table. This is the hospitality industry after all! I was in one of my favorite restaurants in Avignon (in Provence, France) and the restaurant filled up shortly after 7 pm. Around 8:30 pm, I asked the owner how late her kitchen was open and she replied that it was already not accepting new tables as they had been filled since 7 pm, and that was enough. She was not looking to reuse the tables at all. She said her staff had worked hard enough as it was. I find that very refreshing. I like how for the French, it is extremely important to start any conversation with "bonjour". This is a more formal aspect of their culture but one that I really like. A simple "bonjour" makes such a difference. It is very courteous. Much nicer than jumping straight into a question when you first approach someone.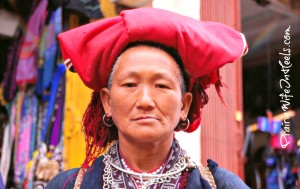 If we head over to Asia, I would say that I admire how much they look after their elders, and how happy Asian kids are. These are kids who barely have what we consider the basics! But, they have the most radiant of smiles, and can amuse themselves with next to nothing. They still have their imaginations very much turned "on". Also, I find Asian kids extremely patient and well behaved. I have been on local buses on bumpy roads through Asia, where the ride went on forever, and I have watched Asian kids sit very, very quietly with their mothers for hours on end.
PW: How has your travel changed your view of the world and yourself?
M: When I started backpacking I was 23 I was constantly on the lookout for another cool country to live in, and what I found at the end of each trip was that I really liked Canada. Traveling has shown me that I am very fortunate to have been born in Canada, and that it's one of the best countries to live in. I would also say that when you see other cultures you learn to appreciate more what we have here in North America. The opportunities are endless for us, and many children (and adults) all over the world don't even know what the word opportunity means. Yet despite this, you realize we are all the same. We all love and laugh and cry and want the same things. Every parent in the world wants the best for their children, for their family…though the definition of "best" is different the world over.
PW: I am sure that by now you have packing down to a science, any tips or tricks?
M: I would say plan for the unplanned, if your packing for a hot climate bring something for slightly cooler days. Layers are always a good idea to help adapt to weather. I will put everything out in piles before I pack my suitcase, each bottom will have two or three tops and the tops are packed right with it. I have also been known to make a list of outfits and write it out on a piece of paper so I can simply look at my paper for inspiration. If you travel a lot, become a creature of habit in your suitcase and hotel room, same things in the same place it saves so much time. I never put anything underneath my bed or in an out of the way drawer or closet. Also, don't leave home with your suitcase at the maximum weight, because then you can't shop!
PW: What advice do you have for anyone considering world travel for the first time ever?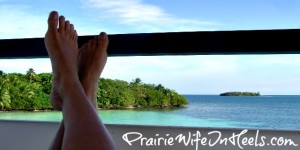 M: I would suggest you go somewhere where there is not a huge language or cultural difference. Perhaps the UK would be a good start. And of course go with Collette Vacations, we've been doing it for 96 years and we go to every continent. If you do go on a tour, think of adding a day or two at the end of the tour to unwind and go back to your favorite places.
PW: Any last Prairie Wife words of wisdom?
On a practical note; don't leave home without travel medical insurance! Not all insurances in the states cover you overseas, it is well worth the small cost.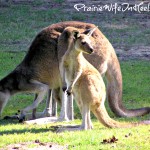 Go see the world it's full of wonders! Go with an open mind and give new things a try. Be open to unplanned moments because they are usually the best.
Categories: Prairie Wife of the Week
Tags: , Culture, Prairie Wife of the Week, travel Collette Vacations, Vacation, world travel