An Evening at the Farmers Market #Giveaway
Posted July 19, 2014 by Prairie Wife - 16 comments
When I think of a Farmers Market the first thing that comes to my mind is fresh fruit and veggies, it's an affordable and earth-friendly way to buy all the delicious and nutritious food that my family can't get enough of. Summer has finally come to Wyoming and with the exception of a few rainy and at times hail and tornado filled days, the weather has been gorgeous. Despite that, most local farmers still don't have enough ripe produce to take to market. So, what was at our Farmers Market?
When I first entered our downtown area where the market was held, I was impressed with not only the amount of venders but, the amount of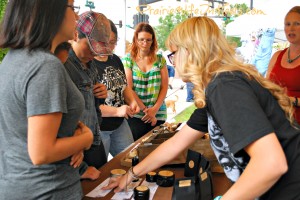 people that were wandering around taking a look at all the booths. I first noticed a wide variety of handcrafted jewelry and small art pieces. While I was walking along I smelt something divine. I followed my nose and the fresh floral and earthy scent to this both. These ladies were selling natural locally made bath products, and while I was there purely for work purposes, I made a mental note to stop by next Tuesday evening to chat with them some more about their products.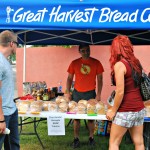 As I continued on my nose once again led my to a booth. A locally owned company Great Harvest Bread Company had a booth full of their tantalizing baked goods. Fresh bread made daily and using ground wheat grown in Montana…does it get any better?!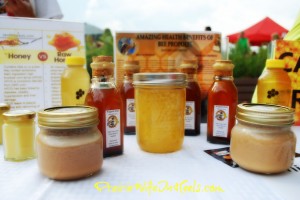 Further down the sidewalk, the golden glow of local honey caught my eye, and I had to stop to take a picture. My kids love Peanut Butter and Honey sandwiches, and honey is great for it's health and healing properties as well. A dollop of honey in bath water can ease dry skin, added to tea or taken by the spoonful it can sooth a sore throat or cough, and locally grown honey is said to help lessen allergy symptoms when taken!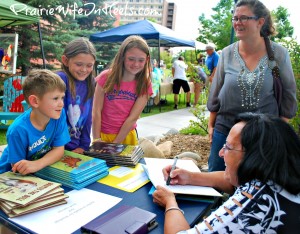 I was then delighted to run into a bit of a local celebrity. Children's Author Margo Cronbaugh Bean was selling her latest book! The Cowkids all love her book Buffaloed Badger and I was excited to hear her talk about her new book about a brave little colt named Rowdy. Much to the delight of her fans, she was not only selling copies of all three of her books, but signing them as well!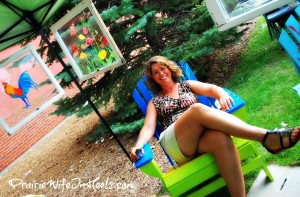 Local artists Ginny Butcher and Brenda Short also had a booth set up. Brenda Short's whimsical chairs offered an inviting place to sit, and would brighten up anyone's patio or lawn! The Farmers Market is the perfect place for local artists to not only sell their work but, become inspired as well. Our past Prairie Wife of the week Ginny Butcher took the opportunity to paint a charming picture of the market. The mixture of sunlight and shade in her picture makes me smile and think of a warm summer day, with just the right amount of breeze rustling in the trees. Ginny Butcher has generously offered to give away her painting of the Farmers Market to one of our lucky readers, so make sure you take time to enter after you read this post! Just look for the Rafflecopter entry at the bottom of this page.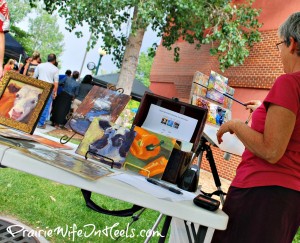 All through my walk I could hear the strains of live music playing, and people of all ages gathered in the grass to listen to a local band play some tunes. The relaxed community atmosphere was so pleasant I wanted to linger for hours!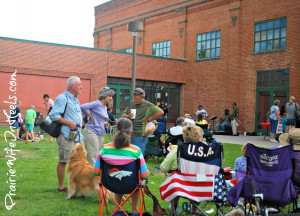 Sadly though I had to get back to the Cowkids, but I plan on returning next Tuesday. I couldn't believe the variety of vendors that our Farmers Market offered, and I am looking forward to seeing more fresh produce as the summer continues and the food is ready for harvesting! Take some time to stop by your local Farmers Market, I think you'll be surprised with all that you can find there.
Categories: Life As It Happens, Prairie Life
Tags: , artists, Brenda Short, buy local, Children's Author, community, Farmers Market, Ginny Butcher, Great Harvest Bread Co, honey, live music, Local, Margo Cronbaugh Bean, Prairie Wife Life