Summer 2015 Fashion Dos and Don'ts
Posted June 24, 2015 by Prairie Wife - 4 comments
As I mentioned in our Summer 2015 Beauty and Accessory Dos and Don'ts post we are more than a little psychic when it comes to fashion. Large floral prints are everywhere right now, and we were talking about them as a fashion DO last year! So I guess what I'm saying is…pay attention ladies cause if we say it's a DO chances are it's worth making a purchase…assuming you like it too. As always click the pic to buy the item!
Don't forget to tell us what you think about these trends, agree or disagree? We'd love to hear from you!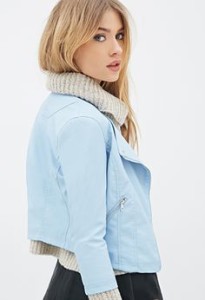 Pastel Leather Jackets
Prairie Wife: I don't think many of you will be surprised when you hear me say that this is a DO in my fashion book. I love my oxblood leather jacket, but the color is a little to dark for me to wear in the Spring and Summer. A pastel leather coat is perfect for this time of year in Wyoming when it still gets cool enough at night that we need a little bit of cover. I love that this one from Forever21 is only $25 (it's not real leather but is that really a big deal?) so you can indulge in the trend without shelling out big bucks. Also, wearing pastels was huge this winter, and I don't see that trend going away anytime soon…My favorite colors are the cream and baby blue because they go with almost every color pallet. Take a look at my Prairie Wife Style Board on Pinterest to get some inspiration for how you can wear this look year round!
Texas Two Steppin': I had to LOL when PW talks about wearing a leather jacket outside this time of year–it has been 80 degrees for months here in Texas! I do say that this trend is a DO, but for me I wear my pastel leather jackets at the office instead of a sweater to avoid AC frostbite. I have a light gray jacket reminiscent of a swing cardigan from Trouve and a beautiful, weathered coral motorcycle jacket with ruffles. I, like PW, am a bit addicted to this look, and I often just drape the jacket over my shoulders for a more casual/cool look. I have a few pinned to the Two Steppin' Style Board on Pinterest, but I am totally lusting after the ones in blush or pure white.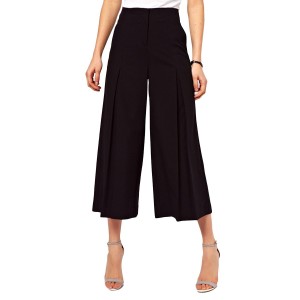 Culottes
Prairie Wife: This is a trend that has me torn. I love the idea of a culotte, and TallGirlJ has a pair that I am SO jealous of (they look ahhhmazinnng on her). It's a breezy yet chic look in summer and they can be worn in the Fall and Winter with slim knee high boots or even booties. That being said you have to try these on before you buy them! An appropriate cut and length is vital if you are going to pull off this look. Also, you need to wear a close fitting top with these, too flowy and you end up looking way heavier than you are. I guess I am going to say that these are a cautious DO from me.
Texas Two Steppin': Yes, proceed with caution ladies and do not put down your debit card unless you try the culottes on. When Step Girl was in high school she had a denim pair that was so incredibly flattering on her that I started looking for a pair for me. More than a decade later, I still haven't found the perfect ones. I wish you better luck than I have had, and I'll leave you with one last tip–I think these are a DO in black or navy, but other colors make a tricky style even trickier to pull off.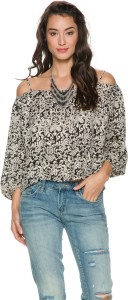 Off-the-Shoulder Tops
Prairie Wife:  This look is a DON'T for me. It's just too hippie for me. I'm all about Boho Chic but to me this looks a little too Thrift Store, and not in the good vintage way. Also, with my massive man shoulders this cut is just not flattering on me at all! I have friends that wear these, and on them somehow it works but, for me its just a no….sorry. I do have to sneak in that I do like the "cold shoulder" cut, I think it's a little more modern and flattering on more body types.
Texas Two Steppin': Ever since I saw that famous scene in Flashdance, I have been a fan of the off the shoulder look. I had a few off the shoulder tops in the '80s, but I like mine with a bit more structure than the one pictured here because I can't pull off Boho. I say they are a total DO because for me, baring the collar bone but not cleavage is appropriately sexy. In fact, my wedding dress featured a cream off-the-shoulder top that was inspired by Cinderella's ball gown (cheesy but true). Give it a try, but be aware that most designers use elastic to keep the top in place and after a few hours the top of the blouse can be annoying and/or binding.
Coordinated Separates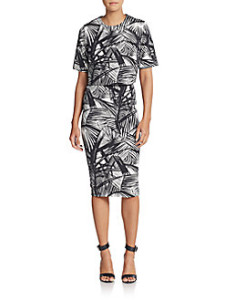 Prairie Wife: I love Taylor Swift, and it's partly because of her that this trend is so big right now. Coordinated separates are everywhere and are even creeping up on the red carpet instead of gowns. I think this look is great, and a wonderful way to buy one outfit that you can then break up and use many times over. I think this is a DO but, as with all things you need to pay attention to your lifestyle and body type. A crop top won't work for everyone and if the pattern is too bold and obvious you might not get as many chances to wear it (everyone will recognize it). My concern personally is that I really don't have anyplace to wear the whole ensemble…it's an awfully dressy look. But, if I found a cute one I would probably get it and make it work lol!
Texas Two Steppin': PW, it's no fair that you wrote your comment first because you took all of my comments. I think the separates in a bold pattern shown here are awesome and would work for a day at the office or a daytime wedding. On weekends I can see myself wearing it with heels for drinks on date night or with flat sandals for a weekend BBQ. I'd also pair the skirt with a white T-shirt or the top with a pair of shorts or jeans for a more casual look. This is totally versatile and a great buy; yup it's a DO.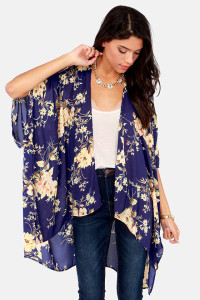 Kimono Cardigans
Prairie Wife: I'm all about big flowers and the boho chic look has definitely crept up in my wardrobe. But this look I just can't support, it's a DON'T for me. I think it looks a little too much like a walk of shame outfit. I'm all for wearing comfy clothes in public (I totally fess up to wearing yoga pants often to run errands) but I don't like the "I just grabbed this from off the floor and threw it on" look. That's what I think of when I see women walking around with knee length Kimono Cardigans on over their t-shirts and jeans, especially if they have the belt still on. Shorter ones like the one in the picture are better but…still a little too hippie for me.
Texas Two Steppin': OK, I will be the first to admit that at my age I can't pull this off (I ordered one last year and had to return it). But if I was in my 20s I would so be rocking this. I think the perfect kimono is a floral on a dark background and stay away from anything with fringe, pom poms or a literal Eastern print. Maybe it's the gypsy in me, but there is something so summery and carefree about the kimono–DO!
What trends make you feel summery and carefree this season?
Categories: Prairie Wife Style
Tags: , coordinated seperates, culottes, Fashion, Fashion Do and Don'ts, kimono cardigan, off the shoulder tops, pastel leather jackets, summer 2015 trends, Summer Trends