Spring 2014 Trends: Dos or Don'ts?
Posted March 9, 2014 by Texas Two Steppin' - 4 comments
In true PrairieWifeInHeels.com (PWIH) style, we decided to take a chance and judge a few trends we've been seeing on the runway and in fashion magazines. As you know, although we are sisters we have different style aesthetics. Remember I am a grandmother with a corporate job and Prairie Wife is a mother of four with a rocker vibe. It stands to reason that we would disagree on a few, but read on to see if anything is declared a unanimous PWIH must have. We'd love to hear if you will be trying any of these styles this season, so leave us a comment and click on the photo to visit our Pinterest page and more favorite looks!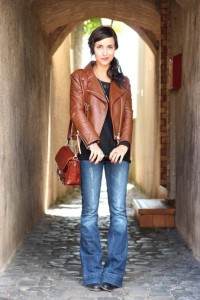 Wide Leg Jeans
Texas Two Steppin': I have always liked this look, and a few sizes ago I had a fabulous pair of wide-leg jeans. I am going to have to admit that I am copying Prairie Wife blatantly because she let me try on a pair she had bought. I fell in love all over again! I have a small waist but "curvy" thighs, and this design is very forgiving and flattering. I went right to the laptop and found a non-distressed, medium wash pair from Gap to wear on weekends and casual Fridays. My verdict–give it a try!
Prairie Wife: I saw a pair of wide leg pants on Pinterest last year and fell in love. They were J Brand, which is more than a little out of my price range, so I filed it under inspiration. Imagine my surprise when I saw the same pair for $32 on HauteLook.com. I immediately ordered them and have been rocking the look ever since. I call them my Farrah Fawcett jeans because they have an undeniable '70s sex appeal. Dress this look down with a tank and strappy platforms, or dress it up with a tucked in blouse, sky high heels and a cute blazer. My verdict–buy a pair…NOW!
TTS: When Prairie Wife and I discussed this trend, I said this was a don't. See, I have full, Angelina Jolie lips. Yes, many women want this look today, but this wasn't a beauty ideal from 1970-99, so I was teased mercilessly. I always have on lipstick, but I usually do a subtle pink or berry and haven't embraced red like my sister. But after reading the Harpers Bazaar article, I'm warming up to the idea of an orange lip. I wouldn't do the bold, matte lip, but maybe a sheer wash of color when I'm feeling exceptionally brave?
PW: This one is a total DO for me. I fell in love with last summer's blood orange color and immediately went out and got a somewhat sheer shade from L'Oreal's Colour Riche Line. I love this lipstick brand because it allows you to "build" the color to get just the right the shade for your personal look. Just like with red lipstick, this one may take a little time to get used to. But really, just think how cute and summery this will look with a simple white top, shredded skinny jeans and nude heels for a date night out?!
TTS: I'll make this one short and sweet. Beautiful and edgy on this woman but not for me, not for my lifestyle, not for my career and not for The Texan.
PW: LOVE IT! I think this is one of my favorite looks, and I've been dieing to try it for years, ever since I saw Anya on Project Runway with it. Just this last week I was SO close to doing it, the only thing that held me back was the growing out stage. I have two friends that have done it, and I am so jealous. I know this is the rocker, ex-Nirvana lover in me, but I say heck yeah, go for it!
TTS: This look really isn't for me. I might do a dark floral, but not a print with a light background. I don't think it would look professional enough for the office, and I don't think I could work it into my weekend-wear wardrobe easily. If I'm going to invest in a trend, it still has to work for more than one occasion and more than one look. This just won't. Plus, it reminds me too much of Molly Ringwald in Pretty in Pink. Fabulous movie, but remember her character was portrayed as a fashion fail.
PW: I love all things floral; somewhere inside of me is an 80 year old English woman just waiting to be released. But even with my fanatical  love of tea and obsession with Trisha Ashley and British Lit, I can't bring myself to wear this. I don't have the legs for it, mine are too short and my thighs are just too curvy (let's be honest and say fat). It accentuates everything wrong on me. For all of you tall, slim legged ladies I say do. For the rest of us keep the floral for a top or dress.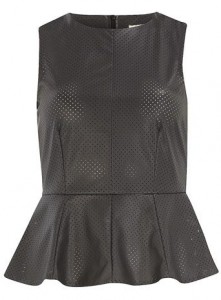 Perforated Leather
TTS: This is a do, for sure. This is a look I would wear every season except summer (too hot for Texas). You will probably see it everywhere in every color. While it is awesome and I do recommend a few key pieces, don't go crazy and purchase matching tops, purses, jackets, belts and heels. That's something we would have done in the '80s, and the '80s are over.
PW: My turn to keep it short. Leather=Rocker. Rocker=Always a good idea. Perforated Leather=Even more edgy Rocker…DO!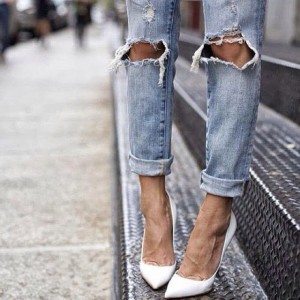 White Heels
TTS: For me, this is a don't. Again, I can appreciate this look on others, and I know PW would look fab in it, but I can't pull it off. Part of it is because I wore something similar in high school. I would probably look like I was trying to revisit my youth if I put a pair on today. I loved it when the fashion magazines suggested we pair white dresses and pants with nude heels, and I'll stick with that.
PW: I love Doris Day. To me the white heel with a sweet floral or swiss dotted dress is a do. I even have the perfect pair of white patent leather peep toe pumps that I wear with one of The Cowboy's favorite dresses. I say white heels are a do, but only if you are channeling the '50s vibe with a charming dress. A don't with jeans or dress slack; wear a nude heel instead.
Categories: Beauty, Fashion, Prairie Wife Style
Tags: , Beauty, Fashion, floral, hair, jeans, leather, lipstick, style, trend