Prairie Wife and TallGirlJ in Vegas
Posted March 8, 2014 by Prairie Wife - 4 comments
TallGirlJ and I have been in Vegas together before, several years ago for the NFR…it was an amazingly good time but I have a feeling that this time will be even better. First I am not pregnant, last time I was 16 weeks pregnant with Cowboy W. Second…well really the best reason I can think of is that right now in Wyoming it is snowing and 27 degrees, while Vegas has been in the high 60's all week.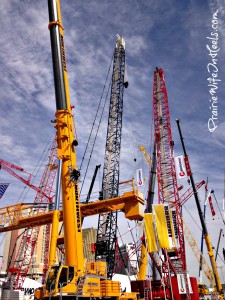 Technically this trip is a work trip, we are both accompanying our super hard working husbands and acting as their arm candy at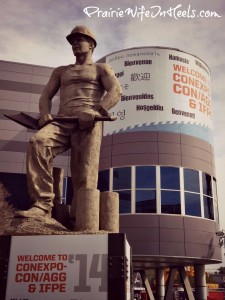 various business events. The Con Expo is in Vegas and is a HUGE event for CAT salesmen and their customers. I admit that my visit to the Con Expo was not high on my list of things I was excited about but, it really was an amazing experience. The sheer size of the equipment was amazing, and it was the only time in my life I have seen the line for the men's bathroom stretch for miles…and no waiting for women…at all!
As I am sure you know, the food in Vegas is amazing. I can't begin to list all the fabulous places we ate at but…there is one that is hands down my favorite, and we have eaten there every day! Serendipity 3. Oh my goodness it is the best place ever for breakfast. Hot Chocolate Pancakes? A French Toast Log? And the potatoes, they are a divine mix of crispy salty goodness.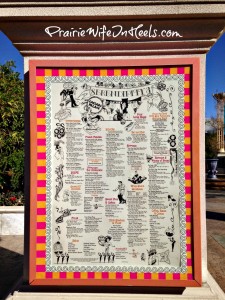 There are so many sights to see in Vegas there is no way I can show you them all. So, I just picked a few of my favorites…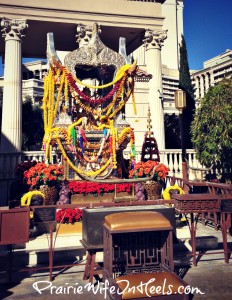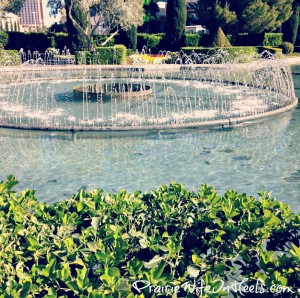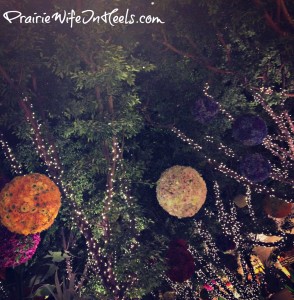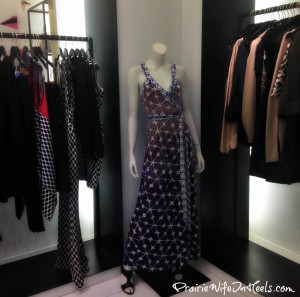 TallGirlJ and I headed out for some shopping, and though we ended up not making any purchases the first day we sure had fun looking. The ladies at Diane Von Furstenburg in the Forum Shops, were so sweet! I had my heart set on investing (because with the cost it truly is an investment for me) in a classic wrap dress. I had visions of wearing it for years to come and then one day handing it on to Cowgirl G. The more I looked the more I became convinced that it was the perfect souvenir, and TallGirlJ cheered me on. The lovely sales staff (thank you Jade) gave me a few choices and a quick lesson in how to wear and tie a wrap dress. I put it on and stepped out. The look on TallGirlJ's face sadly showe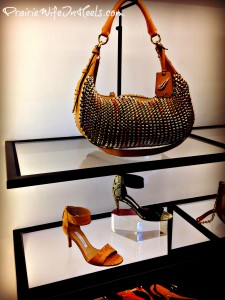 d that she agreed with my inner thoughts. When she calmly shrugged and said "Well it looks great from the back, and the belly button down in the front!" my fears were confirmed. It appears that Diane Von Furstenburg (DVF) wrap dresses are made for woman that have more than double A longs on top. While Jade did find me two dresses that looked O.K. I just couldn't justify spending the money on an O.K. dress (even with the 15% off sale on everything in the store). I sadly put the dresses back on the hangers and thanked TallGirlJ for being a true friend. We did agree that the DVF purses and super cool cork shoes were totally on trend, especially the rose gold colored weaving on the purse!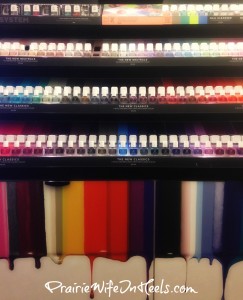 Living in Wyoming we don't have a wide variety of stores, so getting the chance to peruse the amazing displays at Sephora was a blast. TallGirlJ saw a color pallet in the polishes that she was drawn to, it was super fun and springy with a mixture of bright greens, violets, and grays! We also saw one of the coolest inventions ever (the picture didn't turn out) for checking out fake lashes. They glue the lashes to a mirror and you hold it up to your face to see how you look with that particular style of lashes…genius….and super fun to use!
We probably spent almost half an hour trying on sunglasses at Tiffany's. It's nice to have a friend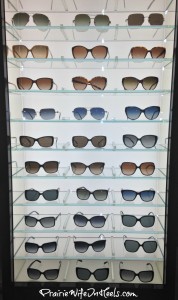 that lets you know the truth about how a shape of sunglasses truly look on you. Even if their way of letting you know they aren't quite right is to A. Say "Umm yeah why don't you just take those off, you don't need to look in the mirror" or B. Hysterically laugh and shake head no…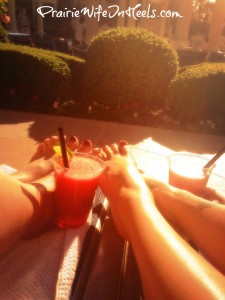 We ended our afternoon of shopping in true Vegas Style with drinks at the pool! Nothing feels better than stretching out in the sun watching the people go by, and giggling with a good girlfriend. I'll admit that a couple of cold fruity drinks helps everything seem a little more shiny and golden too!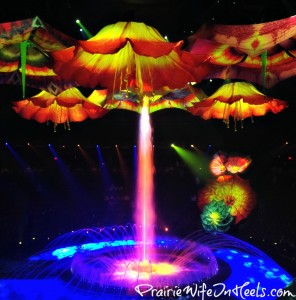 I also recommend taking a night or two to see a Vegas show. We went and saw a Cirque Du Soliel show and when I wasn't curled up in a ball and covering my face in fear that one of the performers would slip and plummet to their death, I absolutely loved it. The talent and pure brute strength of all the men and woman made me vow to start doing more Yoga.
And it wouldn't be Vegas without this…a faded stamp from the bar last night! We still have two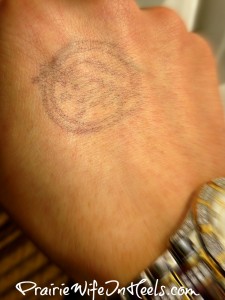 days to go before we head back to Wyoming, and more memories to make. I'm sure we'll keep you posted on Facebook and Twitter. Please forgive me if this post is full of errors, in true Vegas style I am typing this at two in the morning!
Whats your favorite part about Vegas?
Categories: Life As It Happens, Prairie Life
Tags: , Beauty, Fashion, Fun with friends, Prairie Wife Life, shopping, TallGirlJ, Vegas