Summer 2015 Beauty and Accessory Dos and Don'ts
Posted June 15, 2015 by Prairie Wife - 6 comments
Before we get into the nitty gritty of our Summer (yes at last summer) 2015 Do and Don'ts list, Texas Two Steppin' and I need to toot our own horn a little bit. Have you noticed that we are more than a little psychic when it comes to trends? We were talking about pink lipstick in our Spring post and it's now one of the biggest makeup trends for the summer (just follow our advice and if you're older stick to matte)! Full eyebrows and booties…we were talking about those in 2014! But enough bragging…
We've picked out five beauty and accessories that are cropping up for the summer, and as always Texas Two Steppin' and I are battling over our personal Dos and Dont's! Texas Two Steppin' is a business woman (and a grandmother of 1.5) in her 40s and I'm a 30-something stay-at-home mom of five living in the middle of nowhere Wyoming but with a city girl edge I just can't seem to get rid of…it really is amazing we ever agree on anything LOL!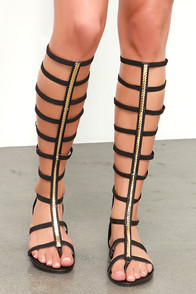 Tall Gladiator Sandals
Prairie Wife: This is one of those trends that looks great in theory but in real life I just have to say it's a DON'T for me. I love the punk edge these sandals give flowy dresses and cut-off shorts but, to me they just look like a lot of trouble. The big long zipper is sure to break or snag your skin, and the ones that tie will just end up slipping down over the course of the day. If you aren't blessed with long legs they can also make your legs look shorter (and stumpier) than they really are. I am a huge fan of the ankle high gladiator sandals, I have a silver and gold pair I adore, but these tall gladiator sandals just don't work for me…can I also add one more thing? Tan lines!
Texas Two Steppin': When PW and I plan these posts, we usually don't go into too many details so our response is genuine, but we do decide who gets to put their comments in first. This time PW got to go first, and she took all of my best comments and remarks, especially the word of caution about tan lines! I too have had several pairs of ankle high gladiators over the past few years, but this trend is a DON'T.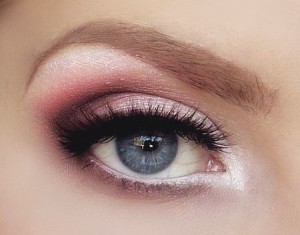 Pastel Eye Makeup
Prairie Wife: We talked about pastel nails in our Spring 2015 post and just like the nails, pastel eye makeup is a DO! Now, that being said there is an appropriate time and place for this makeup. A job interview…no…a night out with the girls or a brunch with your boyfriend and his family? Yes! For younger gals feel free to mix it up and use multiple colors. For us older gals, stick with a pastel eyeliner with a nude eyeshadow or just one color eyeshadow (lavender looks great on all skin tones) with a brown eyeliner.
Texas Two Steppin': Wow, we sure are agreeing on the trends this season! I say it is a DO, but if you are over the age of 25 you really need to stay away from pastel blue and green shades as it will make you look like you are trying way too hard to look younger than your age. But I do wear lavender shadow with plum eyeliner to the office all of the time, and peach and brown are the perfect combo once you have a light tan (via self-tanner, of course). If you are doing pink, just make sure you aren't too heavy handed when you put on your shadow and you are very cautious highlighting your cheekbones. Trust me, you don't want to look like you were being lazy and put blush on your eyes instead of your cheeks.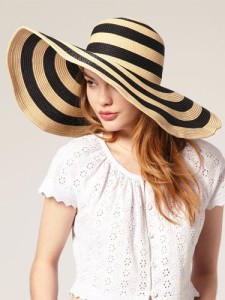 Big Floppy Sun Hats
Prairie Wife: I love this look and it's a DO for me! I have my own navy and cream stripped sun hat that I wore on  my "Elk Hunting" trip with the girls last year. Not only does this hat make you instantly feel like a 1950's movie star but it hides a multitude of sins. Messy hair, blotchy skin, or smudged eye makeup…slap on this hat and no one can tell at all. It's also great to take off and cleverly use to hide your postpartum pooch in those pool side pics 😉
Texas Two Steppin': I do admit it is a glamorous look, but for me it is a DON'T. Why? At the beach the wide brim turns the hat into a glider and I spend all of my time holding the hat on my head with one hand. On the boat, I end up taking up an extra seat, and I spend all of my time holding the hat on my head with one hand. When we go out to our favorite seaside restaurant/bar, we can't get a good "couple selfie" when I'm wearing a hat, because for every picture I have to hold the hat on my head with one hand (are you sensing the pattern here) . For me, a cute baseball hat or a straw fedora is the more practical option.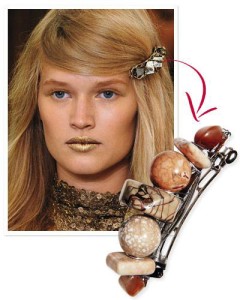 Bold Barrettes
Prairie Wife: I get the point of these. Right now I'm growing my hair out, so I have even found myself contemplating purchasing them but, in the end it's a DON'T for me. I think they are just too grade school for me. I'd rather put my hair in a pony with my hair wrapped around the band, or even a messy mom bun than use a barrette. It just doesn't appeal to me!
Texas Two Steppin': These are a DO for me. I have a layered bob, so I often pull all of my hair back in a barrette or do a half-up/half-down look instead of a basic ponytail because it looks a bit more polished for the office. I also have long, sweeping bangs over one eye, and there are certain days and humidity conditions that just demand my hair is off my face. Rather than a bobby pin, I gravitate toward a unique barrette that goes with my outfit, and I encourage you to give it a try too.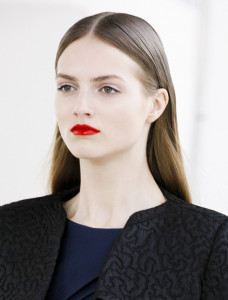 Porcelain Skin
Prairie Wife: With my SADD I am a lover of the sun, nothing makes me feel better than to walk outside and get a warm hug from those Vitamin D filled rays. But, we all know that sun can kill so, I make sure I put on sunscreen daily (I love Rodan and Fields brand). I no longer visit tanning beds like I did in my college years, and I slather sunscreen on my kids now that summer is here. For health reasons I say porcelain skin is a DO. I think this picture is a bit too much, and I encourage you to check out some of the amazing bronzers on the market. They give you just a hint of color and flush and help define your facial features. Don't get me wrong though, I'm a huge fan of all those fake tanning lotions, after all I don't want to scare people when I pull on my shorts and skirts!
Texas Two Steppin': As sisters we share a lot, including SADD, an addiction to sunscreen, avoidance of tanning beds, and love of a good bronzer. I agree it is a DO for health reasons, but as someone with olive skin I will never achieve this look, even after a long winter or years of avoiding the Texas sun. Plus I honestly think that tan cellulite looks better than pale cellulite. For years I have been a fan of using both a high-SPF sunscreen and a Jergens self-tanner, so if you don't do porcelain, try this healthy "tanning" technique.
Want some more beauty tips and tricks? Stop by the blog the first week of July for 2015 Summer Beauty Must Haves!
Categories: Prairie Wife Style
Tags: , Beauty, beauty and accesory trends, bold barrettes, floppy hats, pastel eye maekup, porcelain skin, summer 2015 trends, Summer Trends, tall gladiator sandals