Chicken Fried Cauliflower Rice (gluten free)
Posted June 13, 2015 by Prairie Wife - 2 comments
Almost every week we have a friend over for dinner. Usually it's TallGirlJ and her crew, and we take turns working out and watching each others kids. More often than not, another girlfriend and her kiddos come by and it turns into one big party! Not all of my friends have the same freedom as me in meal choices. BonitaBlueEyes is a vegetarian and several friends of mine are gluten free. Rather than be defeated by this I see it as a challenge and over the years I've created some great recipes that meet their needs and taste great! This is one of our new favorites for our family. Not only does it only take a few minutes to create but it's super healthy (and it's easy to double the recipe for a large crowd). To make it vegetarian simply leave out the chicken or cook it on the side so whoever wants it can add it in. I can't wait to hear how much you love this meal, or any ways that you change it to make it your own!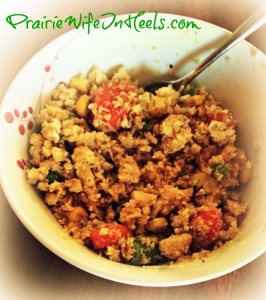 Chicken Fried Cauliflower Rice
Time: 30 min Servings: 6-8
Ingrediants
2 large chicken breasts thawed
1 large head of uncooked Cauliflower
1 12oz bag of frozen mixed vegetables (or fresh veggies are fine too)
1/2 med onion coarsely chopped
2 cloves of garlic minced
1 tbsp olive oil
2 eggs
4 tbsp of soy sauce (if making gluten free use gluten free soy sauce)
Salt and Pepper to taste
1. Place thawed chicken breast into glass dish and put in oven at 375 for 30 minutes or until all the way cooked.
2. While chicken is cooking use a blender or food processor to finely chop the Cauliflower. I recommend chopping the head into smaller pieces to make the blending easier.
3. When you have about 15 minutes left for chicken to cook, place olive oil, veggies, chopped onion, and minced garlic into large pan on medium heat. Stir until the veggies are cooked, about 8 minutes.
4. Push veggies into corner of the pan and crack two eggs on the other half, cook well and scramble.
5. Combine eggs, veggies, cauliflower, soy sauce, and salt and pepper in pan.
6. Take the chicken out of the oven and coarsely chop it. Add it into the mixture and stir well. Serve hot!
Categories: This and That
Tags: , Cauliflower rice, gluten free meals, healthy eating, healthy meals, main meels