Spring 2015 Beauty and Accessory Dos and Don'ts
Posted April 8, 2015 by Prairie Wife - 3 comments
Spring is here in Wyoming, and while the weather is still somewhat changable, the green grass is growing and the birds are singing! A few weeks ago Texas Two Steppin' and I shared our Spring 2015 Fashion Dos and Don'ts and while we agreed on some trends (gingham clothes) we disagreed on our fair share as well (clunky sandals). Now it's time for our Spring 2015 Beauty and Accessory Dos and Don'ts, and I can't wait to hear what you guys think of our picks! Don't forget to follow us on Pinterst to get more fashion and beauty tips.
Hot Pink Lips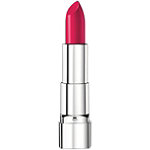 Prairie Wife: Hot pink lips are everywhere this Spring! From the runway to the red carpet this look can be found on women of every age and hair color! To me this is a beauty DO, I think it looks wonderfully fresh and springy and flatters all types of skin tones. The trick to keeping it from looking to Madonna a la 1984 is to use a matte color. If you add to much gloss it will make you look more teeny bopper than sophisticated and bold! You can find more makeup tips by following this link.
Texas Two Steppin': Wow, we are starting off this post agreeing on a trend. As the older sister who was actually wearing lipstick in '84, I can tell you from past experience that this color is more flattering and easier to wear than red lipstick. There are many shades and variations of hot pink, so make sure you pick the best color for your skin tone. Don't be afraid to mix two or three colors to find your perfect shade–I do it all the time and I know the best makeup artists blend lipsticks during their shoots too. Trust me, there is not really a universally flattering, single shade of hot pink, but bottom line is that it is a DO.
Huge Earrings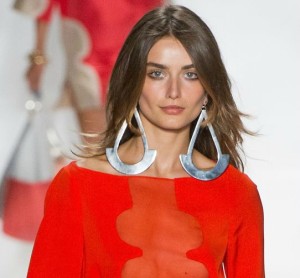 Prairie Wife: The '80s and '90s are back in a BIG way with this look. While massive earrings have never really left the scene for many women, they made a big appearance on the red carpet and runway this year. I'm caught in the middle with this trend! While I love DVF I think that the earrings in the picture are a bit too much. Massive earrings that are almost the size of your head are a DON'T for me. That being said, I do have some great hanging earrings that I love to add to my outfits for a chic BoHo look (I recommend wearing them with an updo to show them off). My larger earrings don't stretch out my earlobes, are well under four inches long and one inch wide, and are the only accessory I wear with the outfit. I guess for me this look depends on the overall styling, and age does play a factor as well.
Texas Two Steppin': For me, this is a DON'T. Maybe because I'm worried about ripping my ear. Maybe because I like to have earrings, a necklace and an armful of bracelets. Maybe because I've been there, done that. Maybe because I don't want to look like I am copying Step Girl and Future Daughter-in-Law who wear large earrings all the time, even when working out. Sorry, I just can't do it.
Dry Shampoo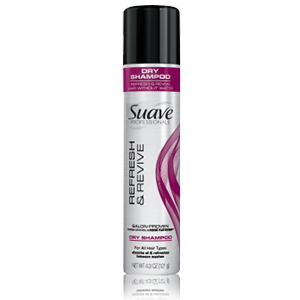 Prairie Wife: For the last year this has been a staple in my bathroom, and if you haven't tried it make sure you pick up a can (or three) and put it in your cart next time you go to the store. As a busy mom of five I don't have time or energy to shower every day. This product is a lifesaver for busy women the world over. Simply spray some on your roots in the morning, let it sit for a minute or two and run a brush through your hair. It instantly adds volume and freshens up your look. Add it to your hair before you braid it for a thick bulky braid that stays put. Spray some on your roots before you throw you hair into a pony tail or bun for instant texture and volume. Untamed beachy hair is in right now (take a look at our Beauty board on Pinterest for some great inspiration) and this is the best way to achieve this look without looking greasy and grimy. PS If I haven't made it clear…this is a DO for me.
Texas Two Steppin': For nearly 20 years The Texan and I have been RVing with the kids, and I sure wish that I had known about dry shampoo on those days we were having to conserve the water in our tank. I can't handle my hair feeling greasy, even if it is up in a clip, so for me that is the power of dry shampoo. I actually like Suave's version the best out of all the different brands I have tried, so when you go to the store to pick up this DO you can grab multiple cans without feeling guilty.
Metal Chokers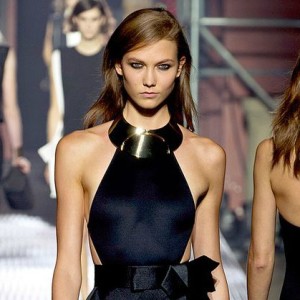 Prairie Wife: This accessory is nothing new and has been seen on the runways for years now, but as always it takes a few years for many trends to go mainstream. Frankly I'd be just fine if this trend had stayed there. Big bulky metal chokers are a DON'T for me. While I'm a big fan of chunky jewelry I think that these chokers just look clunky as well as unfeminine…and distract from the outfit rather than add to it. I do reserve the right to change my mind because I used to feel that way about cuff bracelets and now I love them…
Texas Two Steppin': Oh, you will change your mind! The right choker is a total DO, and I got a fab one in my Wantables.com jewelry shipment a few months ago. Sometimes you don't want to wear a scarf with a T-shirt and jacket to work, but you need a bit of bling to make you feel put together. I had some chokers when I was in high school, and I finally told myself I needed to get them out of my jewelry drawer in 2000. I would give anything to have them back 15 years later, but now I know to purchase one high quality one that I can pass along to Step Girl, Future Daughter-in-Law or Granddaughter.
Pastel Almond Shaped Nails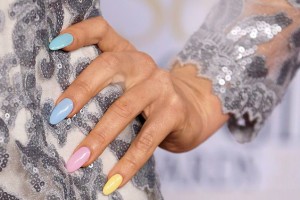 Prairie Wife: This picture actually has two trends for Spring that I want to talk about. Firstly we have the pastel polish. I've shared over and over my love of nail art and I think that there isn't a single color that's off limit. These pastel colors are sweet and feminine yet not too little girly. Pastel nail polish is a total DO for me, and I particularly like the lavender and blue tones. Now…the almond shape is another thing entirely and it's a big DON'T for me. I acknowledge that a major part of this is my lifestyle. Long nails like this would make it impossible to change diapers, type blog posts, and work in the garden. Add to that my short stubby fingers and freakishly small hands. Even if I had a nanny, maid, and a gardener you wouldn't ever catch me wearing this shape, it just wouldn't look good on me at all!
Texas Two Steppin': I am all about a solid color nail in a pastel, so that trend is DO. But because I have a pretty conservative work place and am no Spring chicken, I save the color for my toesies. Last summer I had my pedicurist (a former PW!) find the perfect pastel yellow, and it was one of my all-time favorite looks. Honestly, the pastels make you look tan, even if you haven't started self-tanning (in Texas we are already in full sandal and shorts mode!). I must admit, I tried to wear my nails long when I was in high school because 1) it was "the style" and 2) we didn't use smart phones, computers or even touchtone phones so our nail tips weren't subjected to regular stressors that lead to breakage. But Ma felt it was a DON'T so I never got to keep them for long. And when I look at this picture, I must say I now understand why she didn't want me looking like a Dragon Lady.
So, what Spring beauty trends have you nailed and do you agree or disagree with our views?
Categories: Prairie Wife Style
Tags: , Beauty and Accesory, Beauty trends, Dry Shampoo, hot pink nails, Huge Earrings, Metal Chokers, pastel nails, Spring 2015