Put Some Spring On Your Nails With Jamberry #giveaway
Posted March 11, 2015 by Prairie Wife - 21 comments
A little over a year ago I first introduced our readers to Jamberry nails. Since then they seem to have taken the world by storm. We've had a lot of new readers in the last few months and I thought a great way to help beat these last few weeks of winter would be to Put Some Spring on Your Nails with Jamberry…and a great giveaway!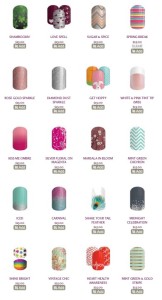 With a new baby my time is limited, if I have an extra 30 minutes I'm going to sleep, take a bath, read a few chapters of a book, or…sleep! The last thing I want to do is spend 30 minutes painting my nails! That being said I love the look of painted nails…it makes me feel put together and feminine even when I've been wearing the same sweats for three days and have baby puke on my left shoulder. My problem in the past has always been that my nails seem to only last three hours (or less) before a chip or scratch appears. Add to that the constant hand washing and cleaning that comes with a family of 7 and you can see why a manicure never lasts me long.
That's what I love about Jamberry nails. Jamberry nails are nail wraps that are applied and removed with heat. You can use your hairdryer or purchase a Jamberry stand up heater. There are no harsh chemicals in the application or removal process, and they don't chip or scratch. As soon as your Jamberry nails are applied they are ready to go…and mine last 7 to 10 days! It takes me 10 minutes to do all of my fingers (admittedly it took me about three tries to get the hang of the application process). I love that I can instantly get my hands wet or pull up a zipper on a child's coat with no worries about chipping. Here is a video so you can see how to apply Jamberry nails.
There are two ways to remove your Jamberry nails. You will know it's time for a new set of nails when the bottoms begin to pull up from the base of your nail. I always notice it when running my fingers through my hair, a piece of hair will snag on my nail and I'll know it's time to remove them. Even at this point I've been known to stretch it a few more days because my nails still look perfect. As I said above you can remove your Jamberry nails with heat. My preferred method is with Olive Oil it takes me three minutes and I find that it works better for me. Some people have complained of peeling nails after using Jamberry. I have found that the only time this occurs is when I rush the removal process and end up tugging the nail sticker off rather than allowing the heat or Olive Oil to do the work for me. Even then the damage is gone in a week or so, which is much quicker than the recovery from a set of gel or acrylic nails. I also like to keep my nails bare for three or four days before I apply a new set of Jamberry wraps. Watch this video to see how to remove your wraps.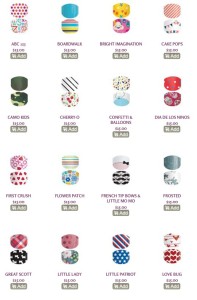 Now for the best part of Jamberry…all the patterns to pick from! They come in single color, French tip, glitter, matte, polka dots, chevron, flowers, holiday themes, and even your favorite sports team, you name it they have it! And did I mention the Jamberry Juniors? Darling designs made just for little nails. Cowgirl G loves hers, and they last her almost two weeks.
All you need to do is comment on this post and let us know what Jamberry pattern you crave this Spring (just click this link to see all the choices) and you'll be entered to win a sheet of Vintage Chic Jamberry nails. Earn more points by following us on social media. If you follow this link and make a purchase or sign up for a FaceBook party you'll be entered to win your choice of a free set up kit, stand up heater OR a full sheet of Jamberry nails!
Categories: #GiveAways, Prairie Wife Style
Tags: , Beauty, Giveaway, Jamberry, Nail Polish