Jamberry Nails #giveaway
Posted March 2, 2014 by Prairie Wife - 23 comments
I mentioned in a post about brightening up your February with nail polish, that I was going to be trying a new product out called Jamberry nails. Here is the little blurb I first read about them "Jamberry Nails are vinyl adhesives you can apply in your own home in fifteen minutes for less than $4 an application!! Lasting up to two weeks on your fingernails and up to six weeks on your toenails, these heat-activated beauties are sure to become a staple in your wardrobe!"
Sounds pretty good right?! So I did some more research because I had tried nail "stickers" before and not only did they still chip after a few days but, it took about a gallon of nail polish remover to get them off. The result was brittle peeling nails for weeks. I knew I had heard about them in my trusty Marie Claire so I started there. When I started to read up on Jamberry there were several things that appealed to me.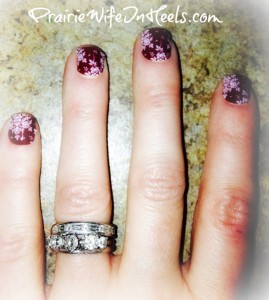 They are non-toxic
Formaldehyde and Latex free
Over 400 designs to pick from
No dry time
They can be used over acrylic and gel nails
Made in the good old USA
Jamberry nails are also gluten free, so if you're watching a scary movie and feel compelled to bite your nails you won't ruin your diet (this was super funny to me). For me what sealed the deal was the removal process. Instead of soaking your nails in acetone like gel nails, or scrubbing with a non acetone remover like regular polish you can simply use the same heat (like a hairdryer or the standing heater they make) that you used to apply them to remove them. Or even better you can simply soak your nails in olive oil and peel off your Jamberry nails.
So I fell for the pitch and ordered the whole shebang, 4 sheets of nail stickers and stand up dryer. As soon as I got my order (a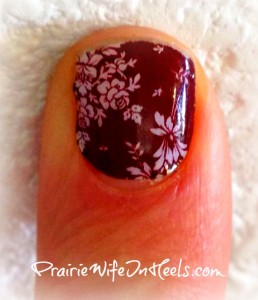 few days later) I tried it all out. I would like to say it was all for the blog, but really I was super excited. It was a piece of cake to put them on and I even had Cowboy W and Cowboy C (formerly known as Cowbaby) "helping" me. I would say it probably took me about 10 minutes and I have a feeling it will be muc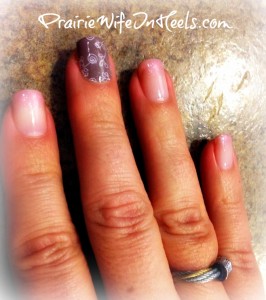 h quicker without "help", and now that I know what I am doing. I took a close up picture of my nail after a week to show you guys how awesome they truly are. Keep in mind I am a Prairie Wife who does chores, gives baths, and even went swimming with the kids. And they are only worn down a bit at the tip. No peeling or chipping at all! I even gave Texas Two Steppin' a Jamberry accent nail on her gel nails, so cute!
When I removed the nails I decided to use heat, simply because while a 3 minute soak in Olive Oil sounded wonderful "ain't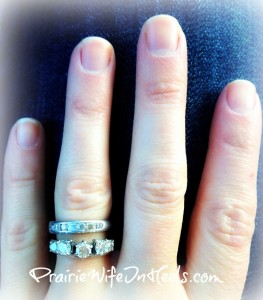 nobody got time for that!" It took literally 30 seconds and my nails were just as healthy afterwards as they were before, no peeling or tearing at all. I even waited a few days just to make sure. Sometimes my brittle nails take a while to show the true effects of everything I do to them. Perfectly fine 3 days later, and I'm chomping at the bit to put on another set! I didn't do my toes because I like to switch my polish every week on them, it makes me happy what can I say.
I loved the products so much that I did a Facebook Jamberry party. Yup a Facebook party. No need to clean the house or find a sitter. And my girlfriends could order and check out the products when they had time. My Jamberry consultant and new friend Cindi offered to do an amazing giveaway for PrairieWifeInHeels.com readers, thanks Cindi! Just enter below to earn points towards her amazing Jamberry giveaway!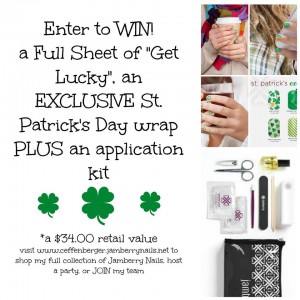 Categories: Reviews
Tags: , accents, Beauty, DIY nails, Giveaway, Grown Up Goodies, Jamberry, nail art, non-toxic