Hot Sauce in a Hurry
Posted March 3, 2014 by Texas Two Steppin' - 4 comments
In the region of Texas where I live, we call salsa "hot sauce." I don't know why, we just do. Every household and restaurant has its own way of making hot sauce, and this is one of my family's favorites–developed after months of trial and error. You better believe that I have some in our fridge at all times to spice up everything from eggs to soups to tortilla chips. Enjoy, and be careful handling the peppers!
Prep Time: 5-10 minutes at most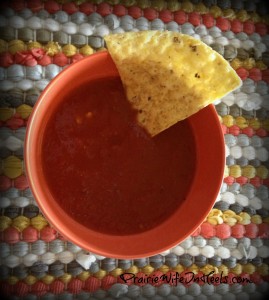 Ingredients
2 large white onions, peeled and quartered
3 large jalapenos (Remove the seeds and membrane if you would like it less spicy. Also feel free to use fewer to adjust the burn factor.)
1 large serrano pepper (Same advice as above, and you can omit this pepper altogether.)
3 cans (14.5 oz each) fire roasted diced tomatoes
1 tbsp Sriracha (If I can find it in my small town market I'm sure you can find it too!)
1 tbsp coarse ground black pepper
3 tbsp fajita spice
¼ cup lime juice
1 tbsp chopped garlic
1 tbsp cumin
1. Put the onions and peppers in the food processor and chop until super fine, almost liquefied.
2. Add in the canned tomatoes and seasonings. Pulse the ingredients until the hot sauce is at the desired consistency. Chunky or smooth, you can't go wrong!
3. If you have any leftover hot sauce, put it in an airtight container and keep it refrigerated for up to one week. We often use mason jars; when we are invited to a party it makes a great "hostess gift."
Categories: This and That
Tags: , dip, On the Side, Salsa, spicy, Tex Mex