Brighten Up Your February With Nail Polish
Posted February 3, 2014 by Prairie Wife - 1 comment
By now you know that I get a severe case of the Winter Blues in January, it usually peaks in February and then as the sun begins to appear more in March I find myself once again feeling optimistic and cheerful. While I find that making sure I get some exercise every day and eating healthy helps, I've noticed that making a few changes to my personal look helps me to feel a little more cheery! Lately I've been in the mood to add a little bit of Spring to my look by painting my toes with some brighter colors. Layering silver sparkles over the mint blue and gold over the orange/red color just makes me happy! For my nails I found a few great almost nude colors that will go with whatever look I wear. The Cowboy and I are traveling out of town in the beginning of March and I am totally throwing my new favorite color, Nudist by Sonia Kushuk into my luggage. As always don't forget that a good base and top coat goes a long way toward preventing chips. And if you can remember (I hardly ever do) to touch up your top coat every few days, it will make your mani/pedi last days longer!
I also have to share with you a new product I just learned about, Jamberry Nails. I'm sure you've all see the nail stickers at your local drug store, and probably even tried them. I think they are great, but I found that with my Prairie Wife lifestyle they were still chipping after 3 days, and to remove them with nail polish took a lot of effort! These Jamberry nails are stickers as well, and should last up to two weeks. What convinced me to try them is that they are non-toxic, formaldehyde and latex free. They are applied and removed with heat (either with an included heat machine or your hairdryer), no soaking in chemicals. You can even remove them by soaking your hands in olive oil and peeling them off. I have read about them in InStyle, Marie Claire, and People magazine and when an acquaintance of mine invited me to a Jamberry Nail Party, I decided to go ahead and order some. With over 400 designs to pick from it took some time to narrow down my favorites. Take a minute to check out this link, look at the patterns, watch some videos, and even order some of your own!  I'll be getting back to you to let you know if they really last (fingers crossed).
Nail Polish Colors from left to right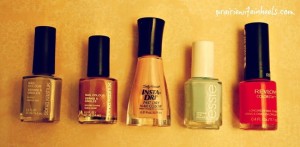 Nudist by Sonia Kushuk, Target-This is a very light brown with a grey undertone, and my new favorite "nude" for my nails.
Golden Sands by Sonia Kushuk, Target-I absolutely love this color, it reminds me of toffee and caramel candy! It has just enough pink undertones and gold sparkle to keep it feeling fresh.
Petal Pusher by Sally Hansen, Walgreens- The perfect pale pink, and because it is Insta-Dri you can do it 30 minutes before your Valentine's Day Date and still look perfectly polished (pun intended).
Mint Candy Apple by Essie, Target-This color can best be described as cheerful! It was super trendy this summer, and as far as I'm concerned it won't be going out of style anytime soon.
Delicous by Revlon, Walgreens- This blood orange color was big this fall and I still love it for my toes right now, adding a matte coat to the top of it keeps it from being too summery.
How will you brighten up your February with nail polish?
Categories: Prairie Wife Style
Tags: , Beauty, Nail Polish, Prairie Wife, Spring 2014