Prairie Wife of the Week February 7, 2014
Posted February 8, 2014 by Prairie Wife - 4 comments
Prairie Wife: I am so pleased that my good friend and neighbor, Prairie Faith, nominated our Prairie Wife of the Week Donna Boucher of the blog Quiet Life to be our YOU PICK Prairie Wife of the Week! And even more pleased, that "Miz Booshay" was gracious enough to answer my questions. After you read this wonderful interview please take a moment to stop by the Quiet Life and read some of Miz Booshay's posts. When you comment make sure you tell her Prairie Wife sent you! Here is the introduction written by Prairie Faith…
  "Make it your ambition to lead a quiet life and attend to your own business and work with your hands. ~1 Thess. 4:11"
~From the Introduction to Donna Boucher's blog, Quiet Life
 I have followed Donna Boucher's blog, Quiet Life, for many years.  I first clicked on a link to her site while checking out some photography tips on The Pioneer Woman's website, where Donna was a frequent contributor.  I loved Donna's photos and was eager to learn all about how to make the backgrounds of my pictures all fuzzy and glowy.
So I clicked.
And I found Quiet Life.
I was battling (and continue to battle) the pressures of motherhood in the 21st century.  Am I crafty/creative enough?  Do I sew in a straight line?  Do I teach my children to read at an early enough age?  Should my family be gluten-free?  Is it better to buy party decorations or make them all by hand?
The internet is full of resources that help me if I want to find answers to the above questions.  But, there are few web addresses that feed my more invisible and eternal needs…
Am I grateful in all circumstances?  (1 Thessalonians 5:18) 
Am I wise in the way I interact with people?  (Colossians 4:5)
Am I generous with my children (and others)?  (Proverbs 11:24)
Do I seek/accept help from those whom God has put in my path?  (Hebrews 10:25) 
Am I slandering and gossiping?  (Psalm 15:1-3)
Donna's simple and faithful blogging encourage me in all of these areas, and more.  She is consistently gracious toward others, servant-minded especially with respect to her family, grateful for the simple beauty in her every day life, generous with her time and gifts, willing to share the joys and sorrows of her soul, eager for input and assistance from the people God has been pleased to acquaint her with, gracious and encouraging in her talk about others…and a mother whose children are calling her blessed.
I am convinced that these are God's blessings that flow from a simple and quiet life.  It is hard to share that with so many people and remain humble and gracious…but Donna does it…and for this reason, I nominated her for YOU PICK Prairie Wife of the Week!
Prairie Wife (PW):Tell us a little bit about you and your family.
Miz Booshay: Hi!  I'm Donna Boucher also known as Miz Booshay.  I'm a midwest girl who was born in the late 1950's.  I come from a large family of six girls and one boy.  I am the middle child.  My blissful childhood was shattered by the death of both of my parents when I was 16 years old.  My older sister Nancy (20 years old) became our guardian.  She married soon after our parent's car accident so she could have the help and support of her finance'.  Our family remains incredibly close to this day even tho we are scattered across the country.
I was married to my husband Patrick in 1980.  We have four children. Patrick Jr. (1982) Matthew (1985) Emma (1989) and Katie (1999).  We moved to northern Wi in 1983 when my husband bought his family's bakery.  The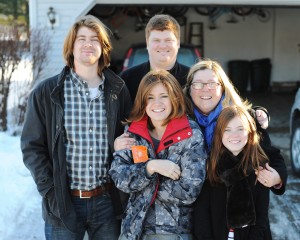 years to follow were such a wonderful time of raising a little family.  The boys went to public school until I got the notion to home school in 1994.  I home schooled the boys for a few years, Emma for all of her school days until college and Katie until 3rd. grade.  Since Katie is in school now, I volunteer, enjoy my love of photography and drive Miss Katie all around southern Wisconsin for school and sports.
PW: What led you to begin blogging 10 years ago?
Miz Booshay: Ten years ago I listened to a radio show with Elisabeth Elliot.  Miss Elliot said older women should teach younger women to love their husbands and children.  I was not at a church where I could teach at the time…so I decided to encourage younger mom's thru my blog.  (Titus 2: 3-5)
PW: 10 years down the road how do you stay motivated and engaged in the process?
Miz Booshay: I continue to blog because number one, I remember my little calling ; to encourage other women.
The second reason is because I have become friends with the women who come by and read my blog.  They have given me much more than I have given them.
Thirdly, I would be lonely without my blog friends.
PW: What has been your favorite post over the years (or top 3), and why?
Miz Booshay: Oh gosh.  I don't know.  I always like year end reviews where I post a ton of pictures.  I love the posts I wrote right after Matthew and Melinda had their babies.  That was such exciting news to share.  I loved sharing the wedding we went to in Florida with all of my siblings present and I loved sharing about our trip to Paris/Rome in 2007.   Lots and lots of pictures….lots of wonderful memories.
PW: What has been the most difficult post for you to write (or top 3), and why?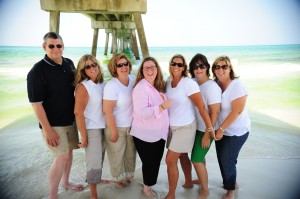 Miz Booshay: By far the hardest thing to post and go thru on my blog was when my sweet sister Sue got brain cancer and died within two months.  My heart was broken and I went along on automatic pilot for many months there.  My Quiet Life comment section was instrumental in healing my broken heart and always pointing me to God as my faith wavered and was near crashing.  They prayed for me and my siblings and always said the most beautiful things in the comments.
PW: How do you deal with other's negativity towards you and/or your blog?
Miz Booshay: I do not feel any negativity toward myself or my blog.  In ten years I may have gotten three jerky comments….so I deleted them.  (They did upset me but I got over it.  heh.)
I try to be kind and that kindness has come back to me.
(I also steer clear of controversial topics.  That's not what I want to do on my blog.  And I know that kind of blogging brings with it so much negativity and strife.)
PW: You have been so inspiring and encouraging to so many people through your blog, what inspires and encourages you?
Miz Booshay: I am inspired by art,  music, writing, quotes, scriptures and generous, kind people.  I am a Christian so I am inspired by people who live out their faith in loving, tender ways like Jesus did.  I am inspired by people who work hard.  I am inspired when I hear wise words spoken with love.
PW: As a busy mother and wife how do you find time to stay true to yourself and your needs?
Miz Booshay: I hardly even know what that means staying true to myself….
Feeling beloved by my parents and loved by God has made it easier to live with myself.  ha.
With all my flaws I have felt I was just fine the way I was.  I have felt loved and I am thankful for that because I know not everyone does.
PW: Now that you have grown children, any advice for parents of teenagers?
Miz Booshay: Gosh.  You'd think I have a ton to say…but I really don't.
Parent with love and prayer.
I thought my children would be perfect because I tried to be the perfect mother.
But they are not.  They sin too.
All I could do was love them, be there for them, advise them,  pray for them and then trust them to God.
You can do no more than try your hardest for them…then it's their turn.
PW: As a Grandmother what have been your biggest joys?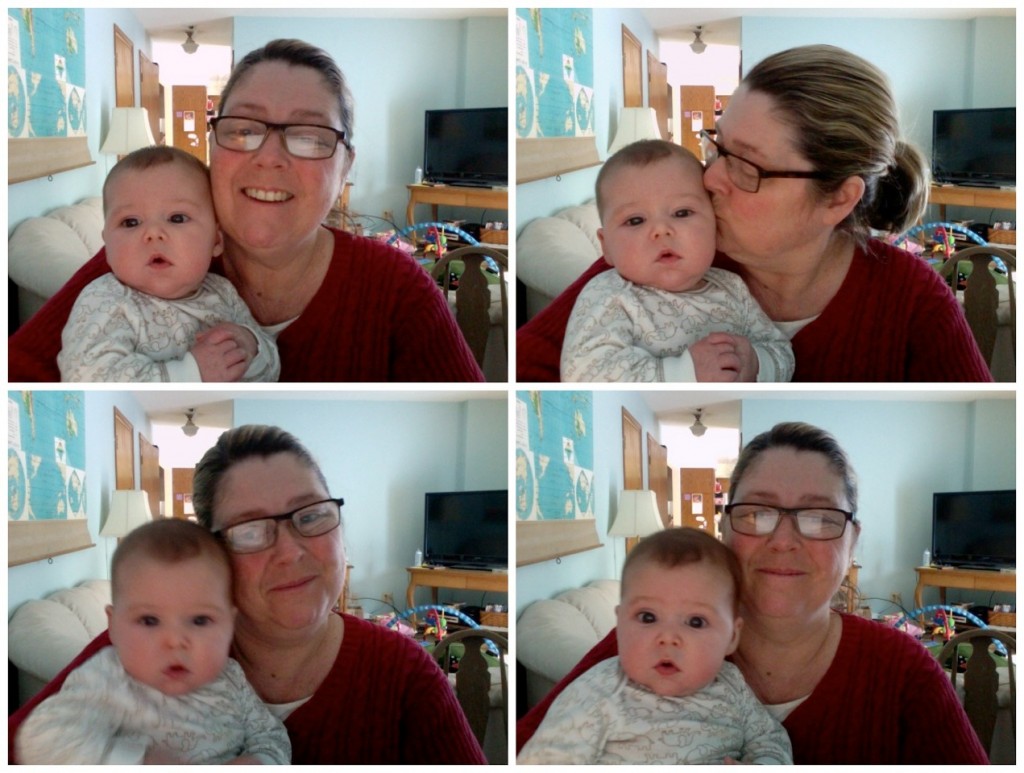 Miz Booshay: I just love those little boys…that is the biggest joy right there.  We live far away so I don't see them as often as I would like.
This is a painful thing for me.  But it is life.  It is especially sweet to see my son with his boys.  He is a hands on daddy.  My daughter in law is a wonderful momma too.  They are both extremely patient and selfless.
PW: What are your hopes for the future of your blog?
Miz Booshay: I don't have any hopes and dreams for the blog.  I just plug along one day at a time…
PW: Where do you see yourself and your family in another 10 years?
Miz Booshay: Oh my.  No idea.  My fondest wish is for our children to live nearby.  And if they won't come to us…perhaps
we will go to them somehow.  I tell them I'm getting an Airstream and I'm visiting each one of them for three months at a time.
I am thankful for every year I get to live on this beautiful planet.  My mom died when she was 39 and that puts things in perspective for me.  Always thankful.
PW: Any last Prairie Wife Words of wisdom?
Miz Booshay: How about a lovely quote by someone much wiser than me.
Have courage for the great sorrows of life and patience for the small ones; and when you have laboriously accomplished your daily task, go to sleep in peace.  God is awake.
~Victor Hugo
I will say….
Always. Love.
Encourage one another,
Donna
Categories: Prairie Wife of the Week
Tags: , Donna Boucher, February, Quiet Life Blog, YOU PICK Prairie Wife of the Week