Creature Comforts by Trisha Ashley
Posted March 9, 2015 by Prairie Wife - 2 comments
I've made no secret of my love of all of Trisha Ashley's books and I couldn't wait for her latest new release to hit Amazon.com this February! It was the breath of fresh air that this exhausted new mom needed…and I admit that I took full advantage of my sleep deprived nights to read it all in a few days.
Creature Comforts is a wonderful novel that is written in the Trisha Ashley style that her fans have come to love. A romping romantic comedy in book form, Creature Comforts is full of beautiful English countryside, eccentric characters and women with whom you'd love to sit down and have a cup of tea.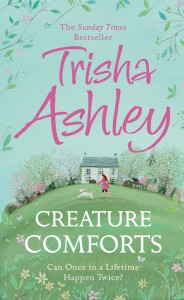 In this book the main character Izzy has a pluck and strength that instantly drew me to her. The book begins with her breaking off her engagement to her fiancé and moving back home. There is none of the dithering and whining that can be found in many chic lit books…but rather Izzy meets not only her future but her past head on. While home she decides to at last find out the details of a tragic accident that not only affected her but, the entire small town of Halfhidden. With the support of her eccentric Aunt and her good friends she plows forward despite several extremely rude and unlikeable villagers who seem bent on stopping her.
There is of course, a new love interest for Izzy; the brooding, handsome, and slightly damaged Rufus. As with all of her books there are more than a few obstacles thrown in their way but in the end, love wins out. I particularly loved the side plots that were brought about by her aunt Debo's dog rescue and the other villagers working towards expanding their local economy. Frankly as I read this book I was wishing that Ms. Ashley would maybe do another book with the villagers that involved some more of the local ghost stories that were mentioned…perhaps a romantic historical fiction book?! Die hard Trisha Ashley fans will also be pleased to see a few of their favorite villages and places from some of her past books mentioned throughout Creature Comforts.
If you are looking for a light read to help you through these last few gloomy weeks of winter this is the book for you. A clever plot, charming characters, English countryside, and more than a dash of laughter, love and intrigue make this a perfect read!
For more book reviews from PrairieWifeInHeels.com check out this Amazon.com link or simply type in "Book Review" in our search engine at the top of this page!
Categories: Book Reviews, Reviews
Tags: , Book Review, british lit, Chic Lit, creature comforts, Romance, trisha ashley