Brighten up Your Winter Wardrobe
Posted January 26, 2015 by Prairie Wife -
I don't know about you, but the Winter Blues have hit me hard this year! I know that we have months before Spring comes to Wyoming and I have a few tricks up my sleeve to help me hang in there until March (OK maybe April). One thing I like to do is brighten up my winter wardrobe with practical but fresh feeling clothes and accessories. Below I have a few of my favorite pieces that are all under $50 (I'm trying hard to stick to my New Year's Resolutions).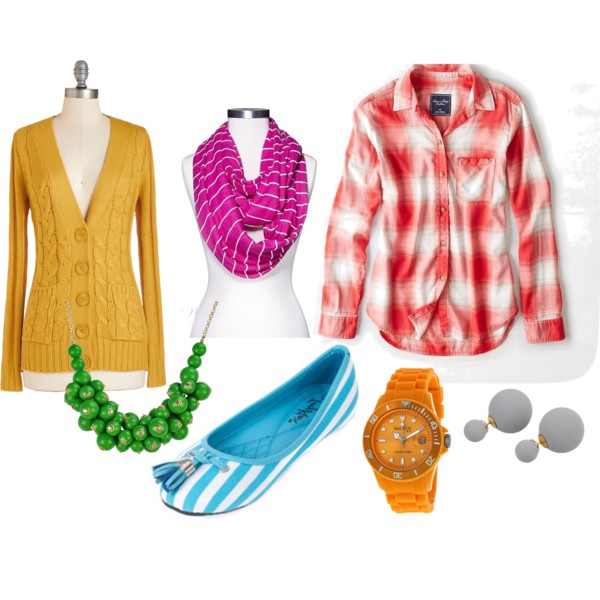 This bright and bold yellow cardigan from ModCloth.com is both cozy and practical. The sunny color is sure to make you smile and will look great layered over a cute patterned blouse. Pair it with light wash jeans and brown knee high boots for winter, or ballet flats for Spring.
This orchid colored infinity scarf from Target is warm and bold. It will look sophisticated over a black turtleneck or add some sass to a plain white t-shirt.
This plaid shirt from American Eagle  is on trend for winter and the coral color will look so pretty with jeans and cream or gold colored accessories!
I love this green chunky necklace from WigsBuy.com (and it is totally Texas Two Steppin's style) it reminds me of all the flowers that will be blooming in the Spring. Pair it with a chambray top for a nature inspired mix of blue sky and green grass or use it to add an unexpected burst of color to a dark navy blouse!
These flats from Overstock.com just make me smile! The tassels and stripes give them a nautical feel and the bright blue is sure to put some Spring in your step no matter how dreary the weather truly is.
I love this chunky Orange watch from JomaShop.com! I can wear it all year long and mix it with a multitude of other colors and patterns. Roll up your sleeves to really show it off!
These Gray front to back earrings from LorisShoes.com are an accessory DO! The gray color is unexpected but will go with anything, and add interest to even the simplest look.
What piece do you like the best? How will you brighten up your winter wardrobe?
Categories: Fashion, Prairie Wife Style
Tags: , accesories, bright colors, budget shopping, Fashion, shopping, winter wardrobe