Winter Fashion 2014 Trends: Dos or Don'ts
Posted November 12, 2014 by Prairie Wife - 2 comments
Prairie Wife: I feel like we just did our Fall Fashion 2014 Trends: Dos or Don'ts, but in truth the post was up two months ago…how time flies! The weather here in Wyoming is getting much colder and I find myself enjoying my horse chores a little less each week. Some of that is because of the rapidly growing baby belly and the trouble it causes, but mostly it's the nippy air and fierce wind that has me dreading feeding the horses. I love the cozy sweaters and knee high boots that the winter fashion brings. While doing this post I am finding that the weather differences between Texas Two Steppin's "winter" and mine have caused a little  more variety in our opinions this time around.
Texas Two Steppin': This past weekend it was in the 80s and I was wearing shorts, but I think PW jinxed me because the temps are supposed to plunge into the '20s in Central Texas this week (a rare occurrence). Oh well, break out the closed-toed heels! We can't wait to hear what our readers think of our Winter Fashion 2014 Trends: Dos or Don'ts list! As always, click on the pic to go directly to the site and view/purchase your item.
Quilting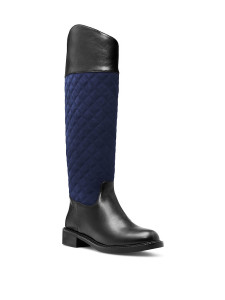 Prairie Wife: Don't, don't, don't…ugh this one is a don't for me. It just always reminds me of an old lady (and not in a style icon kind of way) and I immediately imagine I can smell stale perfume and moth balls. You can disguise it on a sweet little bag or a trendy bright jacket but in the end, quilting just says OLD and dowdy to me!
Texas Two Steppin': Do, do, do is the advice from me to you! Yes, not everything with quilting is on trend, and I am not a huge fan of patchwork quilting, but you can find certain items that are sleek and stylish. I absolutely love the quilted patches on my cobalt blue leather moto jacket. And one of my favorite pairs of black leather boots that were recently "stolen" by Step Girl are quilted. They have a four-inch stiletto heel, so I will argue that they are not dowdy in the least. True, you need to look at the quality of the piece because it can easily look cheap if the stitching is poor quality, but there is a reason Chanel quilted handbags have been featured in fashion magazines for decades.
Buffalo Plaid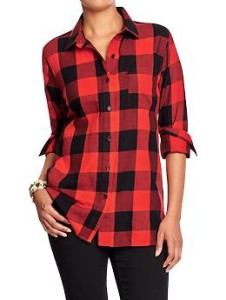 Prairie Wife: I'm sure it will come as no surprise to you that this is a Do for me! Not only does it remind me of my Nirvana lovin' plaid shirt wearing High School days but, the little bit of country that Buffalo plaid adds to any outfit is something I love! That being said I'm not completely sold on a Buffalo Plaid skirt…a form fitting shirt, sweater, or jacket is perfect! I am also on the hunt for a Buffalo Plaid shawl, how cute would it look thrown over a Chambray top with dark wash jeans and brown knee high boots?! SOOO cute right?!
Texas Two Steppin': It is a Do for me too, but for totally different reasons. I like it because it is a classic look. About 10 years ago I splurged on my first Ralph Lauren piece–a buffalo plaid fitted  flannel shirt. Because it doesn't get super cold here, I usually roll up the sleeves and then pair it with jeans, a tank top and ballet flats for the weekend. Easy breezy, and every now and then I'll even pair the tank/shirt combo with a black pencil skirt and riding boots for casual Friday at the office. My one-year-old granddaughter just got a buffalo plaid button down in hot pink, and I am honestly considering looking for one in my size because it was so cute (yes, if I find one, I do solemnly swear to never, ever, ever wear it at the same time as her).
Cigarette Pants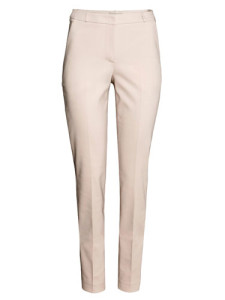 Prairie Wife: These are a total do for me! I love that fashion right now has pretty much anything for everyone. The loose drapey harem type pants (that I am loving right now) are comfy and boho chic, while these slim and sleek pants are professional with just a hint of sexy. They are date ready with a pair of heels and a silk blouse or perfect for the PTO meeting with a pair of oxfords and a cardigan. Just make sure you have them tailored (or sleekly rolled) so that they hit right at your ankle bone or a bit above! PS My favorite  magazine Marie Claire did a great article on "Cheap" Cigarette Pants!
Texas Two Steppin': Hello, can you say Audrey Hepburn? I just bought a black brocade pair that I plan to wear to the many holiday parties we get invited to. Heels or flats, emerald pullover or white button down or sequins tank with a tuxedo jacket–the number of looks I can create are endless! Of course this is a Do, but I am going to stray a little bit from Prairie Wife's recommendations. I honestly think these only look good cropped just above the ankle; any longer and they are just skinny pants. And, you must tailor, not roll them, so you don't loose the sleek, signature look of the cigarette pant.
Robe Coat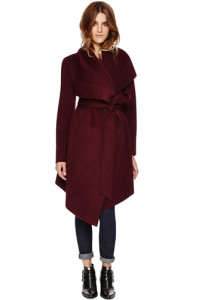 Prairie Wife: I just can't decide on this one but to be honest I'm leaning more towards Don't for me. It looks super cozy and warm, a must in the Wyoming winter but…I think of our wind and how it would just be constantly blowing open. Also, I know from experience that a longer coat causes problems for me when I am getting in and out of the car and bending over to pick up Cowkids. Add to the my huge belly from CowBaby5 getting in the way of the tie. I just have to pass on this trend, sorry.
Texas Two Steppin': I'm so sorry it doesn't work for you PW! I know it won't protect you from the wild Wyoming wind, but in Texas this is totally a Do. I bought a purple robe coat last year, and the few times it was cold enough to warrant wearing it, I was stopped by strangers begging to know where I found it (Nordstrom Rack). I love that I don't even have to button it to look put together; just a quick tie at the waist and I'm heading out the door. Now, I guess you would call my coat a "modified robe" since it is more of a tunic length, so don't give up on the trend right away–the right version for you is out there.
Split Seam Tops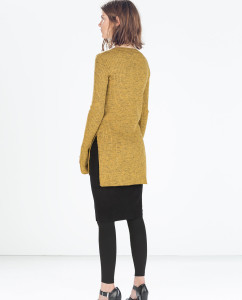 Prairie Wife: This one is a don't for me. I am all about leggings and skinny jeans with tunic tops right now, it's almost all I wear! This split seam shirt offers the butt coverage I love but with the split seam and my extra long waist I know I'd have to wear a tank underneath to prevent belly/muffin top sightings as I run around after Cowboy C. Plus, I think it looks a little dated and 1980s in a bad way! The first time I saw it I immediately envisioned Texas Two Steppin' wearing one with leggings and several layers of tube socks covering her legs from ankle to knee. If anyone could pull that look off today it'd be her but, I just can't offer my support!
Texas Two Steppin': Hey, those weren't layers of tube socks, those were legwarmers…and at the time they were "in." I am going to say that, like most trends, this one depends. I totally agree with the tank top suggestion, Prairie Wife, and if you have to wear a tank you ruin the look. I also agree that butt coverage is a must when you wear leggings, especially when you get to be my age. But I did see someone at the office rocking the split seam, and it looked great because 1) she had a boyish figure 2) the top was a combination of two complementary fabrics and 3) flesh wasn't showing. But I'm afraid that with my curves that exact same top would have looked hideous on me. So, if you are feeling adventurous, by all means try this look out. But do yourself a favor and try it on in the store before you buy it because it is tricky to pull off.
Do you have any Winter clothing trends that you think are total Dos or Don'ts? Please share!
Categories: Prairie Wife Style
Tags: , belted coat, buffalo plaid, cigarette pants, Fashion, Fashion Do and Don'ts, lists, quilting, split seam sweater, style, Winter Fashion, Winter Fashion Trends 2014, women's fashion