Prairie Wife of the Week November 14, 2014 #giveaway
Posted November 14, 2014 by Prairie Wife - 133 comments
My regular readers know I have a soft spot for reality TV, and it was a huge thrill for me when one of my favorite reality stars Marissa Hermer of Ladies of London, agreed to be a Prairie Wife of the Week a few months ago. After that big coup I became a little less scared to dream big. One Tuesday night as I was sitting on the couch eating ice cream and watching one of my favorite shows, Kim of Queens on Lifetime (it just finished it's second season) I thought "I would love to go out for lunch with Kim, and her sister…and her mom!" Their obvious passion for life, sassy attitudes, and confidence just ooze out of the screen. Add to that fun quotes like "I've got more drama than a squirrels got nuts, y'all!" and "Just call me butter baby, 'cause I'm on a roll!"  and you can see why I would be more than willing to find a sitter and spend a few hours with them. It occurred to me that while a lunch date was probably not in the cards…perhaps an interview was! I sent an e-mail to Kim's people who promptly responded that Kim would be glad to do an interview. After I got done squealing and dancing around (as much as a woman largely pregnant with her 5th child can dance) I got down to the business of working out the details.
Thankfully when it came time for my phone interview my lovely neighbor was willing to watch the two littlest Cowboys. I was nervous enough  to chat with Kim, the last thing I needed was Cowboy C to throw a tantrum in the middle of it! I shouldn't have been worried. I can honestly say that Kim is as gracious, thoughtful, and witty in real life as she is on the show. We bonded over a shared love of baseball hats, mom sweats, Pinterest and the never ending concern for the future of our children. She was honest and open with me and I found myself feeling like she should be charging me by the hour for her life coaching tidbits she slipped in throughout the interview. I can't wait for her book to come out next year, I know that it will be a self help book that will become a tool that allows me to truly grow as I read it! Kim's passion for God, family, work, and staying true to herself make her a Prairie Wife to be admired. Add to that her ability to motivate and help others grow through well chosen words of wisdom and you can see why she is one of my favorite Prairie Wives ever! Maybe, just maybe, she Allisyn and Jo will take me up on that offer for lunch…my treat!
Stop by the end of this interview to enter a Giveaway! Our Kim of Queens Prize Package includes a signed photo of Kim, a Pageant Place T-shirt (size large), a darling makeup bag full of Hardee Girl makeup and jewelry goodies, and what every woman needs…her very own crown! All you have to do to enter is leave a comment on this post. Earn extra points by following PrairieWifeInHeels.com and Kim Gravel on social media. Please be honest, we will be checking all entries to make sure they are valid!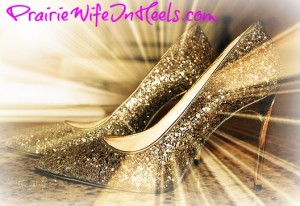 Prairie Wife (PW): First tell us a little bit about you and your family.
Kim (K): I live in Georgia with my husband Travis and two boys Beau and Blanton. As you know from the show I grew up in a tight knit but always loud family. We are a passionate God loving family and I am a passionate person, I can see that in my boys and I love it!
PW: When you were younger you became involved in pageants, and eventually won the Miss Georgia title and became the US Goodwill Ambassador to Japan. Can you share why you, a self proclaimed "ugly duckling," became involved in pageants?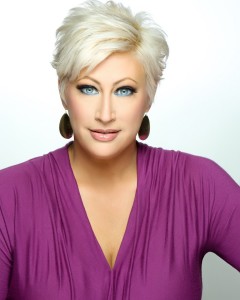 K: I was not the typical pretty girl, but I knew that I had something to say, even at a young age. I had a talent for singing and I knew I had a unique point of view and at that time, I had nowhere to share my views. We had drama at school which was wonderful. But it wasn't a place where I could be myself and share my personal story. I never looked at pageants as a beauty competition; I always focused on the interview and microphone part. I was into female empowerment (though I wasn't aware of it at the time) and I saw pageants as a way for me to stand strong and reach others in my community.
PW: You now run Pageant Place (the topic of a hit Lifetime TV show) where you offer workshops and classes for young girls and teens who are interested in participating in pageants. Your no nonsense approach is admired by thousands of fans but…in the end you still work with the most feared of all creatures…the pubescent girl. Any advice for those of us who have young girls and teens on discipline and building healthy self-esteem?
K: I put into practice what my parents did with my sister and I. Though I need to say that I strongly feel that kids today face so much more than we had to face as children! With all the social media bombarding our kids they are getting the same message over and over…conform. This is the definition of beauty…slim, clear skin, tall, big lips, full breasts and lush lashes. Or this is what it means to be successful…money, big house, flashy car, designer clothes, and a private jet. When in truth the definition of beauty and success is individual to each person. It's killing our kid's creativity and confidence and keeping them from developing their own personalities. It's also exposing them to things that they shouldn't be exposed to at an early age. It's the nature of the beast, so rather than ignoring it, have those hard (and sometimes embarrassing) conversations. Show them the harsh realities and then educate them about how to handle it. Then when it happens and you aren't there…they will have the strength to conquer it on their own.
We are trying to protect our kids from all the bumps and bruises of life that hurt us, and believe me I'm a mom I get it! To be strong adults, our kids have to spread their wings and then falter and crash down to the ground every now and then. Be there to offer support and encouragement, but don't always be the one holding them up. Let them hurt a little bit and learn how to cope. Allow your child to discover who they are. Help aid them in that process, but don't take it over.
I think that discipline today isn't enough and it's for the wrong reasons. We do it because of what other people may think of our kids when they see them throw a fit in the store, not for their own character development. My favorite rule for the teens is if they don't pay for it they shouldn't play with it. If my kids want a phone or a car great, give me money each month for the phone bill or pay for your own gas. Putting restrictions on their behavior and making clear boundaries for them is healthy!
We need to be building leaders not followers. Let them be who they are, know that they will rebel (and as long as it's in a safe way allow it) and let them discover their strengths. For my family and I faith is a vital part of our lives. As a parent you need to educate your children about the why and how of what you believe, don't just expect them to blindly follow…because it won't stick once they leave the house if they don't truly believe.
Read a second more recent interview with Kim now!
PW: A lot of mothers I know contemplate putting their daughters in pageants. Do you have any advice for them? Is there such a thing as too young or too much?
K: I don't like pageants that don't have a speaking element to them. If you want to have fun and have it be about the dress that's fine. The interview forces the girls to develop communication skills. When you put a girl on stage at 8 years old, and teach them how to share their ideas and beliefs with strangers, just think how it will benefit them at 16. Don't break the bank to do pageants, look at is as a hobby. If you set out each time with the goal to grow not win the crown, the crown will always come. You may need to push your child sometimes, after all kids are kids. But, you need to make sure it's because they are going to thrive by continuing, not because you want them to be there. In the end be an aware parent that's tuned into your kid, you'll know when it's time to take a break or when it's time to push forward.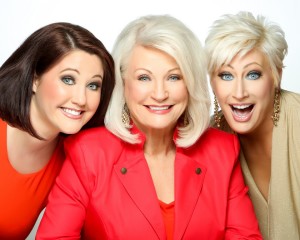 PW: Your mom and sister both work with you, and while you make it clear it can be trying at times, your love for each other is obvious. Has your relationship with your family always been that way?
K: We are very passionate and opinionated and have always been that way. But in the end we don't take ourselves too seriously so no offense is ever taken. We are self aware and loving and we know that all the fuss and yelling comes from a place of love.
PW: Though I've never met you in person, your confidence is SO apparent that it practically jumps out of the TV. Can you share some personal tips and tricks you use to feel better when you're not feeling great about yourself.
K: There are three things that are foundational to building my confidence.
First: It's no secret that my relationship with God is important to me. His strength gives me my strength.
Second: We all have things that go wrong each and every day whether it's a headache, a bad hair day, bad weather, 20 extra pounds, or losing your job…nothing will ever be perfect. The key is stopping the chatter, that inner negativity that weighs you down. As soon as that voice starts picking at you, shut it down and replace it with your truth!
Third: Know what your purpose on this earth is. If you don't know what it is, start working to figure it out! Why are you here? If you define your purpose and keep your focus on that, it doesn't mater what the world does and says, no one can take that away. My personal call is to build, to edify. I build businesses, people, relationships, buildings…that's just what I do. When you have people that know their purpose and stay focused well, that's when you get the Oprah's of the world! Those unique people that stimulate positive change wherever they go. If you aren't dead yet, you still have something to do.
PW: You are a whirlwind of activity and besides your pageants you are also a professional makeup artist and have your own line of makeup products called Hardee Girl. What makeup products should every woman have in their makeup bag, and know how to use?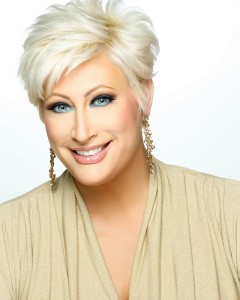 K: I can't emphasize good skin care enough! Exfoliate, exfoliate, and exfoliate. Take at least one day a week to nourish your skin. As far as makeup products, you HAVE to have a good bronzer…please no orange. I don't wear foundation every day; just throw that bronzer on your cheeks and you look fresh and rested. Everyone needs a good nude lip color for their specific coloring. When you find it get the lipstick, lip pencil, and lip gloss. I am a self proclaimed freak about brows. You've all heard it before; if the eyes are the windows to the soul the brows are the window frame. Keep them arched in the right way for your face, and don't over pluck. Start and end your eyebrows where your eye is, it gives you an instant eye lift. Mascara is harsh, so be careful what products you use and try to skip it when you can. Many of the formulas have formaldehyde in them and that will wreck your lashes. Hardee Girl is developing our own mascara that prompts growth and is natural. I am super excited because we are currently working with QVC to start selling a variety of our Hardee Girl products.
PW: Besides being a woman, wife, mother and business owner you are a blogger, life coach, public speaker, and a singer in your own band how do you keep it all balanced?
K: I've got a great support system, both emotionally and also the people that are willing to help me juggle it all. I took time "off" to stay home with my boys. During that time I always said that Lord willing I would get back out there and make a difference. Now I am out there, and I love it! We had a lot of time to prepare and plan for my transition back to work, and I know that planning is why things have gone so well. I don't think you can have it all, but I know you can do it all if you have the right mind set.
PW: You have two young boys, which I know can be absolutely exhausting yet filled with joy at the same time, can you share a little bit about your experiences with motherhood?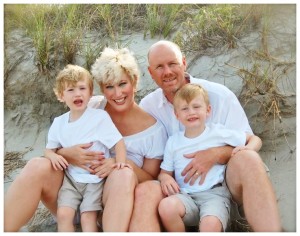 K: When my boys were born I took 5 years and stayed home with them. I traveled some but, most of my focus on the boys. I'm not going to lie, it was hard. It wasn't easy for me and I struggled with the transition, there were times that I didn't enjoy it at all. As I look back I know in my heart it was the right choice and it was good for my kids, and good for me. Becoming a mom changes who you are and for many women it gives them confidence in who they are and what their purpose it…I have been one of those woman who gained a new sense of self by becoming a mother. I think as a mom I really try to focus on not raising children, but raising young men. Like all mom's I have areas I know I need to work on. I admit to being the marathon screamer as a mother, and then when things settle down I always feel badly. But, all you can do it take a deep breath and try and move forward and do better next time. My kids are always so good at showing me the worst parts of myself. I'll hear things come out of their mouth and think…Uh oh, I know where they learned that!
PW: On the show we always see you dolled up and amidst the hustle and bustle of your work, what do you do to relax at home (please tell me you do own a pair of trashy mom sweat pants)?
K: I am a homebody and we love to just "be" a family. For me, my home is my haven. We take walks together; snuggle on the couch watching TV, and sit down to eat home cooked meals together. I totally admit to being the typical mom, right now I'm wearing a baseball hat, sweat pants, and not a bit of makeup. I do NOT glamor up every day, only when we are filming or I am at work, just like every other women I love my days off!
PW: Any last Prairie Wife words of wisdom?
K: But we do not belong to those who shrink back and are destroyed, but to those who have faith and are saved. Hebrews 10:39
Note: Want to know what Kim is up to now? Check out this interview we did with her in February of 2015!
Don't forget to enter our Giveaway! Our Kim of Queens Prize Package includes a signed photo of Kim, a Pageant Place T-shirt (size large), a darling makeup bag full of Hardee Girl makeup and jewelry goodies, and what every woman needs…her very own crown! All you have to do to enter is leave a comment on this post. Earn extra points by following PrairieWifeInHeels.com and Kim Gravel on social media. Please be honest, we will be checking all entries to make sure they are valid!
Categories: Prairie Wife of the Week
Tags: , advice, Beauty Pageants, interview, Kim Gravel, Kim of Queens, Makeup tips, Pageant Place, parenting, Prairie Wife of the Week