Holiday Makeup with Professional Makeup Artist Kendra Richards #giveaway
Posted November 15, 2014 by Prairie Wife - 53 comments
The Holiday's are almost upon us. Here at PrairieWifeInHeels.com we want to help our readers look and feel their best during this joyful and busy (and lets face it stressful) time. We are kicking off our month of Helpful Holiday Hints with one of my favorite past Prairie Wives, Professional Makeup Artist to the stars, Kendra Richards! Stop by her Instagram to see her amazing work and get more than a little star struck (she failed to mention she knows Curtis Stone). She graciously took the time to chat with me and answer some questions that I think we all have when it comes to the Holidays. How can we look best in family pictures, what is the best filter for a flawless face, what looks are best for holiday parties? Thankfully besides answering all my questions Kendra directed me to her super helpful how to videos, make sure you stop by to brush up on your makeup techniques! As a special gift from us to you we are giving TWO WINNERS their own Heir Atelier Ultimate Makeup Prep! Enter to win at the end of this interview.
Prairie Wife (PW): The holiday's are almost upon us and for many of us that means a ton of pictures! Can you share some tips for making our makeup look flawless in pictures?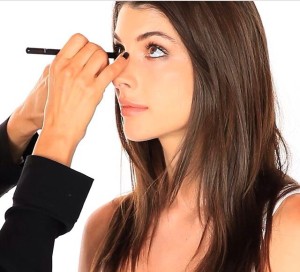 Kendra (K): The first step is to make sure you are priming your face and eyes. I recommend a product like Heir Atelier for your face because it both moisturizes and primes. This combination works together to keep your makeup smooth and looking flawless. Use an eye primer every time you wear eye makeup to help your eye shadow last longer and prevent your shadow from creasing. Powder should be used on your T zone to prevent you from looking greasy. Choose a lightweight formula for the most natural look while giving you the best results. When I do red carpet work I don't powder the whole face, I want as much of the real skin to show through as possible because that is what keeps skin looking dewy fresh and young.
PW: Are there any particular things we should emphasize (or hide) to look better on camera?
K: It's important to remember that one size doesn't fit all. In the end good pictures often end up being mostly about good lighting! We always say good lighting will hide a multitude of sins and bad lighting with great makeup will still result in a bad picture. When doing your makeup choose one thing to focus on, eyes OR lips, so the different parts of your face aren't competing. A lot of people still think that when you wear makeup for pictures you need to wear more than you normally do, while decades ago this was true it isn't necessarily true anymore. With the current smartphone lenses, digital cameras and HD cameras you shouldn't follow that rule anymore. Stick to your regular makeup routine. If you are doing family pictures bring a makeup bag and a mirror and have your photographer take a test picture to check your look. You can always bump your makeup up a little if needed after seeing the test photo. Don't forget to bring toothpicks, and check your teeth for food!
PW: Is there a certain tilt of the face or an expression that will be more flattering then a full on smile?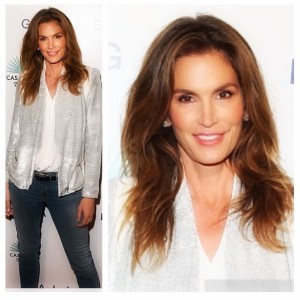 K: If you look at many of the red carpet celebrities most of them have a pose they use all the time, they have learned how they look best and give you that pose or face most every time . Watch that your chin is not too high (you don't want people looking up your nose) but give it a little lift and jut your chin out a tiny bit which helps flatter your neck. In general you probably want the camera just a little higher than your eye level. Experiment to see if you look best looking directly at camera or with your face slightly to one side. Go ahead and practice in front of the mirror, no one will know! Think about the expression in your eyes and try and smile with them (one art director I work with tells his models to "smeyes") a slight smile is great and you can even show some teeth. Find a look that you like and works for you, I like to think of something that makes me very happy and have fun because I think it shows. What works for me is thinking of my sweet dog Ella… I can't help but smile.
PW: So many pictures today are taken with phones, are there different things to think about with our makeup to look our best on Instagram?
K: Be sure to have your T-Zone powdered so that you don't look greasy. If you are wearing shimmer you want it in strategic places like high on the cheekbone, the brow bone or eyes but not where it might make you look oily. Sometimes flash will wash you out a little if it is too close to you so in that case DO add a little more color where needed despite what I said earlier about not needing to pile makeup on if you think you will be in close quarters shooting photos with a flash. The best way to be prepared is to take some practice shots at home, it's a great way to check and make sure your makeup is just how you want it. What looks good in a mirror doesn't always look the same in a photo. Even as professionally we often end up doing tweaks on set because things look different on camera. Do your homework ahead of time. If you want to try a new look or product do it a few weeks ahead of time so you can be confident you look your best on a big night. Remember, there is nothing wrong with keeping the same look you always have if it's what you like and feel comfortable with!
PW: Speaking of Instagram what filters do you think are the best for the "flawless face" look we all strive for?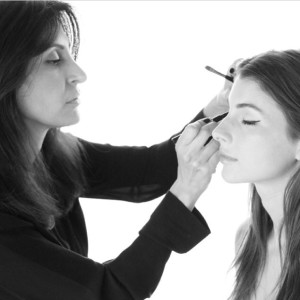 K: I have a photographer friend that runs his pictures through multiple filters to get just the right look, which is a great tip! I personally like Xpro and Mayfair but it depends on what I'm sharing. If I am sharing a photo about the makeup colors I want them to look as true to life and authentic as I can. Try a few filters out on your photo and pick your favorite. There are some great apps (I love FaceTune that allows you to clean up an image yourself and VisageLab is a no brainer photoshop tool that does the work for you) that will clean up all your pictures up for you. They take a great picture and makes it look even more flawless!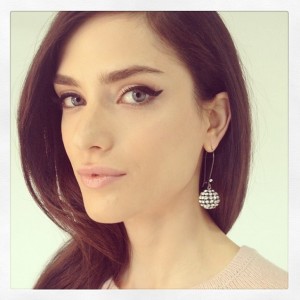 PW: A lot of people tend to immediately think red lip and glitter eyeshadow for a holiday party look, what do you think?
K: I think red lip OR glitter eye shadow not both. Just because it's the holiday's doesn't mean you need to look like a Christmas ornament! My general rule of makeup-pick one thing to emphasize. Go ahead and have fun with the holiday aspect but remember, you should be trying to look like the best version of yourself, not like someone else! And if red lipstick isn't your thing you don't have to wear it, festive means different things to everyone.
PW: Is it best to wash your face clean from the day's makeup and start over if you have an evening party to go to, or can we just layer on top?
K: Ideally clean your face and reapply your makeup before going out. If you can't do that use a primer/moisturizer like Heir Atelier to freshen up any dry areas. Then reapply makeup where you need it. Blotting papers are a great way to control shiny without adding more powder.
When it comes time to create your party look there are a few tricks to take your day makeup to night. Emphasize your lashes by adding some black eyeliner on your upper water line. If you are looking tired, use a deep blue liner to make your eyes look whiter and fresher. Go ahead and add another layer of mascara and comb through your lashes with a metal eyelash comb between each coat (I do this day or night) this will keep your mascara from clumping. Keep your lips moisturized so your lipstick looks fresh. Begin using a lipscrub a few days before the event to prep your lips and skin so you'll look your best!
PW: How can we keep our makeup lasting all night long?
K: I can't emphasize the importance of using a primer on your whole face before you apply your makeup (I bet by now you know what primer I prefer)! Don't forget to use a primer made specifically for your eyelids on your eyes. Using a cream eyeshadow or powder it helps keep the color from fading and prevents your makeup from settling in the creases. I use a simple moisturizer or my primer on the under eye area. Too much makeup and especially powder under your eyes can result in emphasizing what you are trying to cover up. I like to use a soft highlighting product under the eye and blend out over the cheekbones to give a glow and lift to the face. For mascara I stay away from waterproof mascara because it tends to clump. I like Kiss Me mascara by Blinc for those long events/parties, it has staying power and it takes both water and pressure to remove it. If you have oily skin keep blotter papers in your purse and just use one quickly when you use the restroom…beware of over powdering! For those of you with dry skin bring a light moisturizer to quickly tap onto any spots that may be feeling tight and dry. Ultimate Make Up Prep does have moisturizing ingredients in it so that you won't have to continue to add hydration.
PW: Any predictions for new makeup trends in 2015?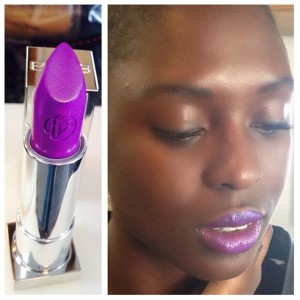 K: There are definitely a few things I saw from the runway for Spring. Plum lips and red lips are all over the runways. Black eyeliner in a variety of styles. I saw the cat eye, as well as bold black eyeliner on the top and on the bottom. In the end I always say you need to be discerning and do what looks good on you. Take what is on the runway and tweak it so you look your best. Perhaps for your skin tone you need to use a sheer plum gloss rather than a rich matte lipstick. Maybe the best look for you is black eyeliner on top rather than around your whole eye, or a cat eye with brown liner rather than black. Experiment and have fun but some makeup trends just won't work for everyone. Remember, glowing gorgeous skin will never go out of style…anything you add to that is just the icing on the cake!
Kendra will be stopping by throughout the week to answer any questions you may have, and to respond to your comments! Also, don't forget to enter to win your very own bottle of Heir Atelier Makeup Prep!
Categories: #GiveAways, Beauty, Prairie Wife Style
Tags: , Beauty, Flawless Face, Heir Altelier, Helpful Holiday Hints, Holiday Makeup, Kendra richards, Makeup Primer, Makeup tips