Prairie Wife of the Week 2015 February Flashback Kim Gravel #giveaway
Posted February 27, 2015 by Prairie Wife - 58 comments
One of my favorite perks of doing this blog has been the opportunity to chat with some amazing women. Not only do I get to be nosy and ask them all about their lives but, I find that with each interview I do I take away at least one or two tidbits that help me to become more like the woman I want to be. One of our most popular past Prairie Wives has been Kim Gravel of the Lifetime show Kim of Queens. Last time we interviewed her it was just at the end of her second season of Kim of Queens and the future of the show was uncertain. True to the woman that we have all grown to admire and love, Kim shared with me her honest feelings about the show, as well as some exciting news about her plans for the future. Pull up a chair and prepare to laugh and learn as you read this candid and exclusive interview with your favorite Prairie Wife and Pageant coach Kim Gravel!
Don't forget to stop by the end of the interview to enter to win some great goodies! This is our last giveaway for our We LOVE Our Readers Month of Giveaways…and it is a great one! All you have to do to enter is tell us what you like about Kim in the comment section below. You can earn extra points towards the giveaway by following PrairieWifeInHeels.com and Kim Gravel on social media.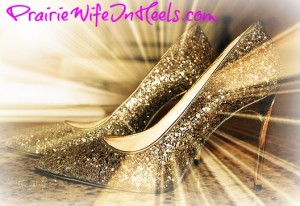 Prairie Wife (PW): First, how are you and your family?
Kim (K): We're great, but I am glad the holidays are over because we are back in our routine. The boys are having some trouble in school right now so we're busy working through that. They are smart boys but they don't want to put forth the effort…which doesn't fly with me! Other than that minor issue we are healthy and blessed. My mom and Alyson are doing great! We just had a little girl come and train with us at Pageant Place from Make a Wish Foundation. Alyson and I had the honor of training her and watching her in her first pageant. It was one of the best things we've ever done, and I can't put into words how meaningful it was for us. It reinforced my confidence that my family and I are doing the right things with Pageant Place.
PW: Last time we chatted the news had just been released that your Lifetime show Kim of Queens had been canceled. Now that some time has passed can you share a little bit more about that with us?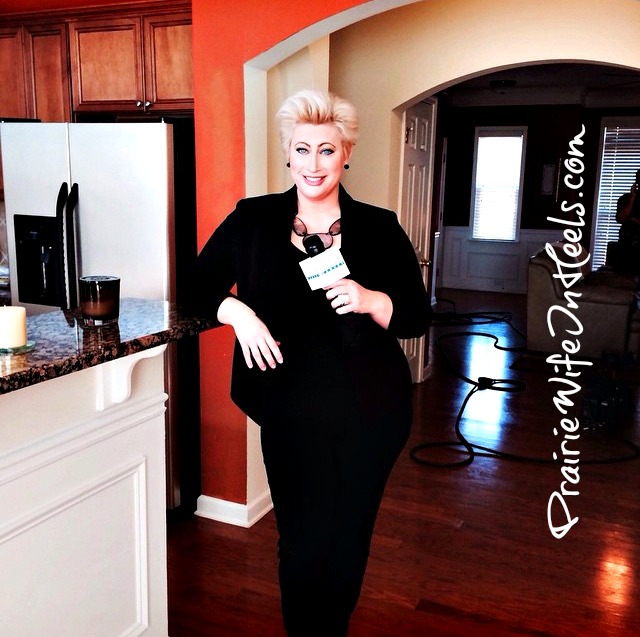 K: My honest opinion is that the show never found its feet with the Network. But for all my fans don't lose heart…I am currently working with other networks and looking into a daytime talk show. You can also find me appearing often on my good friend and mentor, Steve Harvey's show! I still love to sing with my group Beloved (a CD is part of the giveaway) but as of now we don't have any dates set for 2015. You can always stop by my blog for up to date info on what I'm up to.
PW: Can you give us some updates on how all of our favorite Pageant Place girls are doing?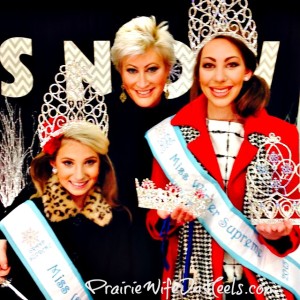 K: Addison got a job at a pizza place, so she is gainfully employed and dating. She's in High School now and growing up fast!
Mara has won a local title and come so far…I am so proud of that girl!
Hannah just won Grand Supreme Final. She is homeschooling and at an 8th grade level and taking High School courses, she is so brilliant! You just watch…she will be Miss America.
Raven is going to Miss Outstanding Teen and I can't wait to see how well she does.
I still keep in touch with all of our transformation girls from the show, which is so rewarding for me. They helped me grow just as much as I helped them!
PW: When we chatted last time you shared your story of how being a stay at home mom for five years was one of the hardest, yet most rewarding, things you have done. Currently a big topic in the news is "mommy wars". Stay at home vs. working mom, breastfed vs. formula. What's your take on all this?
K: The truth is women should never be at war with each other. The beauty of being a mom is that it is one experience that we have as women that men will never get. This is such an opportunity for women to connect and it's ridiculous that it's pulling us apart! Mom's are the most influential people on the planet. If women (and society as a whole) would get that, and work together to support each other, the ways that we could make the world a better place are endless.
I am not saying this to take away from women that don't have children, but the power that mothers have to change the face of the world should not be underestimated. It's something that we as mothers have to be mindful of. We need to come from a place of compassion when we look at each other. Think about what that woman on the playground IS doing not what she isn't doing. She is shaping another human being and it's a huge responsibility. We could all use a little positive support from other moms. If you breastfed or not isn't going to matter in the long run. Creating an adult that in turn helps to create a better world is what matters.
PW: Your "support them but don't be afraid to let them fail" parenting advice really resonated with our readers. Any other parenting advice you'd like to share?
K: The thing that I'm seeing with my boys is that my one son is very verbal, and boy does it show when he gets mad (wonder who he gets that from lol)! As a child I was allowed to show emotion and be angry, even towards my parents. I was encouraged to be who I was. If I was angry with my parents they would let me rage for a certain amount of time, then they would use it as a teachable moment. I think children need to be allowed to express what they are feeling.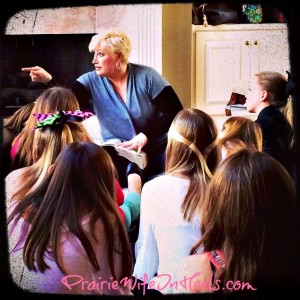 Right now we are focused on giving my son the appropriate language to talk about his anger and frustration. I hope that he will then use it next time he is upset. In the future these tools will allow him to intelligently and healthily express his emotions. In the end he knows he is most likely still doing it my way but, we explain why. I can see how much more receptive he is to that. As we all know, there are occasions when we don't have time to do this, and he better just do what I say! When we can we try to explain where we are coming from. It's a lot of work! We live in a victim society; fewer and fewer people are willing to take responsibility for their choices and the consequences of their actions. I refuse to have a child like that. I want my boys to act and take responsibility for their emotions and choices!
I think that children now have so much information coming at them all the time. This means they need more support on how to process all that information. When they are young we can guide them towards what we consider is the right choice. We need to remember that children's emotions and sense of empathy are heightened, things are not just happening to them they are happening through them.
PW: I know that in the past few months you've been striving towards a healthier you. What have you been doing and how has it been working?
K: I get to brag a little because I've lost 10 pounds and am now a size 12…a good twelve! I whole heartedly acknowledge I have a sweet tooth so that's been my biggest battle. I've cut out the sugars and if I want something sweet I eat fruit. I can't lie to you, it's not been easy. The other night it was 10 at night and I was rummaging through the drawers and cupboards like a crazy person. Twitching like a crack addict and trying to find just one piece of candy! My husband walked in and said "Kim, just say NO!" My families support has been really important, and we eat healthy and move around more together.
I bought a FitBit and I love it! After using the app for a week or so, I saw that I move way more than I thought I did. It made me realize that my main problem was food. I eat to socialize, and I eat because I love it! The FitBit made things clear to me. I realized that if I would just focus on the food aspect of my diet I could make some big health changes. I still want to lose 20lb because I want to feel more comfortable and 100 % confident about my body. I want to be healthy and have my body work efficiently. I want to wear everything in my closet….pull those tags off those clothes I bought hoping for a future where they would fit, and wear them.
As far as specific changes in my diet…I eat a high protein breakfast, small lunch and don't eat after 6pm. It's hard for me but it's worth the results! I drink 90oz of water every day. The difference in my skin and body and even my energy level is amazing! I make sure I take my quiet time every day and keep focused. My quiet time usually involves some time with God whether it's reading a devotional or writing in my journal. It's important for us to remember that mental and spiritual health is just as important as physical health. Once you start that daily routine of taking time to be quiet it makes such a positive difference. I've realized that I need to focus more on day to day rather than putting my energy into looking ahead at the next months and years. I'm a visionary but sometimes this makes me miss the little moments. I am goal oriented; it just keeps me motivated to set an end for my goal. So I want to have my weight loss done by the first of April, send good vibes my way!
PW: You mentioned in our interview that you have a new makeup line with QVC coming out this year, when can we expect these to be available?
K: I am SO excited to say that QVC is doing both and a skin care line called AloeMend (out in mid April 2015 or May 2015) and a Kim Gravel clothing line (out in August 2015). Your readers can follow my blog to see updates and receive announcements on these QVC lines.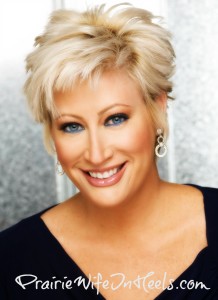 AloeMend is an organic, pharmaceutical grade Aloe based skincare. We have an eye cream that simply cannot be beat. The facial serum is wonderful. Our first ingredient isn't water like most products, water doesn't soak into the skin rather it sits on top. The first ingredient in AloeMend's products is organic pharmaceutical grade Aloe and it pulls all the vitamins and fruit stem cells into the deepest layer of the skin. We also have mascara, and man it works! We actually tried it on everyone that knows me. You can see the difference in the growth, the length and the health of your lashes in weeks. You should see my mom's lashes…amazing!
The talented people that I have been collaborating with on the Kim Gravel clothing line are the same people who did the Joan Rivers line. I am so excited about our pants and jeans! They are super comfy but chic looking, and offer a great fit for real sized woman. It has shape wear built into it but it is still breathable and moves with your body. Of course it's my line, so there is a little bit of flash and bling! There are classic pieces and trendy ones. The price point is to be determined but I want it to be affordable for every woman.
PW: Any last Prairie Wife words of wisdom?
K: Find your purpose and move in it.
We are so excited to offer this amazing Kim Gravel Prize Package as our final We LOVE Our Readers Giveaway! It includes a signed photo of Kim Gravel, a Beloved CD, a makeup package, earrings, and Steve Harvey's latest book! All you HAVE to do is comment below on this post. To earn extra points follow PrairieWifeInHeels.com and Kim Gravel on social media. Please be honest, we do check.
Categories: #GiveAways, Prairie Wife of the Week
Tags: , Beauty Pageants, February Flashback, Giveaway, interview, Kim Gravel, Kim of Queens, Pageant Place, parenting, Prairie Wife of the Week