Prairie Wife of the Week July 4th, 2014 (First Female General of the Wyoming Army National Guard)
Posted July 4, 2014 by Prairie Wife - 15 comments
It was no surprise to learn that Kathy Wright was nominated to be the Wyoming Council for Woman's Issues 2014 Woman of Distinction. A One Star General with a 40 year career in the Wyoming National Guard makes her a woman to be reckoned with. I have to admit that I was more than a little nervous to interview her to be our special 4th of July Prairie Wife of the Week. As we chatted, I found that not only was Kathy Wright a woman with a firm grip on who she is, but a compassionate leader and role model for women both young and old. Her military career (she was Wyoming's first female commander of the Wyoming Army National Guard) is impressive and fueled by her persistence, hard work, and refusal to be judged by anything other than her abilities to do her job well. But, the underlying theme of love for her family, thankfulness to those who offered her support and an ability to reflect and stay balanced, make her a woman to be admired on a personal and professional level.
After you read her Interview and her Prairie Wife words of wisdom, take a few moments to reflect on what she has to say. I am proud to live in America, home of the brave and land of the free. This year as I stand with my hand over my heart when our flag passes before us, my children watching and modeling me, I will have a clearer perspective. Please continue to offer your support and prayers to the men and woman of the United States Military, and their families that have sacrificed for us in little and big ways. Teach your children to honor our country, and those who lay down their lives to protect it.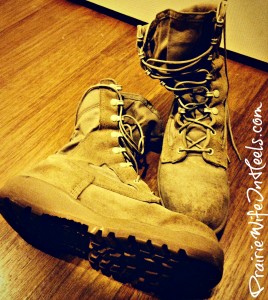 Prairie Wife (PW): First tell us about your family.
Kathy Wright (KW): I spent most of my younger life in Cheyenne, Wyoming. My family moved to Guernsey Wyoming during my Junior year of High School Although I did not see it at the time, in hindsight the move was a blessing that provided me the experience and balance of knowing both the "big city" life and experiencing firsthand the benefits of living in a small town. I met my husband in the summer between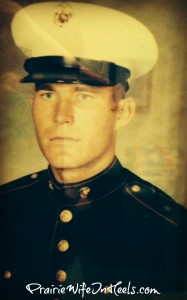 my freshman and sophomore year of college when he was the head life guard at the Wheatland swimming pool where I worked as a life guard. We did not date that summer but were friends. Born in Beaumont TX, Mike's family visited family in Wyoming when he was three and never left. Mike had served in the Marine Corps during Vietnam and was now back and ready to go to school. One night he came to see me at my sorority house because he said he just missed visiting. It was near Homecoming and I was up for royalty, and without a date. A few of my girlfriends gave him some encouragement, and he asked me to homecoming, we began dating from that point on. He passed away a year and a half ago; his support of me enabled me to move forward in so many ways that would not have been possible without him.
I have three sons. My oldest son Justin will be 35 in August, and Hunter will be 30 on October 9th and my youngest Blayne will be 25 on the same day! Justin lives in Huston with his wife and two children, a 5 year old boy and a 4 yr old girl. Hunter works for Halliburton and though he travels around for work Wyoming is his home for now. Blayne just got married and is stationed with the Coast Guard in Rhode Island where he and his wife both serve in the United States Coast Guard.
PW: What led you to join the United States Military?
KW: Growing up I had all sisters, all girl cousins and the lived in all girl neighborhoods during a time when sports were limited for girls. We had parades and played with dolls, all the typical little girl things. When I was growing up there were not a lot of sports that allowed girls to participate so, I twirled baton. It is interesting to me that after a childhood surrounded by girls I got married, had three boys, and worked in an occupation that was mostly all men!
During College breaks and summer vacation, I was a waitress at Crazy Tony's, the biggest restaurant in Guernsey. Guernsey is where the Wyoming National Guard training site is located; units from Wyoming and other states come to do their two weeks of training every year. One night I was waiting tables, when a recruiter approached me about joining the Guard. The National Guard was just starting to enlist women. He told me I could make money for a car, which I told him had no appeal for me whatsoever! I was a music major and I was saving my money for a flute. Being the savvy recruiter he was, he invited me to sign up and join the band. I saw it as a way to continue to play music after college, I didn't think of it as a career. Some say my story is piccolo player to General Officer.
When I told my mom we laughed and did not seriously consider it as an option. Coincidentally my mother had a friend stop by who was in the Guard. She asked him what he thought and he encouraged me, and told my mom that is was going to be a good thing. He went on to become a mentor for me, pushed me to do new things, and told me I should and could become an officer. My grandparents were appalled; their perception was that this was something they didn't want me to do, and that I was just not the type of girl who should enlist.
I really enjoyed basic training…as much as you can enjoy the experience. When I enrolled it was still the Woman's Army Corps and we had classes on makeup and posture as part of basic training. The cycle after me was when woman first received rifles and my company watched with interest. After I returned to my unit in Wyoming, the Women's Army Corp was disbanded and women were integrated into the Army. When I joined in 1973, I was the 6th female to join the Wyoming Army National Guard. Joining was one of the best decisions I have ever made. I am a better and stronger person than I would have been, had I not enlisted in the Wyoming Army National Guard.
PW: What is your current rank, and can you tell us what duties and responsibilities you have?
KW: I retired December 23, 2013 after 40 years, 5 months and 27 days. I retired as a One Star General. My last assignment was as the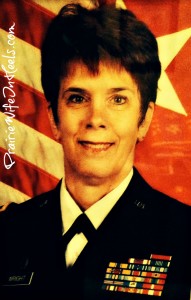 commander of the Wyoming Army National Guard. I was responsible for every aspect of the Units under my command from personnel, to logistics, to training and operations. I worked full time for 25 years in a variety of different positions, the last 10 years in Human Resources. One of my favorite positions was as a T.A.C. officer which is being a drill sergeant for the officer training program. I am a teacher at heart and I loved being the one to help our soldiers develop as leaders, and influence the future of the military. Another activity I really enjoy is volunteering with the American Legion Auxiliary Girls State Program. This is another opportunity to watch young women grow and develop in confidence and skills. This program" teaches young women responsible citizenship and love for God and Country. Since the inception of the Girls State program in 1937, nearly one million young people have had the opportunity to learn first-hand how their state and local government works."
PW: Have you ever served overseas; as a mother how did this effect you and your family?
KW: I never had to deploy other than for exercises, and even then my longest deployment was 3 weeks. I did attend resident schools which were longer. Every parent has to miss certain events or certain things, and I was no exception. There are times when I simply wasn't able to attend things. When our first son was less than a month old (and I was nursing him) I had to leave for a weekend of drill. My husband was supportive and took care of Justin, giving him bottles of pumped milk, and allowing me to focus on what had to be done.
When I went to work full time for the National Guard we were living in Wheatland and my job was in Cheyenne (an hour commute on roads that are terrible in the winter) for two years. Then I got transferred to Guernsey and this meant more traveling. I then received the opportunity to have a new position in Cheyenne, I just felt like I needed to say no. We had three boys by this point and I was done with all the driving, and I was not feeling satisfied in my current position in Guernsey. My husband was an elected official in Wheatland; I was ready to quit and my husband said no. He felt that I had more opportunity for promotion than he so, he gave up his position and a community that he loved to move to Cheyenne for my career. He sacrificed for me, he was always my cheerleader, and that makes all the difference for me and my boys, for our whole family. Often times my position involved a lot of traveling, and I would be gone a minimum of two weeks out of the month. He was at home with the boys, and taking care of everything so I could do that.
PW: Have you ever had issues with men serving under you and taking orders from you?
KW: I guess what I have to say is that I never viewed it as men and women or male and female, it was just soldiers. It's about respect and doing a job. I've certainly had interactions with men that didn't enjoy working with a female and that can be frustrating. They may not have liked it but it's the rank not the person that matters in the military. When I was initially hired as a female for my first full-time position, I was later told by a male that they had been watching to see if I would fail. Would that happen to a male, probably not. I never let it bother me; I always tried to be as competent as possible. I have found that whether you are male or female, if you do your job right, there is no room for anyone to be negative about it. As a young Lieutenant I went for career counseling, I was told that I might make it to Captain but, don't look to do more than that. I obviously ignored that advice! During my career the positions open to assignment of women fluctuated up and down based on Army policy and doctrine.
PW: Are any of your children in the military; did you have mixed emotions about this?
KW: All of my boys were in the military. Hunter served in the Navy and did two tours overseas, Justin also was in the Navy and served during Operation Iraqi Freedom. He met his wife while assigned in San Diego. Blayne initially enlisted in the Army National Guard so I finally got a solider after two sailors! Then he entered the Coast Guard where he spent time in the Honor Guard in Washington DC.
My husband and I were very surprised that they joined the military. It was always my thing, and I even bought them "Your Mama Wears Combat Boots" t shirts. Having your mom in the service is different than your dad. When Justin was in junior high I was driving the kids around. One of his friends asked me about my job and said eventually that Justin told him I was just a "Gopher". At the time I was assistant to the chief of staff, and did a lot of behind the scenes work and spent time with visiting dignitaries. I was later approached by a father of one of Justin's female friends who shared a conversation with his daughter regarding Justin and his mother's position in the Army Guard. He explained to her that I was a Major. It turns out that Justin had told his daughter I was a Four Star General…gopher to the boys, Four Star General to the girls!
We were very pleased when each one of them enlisted and I think they did it because of their own desires, not because of any pressure we put on them. Both of my husband's parents served in World War II and my husband was proud of his time in the Marines. My father served in the military as well but, I was the first one to make a career out of it. I think that all of my boys would say they have benefited because of their time in the military. They were all able to use the GI bill to pay for their educations, and that is a great opportunity for them and other soldiers.
PW: For the first time in our nation's history females can serve on the front lines in combat, what are your thoughts?
KW: I have always thought that women should be able to do whatever job they want to do, as long as they can meet the standards for the job. The battle field has changed over the years with advancements in technology and more fighting from a distance. The nature of battle has changed; contact with the enemy occurs all through the area of operations. Frankly, even if they weren't recognized officially, females have always been there. I think we are just acknowledging what women have been doing for a lot of years. The opportunities for assignment to combat jobs may enhance career opportunities for women in the future. The number of women serving at Senior levels is not equitable to the percentages of women in the military overall and as compared to percentages of men serving to men in senior level positions. Unwritten criteria for many of these positions implied you need to have combat experience. Those institutional barriers are open now but, it will take years for things to be equitable.
When we enlisted our first Wyoming female in a combat position, I pulled her and her family aside for a talk. I told her and her family that our focus needs to be on her training and becoming a good soldier, and not on her being a female in combat. An example of distractions to duty is Vernice "FlyGirl" Armour who came to talk here in Wyoming. She is America's first African American Female Combat Pilot in the Marine Corps. She shared that she was sometimes frustrated that she was singled out first for being female, and then for being good at her job. Being in the Limelight can be distracting. There is an amazing book called Band of Sisters: American Woman at War in Iraq that shares her story, as well as several others.
I was the first female general in the Wyoming Army National Guard, for me it wasn't about being first, it was about how I got there by being a hard worker and performing well at my job. But, I acknowledged and accepted that I was role model. I want to be remembered for the legacy I left behind, not simply for being the first.
PW: What can we do to support our military?
KW: Show pride in our country, and when the flag passes stand up and remove your hat. Teach your children to love America. People often forget that the Military is separate from politics; we take an oath to "support and defend the Constitution of the United States against all enemies, foreign and domestic". Thank service members; it's because of them that we have our freedom. When we have a family with a service member in our community we need to be compassionate, and acknowledge the sacrifice that they make as a whole family.
PW: What do you think we as a nation need to be doing to support our vets?
KW: The initiatives to hire vets are important. As a community we need to recognize they are impacted by their experiences and their career protecting our nation. We need to acknowledge and even embrace that, and come from a place of helping and care. We need to protect their benefits and give support to organizations that support veterans and offer them help on a local level. I think they are honored when they see us honoring the flag and our country.
PW: Any last Prairie Wife words of wisdom?
KW: There were three things that I think were key to my success.
Persistence: It took me longer to get where I am then some of my peers. I jokingly say if you hang around long enough, they have to promote you!
Be Competent: Learn your job and do it right and well. Good looks can only get you so far, and if you do your job well, no one can say you got there any other way than hard work.
Respect: Remember the people you work with and work for. I don't mean your bosses; I mean all the people around you especially those under you, the real people who benefit from all your hard work. Take care of them!
Mother Teresa said, "To keep a lamp burning, we have to keep putting oil in it." You have to put oil in your lamp if you want your life to shine. Woman as a whole have a tendency to ignore that and take care of everyone else before they take care of themselves. It is so important that woman recognize that we need to take care of ourselves, so that we can take care of everything else. We as woman bring an important skill set to this world, something that men don't, and we need to make sure we can continue to do that for the benefit of everyone.
PW: Stop back tomorrow to read a book review of Band of Sisters: American Woman at War in Iraq! Another book recommended by General Kathy Wright is Oil for Your Lamp by Lisa Hammond and BJ Gallagher.
Categories: Prairie Wife of the Week
Tags: , First Female Commander of the Wyoming National Guard, General Kathy Wright, Military Families, Military Life, One Star General, Prairie Wife, support, Veterans, Woman in the Military, Wyoming Army National Guard