Band of Sisters: American Women at War in Iraq
Posted July 5, 2014 by Prairie Wife - 2 comments
Just last week I mentioned that I was having trouble meeting my New Year's Resolution of reading non-fiction. While I have read several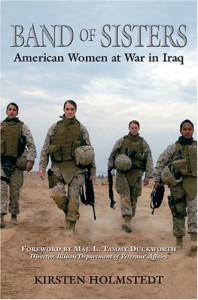 non-fiction books this year, none of them were that great, and in keeping with our Prairie Wife Guarantee…if you can't say something nice don't say anything at all! When I interviewed this week's Prairie Wife of the Week General Kathy Wright, she recommended the book Band of Sisters: American Women at War in Iraq by Kirsten Holmstedt. I personally have little to no experience with the military, I have an Uncle and Cousin that served overseas but they never shared any details about their experiences. I have always been proud to be an American and taught my children love of God and Country, but after talking with General Wright I realized I had so much more to learn.
I immediately ordered Band of Sisters: American Women at War in Iraq on my Kindle and began to read. I'm not going to lie, there were more than a few times when I had to slow down and go back to reread passages. The military language was clearly explained by Holmstedt but, was still a little overwhelming at first. The stories are vivid and detailed and gave me a whole new understanding of what our soldiers are going through on a daily basis over in Iraq. This book is not warm and fuzzy, and no details are left out, if you are looking for a feel good beach read pass this book up.
Over and over again despite the varying stories there is one single theme that runs strong in this book, bravery and a soldier's desire to do their job well. Each female solider at some point shares her desire to not be seen as weaker or stronger simply because of being female, they all strive to be accepted for their ability to do their jobs well…no more, no less. Yet after reading of their bravery and perseverance they can't help but be seen as heroes in my eyes.
This book brought home to me why so many of our returning soldiers and veterans struggle. After reading about pilots flying several missions a day (and not peeing for 9 hours), grunts taking "go pills" to stay awake while struggling to survive in an abandoned school, plans for how to die should their plane be shot down (save a bullet to shoot themselves or each other, or use them all up on the enemy) I can't help but see how returning back to civilian life would be a major adjustment. This book allowed me to feel even more honored to be a part of this nation, and to understand in a new way the sacrifices our soldiers make for our freedoms.
While I enjoyed reading about female soldiers I didn't really see myself separating their stories from any of the other soldiers that have served in Iraq. While I am proud to be a female, I found myself doing just as they wished, admiring them for their bravery and ability to complete their job well, not because they were female. I would really encourage you to pick up this book and read it, even if war stories and history aren't your usual genre. It's an important part of our nation's history, and it will give you a new understanding of our military personnel both on and off the field.
Categories: Reviews
Tags: , Band of Sisters, Book Review, Iraq war, non-fiction, Veterans, war, women in the military