Five Style Resolutions for 2014, Prairie Wife
Posted January 1, 2014 by Prairie Wife -
1. Overall I am pretty pleased with my parenting style, but I am always on a quest to improve myself as a mother. Sometimes it is patience I am lacking, other times I focus way more on what needs to be done rather than taking a breath and enjoying the moment. I also find myself struggling with a desire to be the "fun mom" but I am just not the type to wrestle around on the floor…and much to Cowgirl G's despair I hate having my hair played with! This year I resolve to focus on making the Prairie Homestead "yell free". I refuse to yell at my kids when I am feeling out of control, and instead use some more of the great coping tools I learned as a teacher (and from my good friend TallGirlJ).
2. This year I resolve to spend a little less time rocking the baseball/knit hat look, and style my hair before I go out. Now that Cowbaby is almost one (sniff) my excuse for having no time to take care of myself is a little worn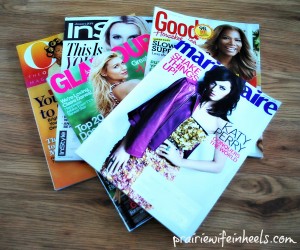 out. With Texas Two Steppin' and her shiny perfectly coiffed example as my beacon of light; I plan to put that new blow dryer I bought to good use!
3. Last year I went on a limb and tried two new trends that I wasn't too sure I could pull off, red lipstick and a white tuxedo style blazer. I find that my fashion risks tend to stick out a bit more amongst the jeans and sweatshirt style in Wyoming! So far I have been rocking them both, and I haven't been laughed at (not to my face at least) yet. In fact, I've gotten lots of compliments! For 2014 I resolve to not be a big sissy (to quote The Cowboy) and give all the amazing trends (that are age and body appropriate) I see in my many fashion magazines a try.
4. It's no secret that I love to read. Before this blog took over my free time, I read between three and five books a week. My genres of choice are Historical Fiction, Brit Lit, and Chic Lit with a little Fantasy and a few Young Adult novels thrown into the mix. This year I resolve to read more non-fiction books (at least one a month) perhaps a few auto-biographies or maybe a couple self help or parenting books. I resolve to share my findings (only the good because why should you waste your time on something bad) with you, our readers!
5. Last but not least, I resolve to meet up with my big sis Texas Two Steppin' face to face (we haven't seen each other in almost two years) and take a good hard look at our prairiewifeinheels.com site. So far we have been doing all of our collaboration with e-mails and late night phone conversations when the kids are finally asleep. I am SO excited to sit down with her and see what we can do to make our prairiewifeinheels.com site even more stylish, fun, and relevant to our readers.
Let me know what you resolve to do this year!
Categories: Life As It Happens
Tags: , Beauty, Fashion, motivation, New years resolutions, Prairie Wife Life, style