Camping with the Cowkids
Posted July 7, 2014 by Prairie Wife - 12 comments
I wouldn't say that I hate camping, but I can't exactly say I love it either. It's not the bugs, dirt, sleeping on the ground, or walking half a mile to find a good bush to go to the bathroom in…believe it or not none of that bothers this reformed city girl. Nope, for me it's the constant "death watch". This is a term I have invented that refers to the struggles of a mother to keep her children alive in this world full of dangers like steps, Barbie shoes (choking hazard), improperly cut up hot dogs (again choking), unprotected electric outlets, and unknown dogs…just to name a few. For me camping is just one big stress filled death watch, with no break. Here are some of the hazards to small children you can find camping…snakes, fire, bees, spiders, large holes, water (creeks), fishing hooks, fire, pointy sticks, slippery rocks, FIRE, and simply wandering off and getting lost. The three older Cowkids actually do pretty great staying safe and making good choices. But poor Cowboy C at only 18 months…it's really no surprise that after three days in the mountains the new words that he learned were "hot", "fire", and "walk"! The Cowboy and the Cowkids love camping, and I can see how in a few years I'll really begin to enjoy it too. I have to admit that the beautiful mountain scenery always helps sooth my soul, and being away from modern technology for a few days is always a good thing. We came back home dirty and exhausted but full of S'mores and amazing family memories.
This is our new favorite spot, I can't tell you where it is or I would have to kill you…good camping spots are closely guarded secrets out here.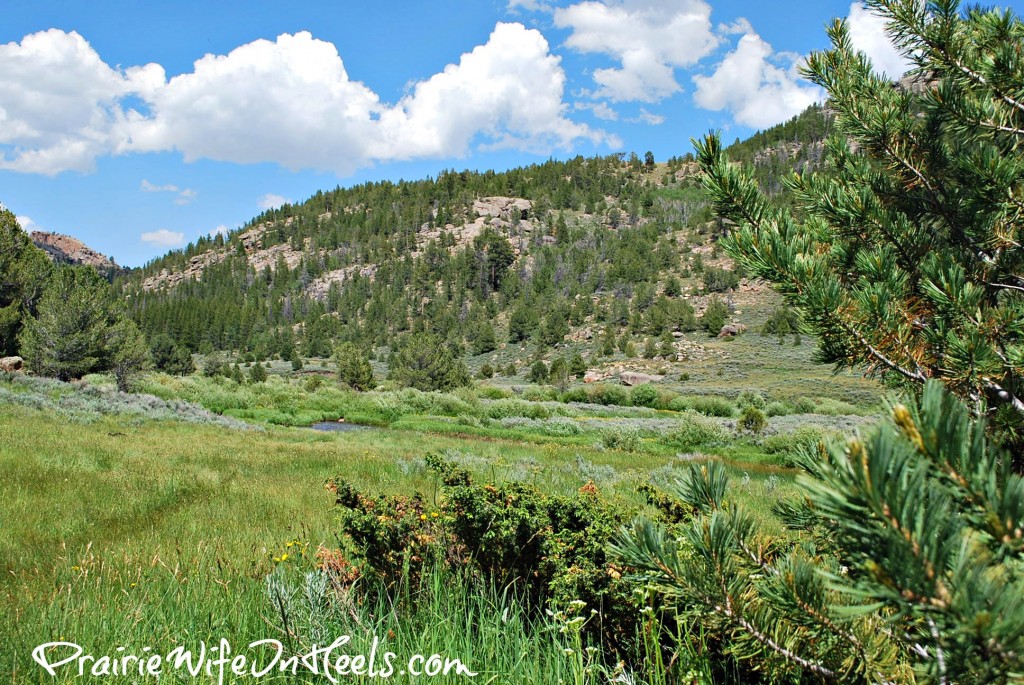 One of the first things we do upon arriving is gather up firewood, everyone helps out!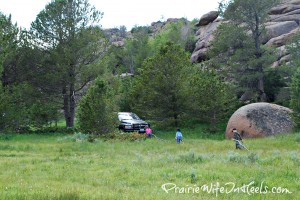 Then we get the tent set up, ahh home sweet home! It's hard to imagine that all 6 of us and two dogs can fit in there.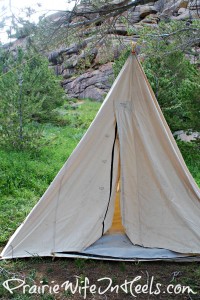 Now that the work is done the Cowkids set off for some rock climbing.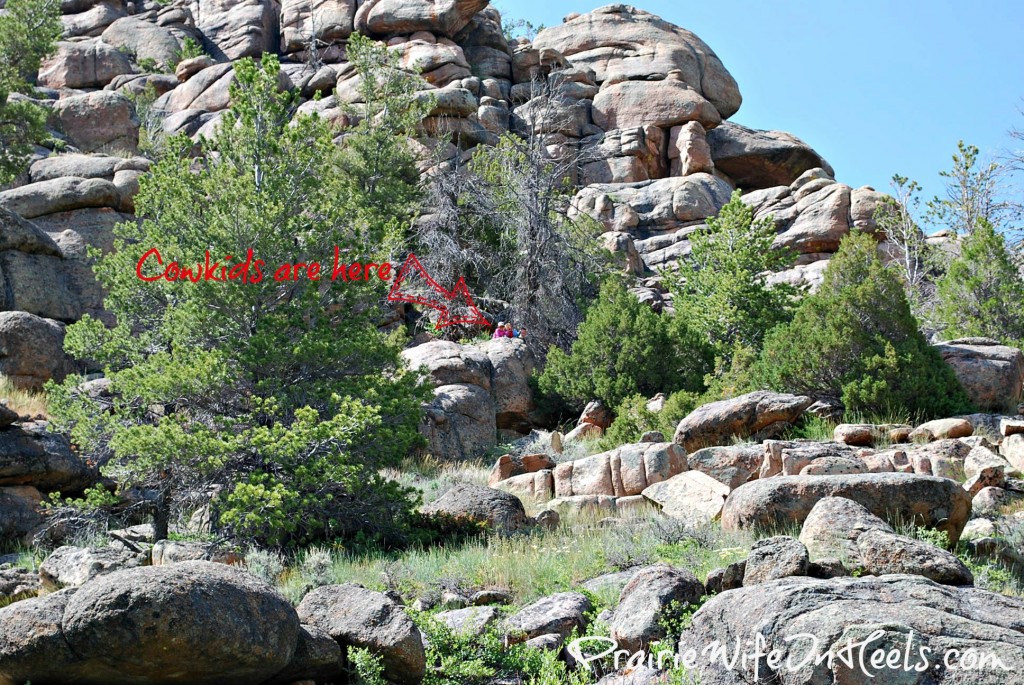 Cowboy C likes to take off on his own…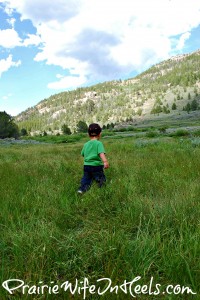 Thankfully he eventually let me hold his hand and help guide him back to camp.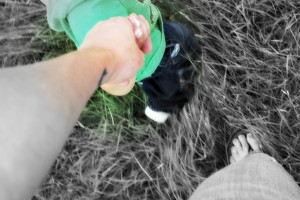 The horses are ecstatic to eat all the fresh grass.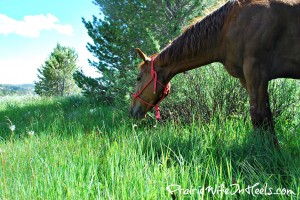 It's night time and we ate a delicious dinner, now it's time for S'mores!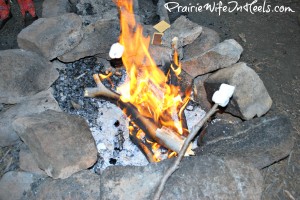 It's morning and The Cowboy has the hot water for coffee and tea ready.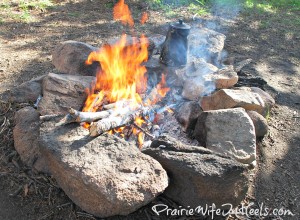 The first thing Cowboy W does is throw on his boots, grab his gun, and make sure the horses are safe.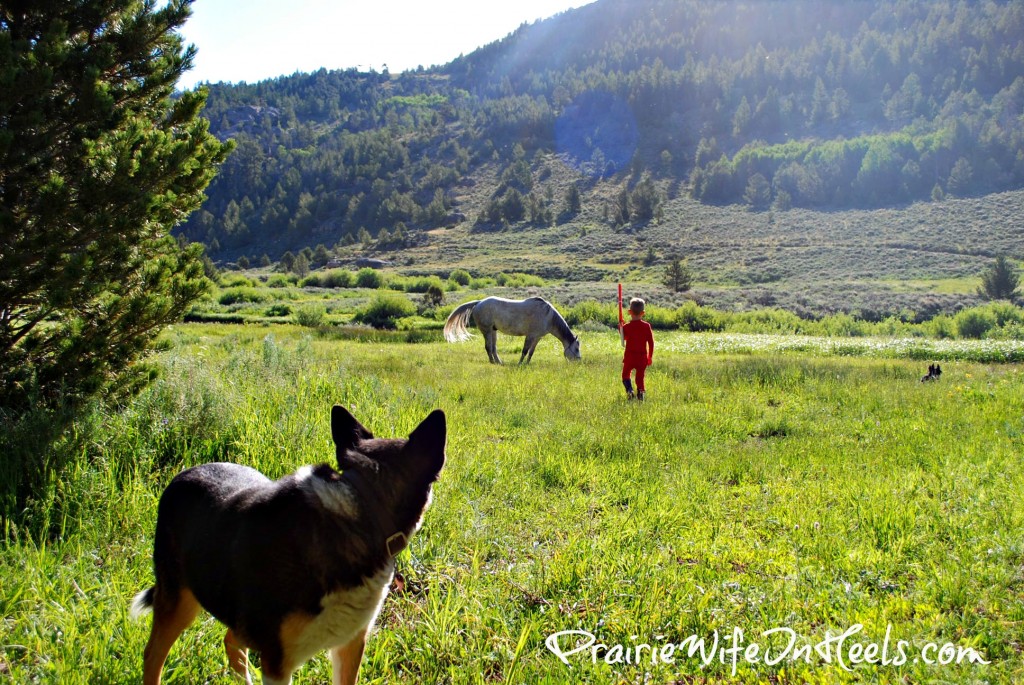 The Cowboy and Cowboy J head out for a ride while the other kids and I hike around.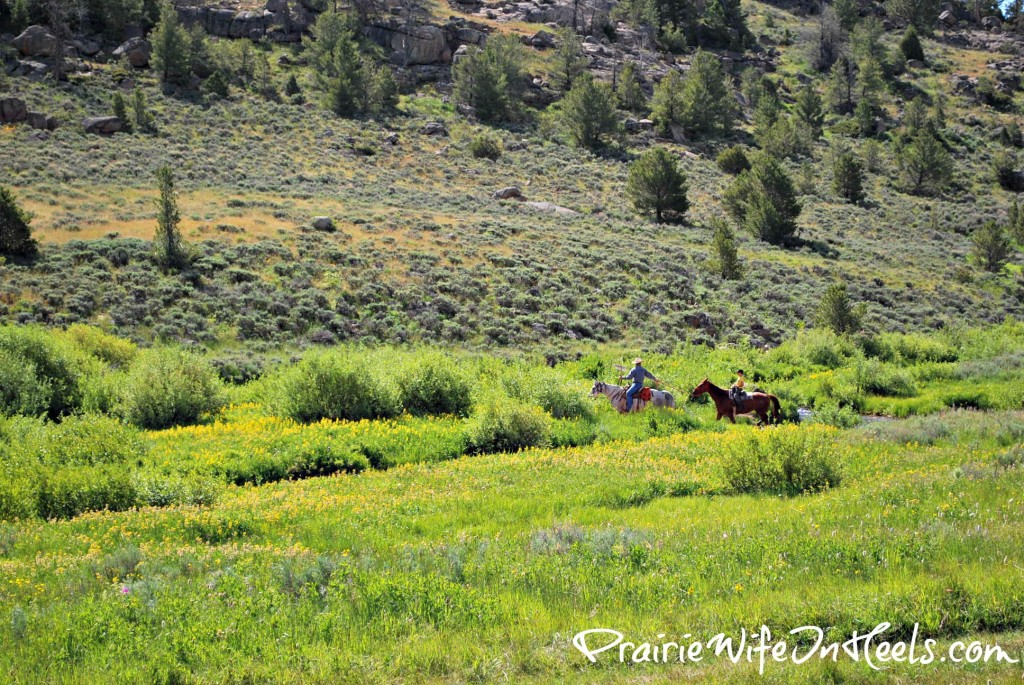 It's a hot day so we all take a walk to the creek.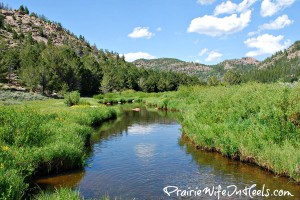 The Cowkids had a blast walking up the creek looking for fish and bugs.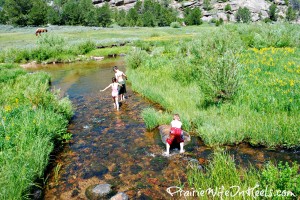 Do you love camping or hate it? I'd love to hear your stories!
Categories: Life As It Happens
Tags: , camping, family, family traditions, nature, photos, Prairie Wife Life, Wyoming