Musings From a Fifth Time Mom
Posted February 25, 2015 by Prairie Wife - 10 comments
As I type this LittleMissH (previously CowBaby5) is snuggled up on The Cowboy's chest and I can't help but smile as I look at them. Snow is falling in fat snowflakes that make me want to cuddle in bed with the Cowkids and sing "My Favorite Things" from The Sound of Music. I'll try not to bore you with tales from the last week of our lives but I wanted to catch you up on life on the Prairie so here are a few musing from a fifth time mom.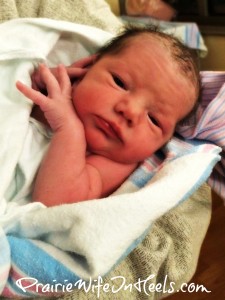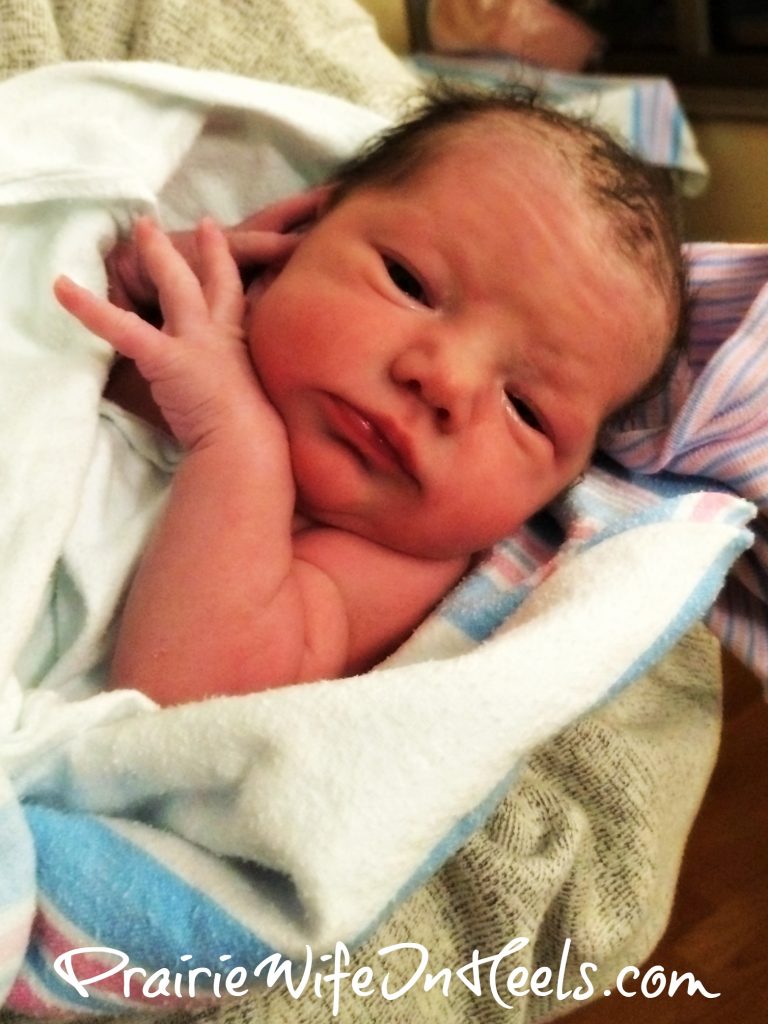 LittleMissH was born on Valentine's Day (ahem I believe I said all along that would happen) naturally but not gracefully, as I like to say. Two and a half hours after my water was broken at the hospital I requested an epidural. My exact quote to The Cowboy was "I have nothing to prove, I want a calm relaxed Spa birth, get me an epidural…I'm not kidding." And just like my last three birth experiences before the epidural arrived it was time to push. LittleMissH was born at 6:58pm sunny side up (just like her big sister) 7 pounds 5 ounces and 21.25 inches of perfect.
Upon their first visit to the hospital (an hour after she was born) the Cowkids were all a little shy and quiet. CowGranny brought them back the next morning and they were all fighting over who got to hold her.
LittleMissH nursed like a champ from the minute she was born for the next 48 hours straight and just when both my mental and physical powers reached their breaking point (this means I was barely able to hold back exhausted hysterical tears every time I heard her cry) my milk came in and things became a little more normal.
With this being my fifth baby I kinda have this baby thing down…most days. I tend to get as much done in the morning as I can. It's amazing how productive I can be when I know I only have an hour and a half or at most two hours! This is my time to do the dishes, laundry, snuggle and read with the little boys, preschool homeschool Cowboy W, and if I'm really on a roll I can get something started in the crock pot for dinner. That way when the rest of the day falls apart (as it always seems to do) I don't feel as overwhelmed. If I want to sit in front of the TV with the Cowkids and watch a movie after dinner I can do it guilt free.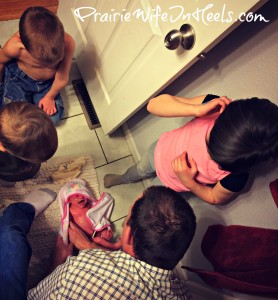 The Cowboy hung around the homestead for the first three days after CowGranny (she came up to help for a few days) left. This is the first time EVER that he has done this, and it was so nice. He took the Cowkids into school and then went into the office for the morning. He then came home for lunch and to hold LittleMissH while he made work calls so I was sure to get a nap, he even made dinner (and cleaned it up) a few times! A girl could get used to this kind of special treatment! He hit the road on Thursday but I was more than ready to handle things for two days on my own. This week he is back to his normal schedule and I know that he hates to leave us. He's spent a lot of extra time snuggling the baby this weekend to make up for it.
Now don't get me wrong this week hasn't been all sunshine and roses. I'm feeling more than a little stir crazy hanging around the house so much. I'm trying to keep LittleMissH away from people for at least the first few weeks. We finally broke out of the house to go have dinner at TallGirlJ's place and it was just what the Cowkids and I needed. My neighbor and good friend Prairie Faith took the two little boys for a few hours so they could get out some energy (and get out of the house).
My number one current problem is that the Cowkids are absolutely in love with their new little sister. I know what a problem to have right?! But they fight over and over about who gets to hold her! When one Cowkid is holding the baby the others are crowding around. Cowboy C has no concept of keeping his hands to himself and is constantly whining for his turn to hold the baby. When nursing the baby I have at least one Cowkid attached to my hip while usually another one is touching and trying to kiss the baby (who is obviously attached to my boob).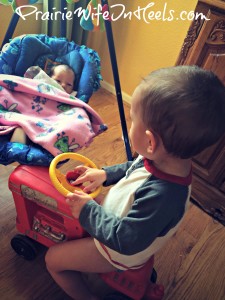 I try to take deep breaths and calmly remind everyone to wait their turn, as well as explain that nursing the baby is mommy's turn to hold her. Plus when LittleMissH is ready to be held (clean butt, fed and burped) she is mostly likely sleeping soundly. The last thing I want to do is spend 20 minutes playing pass the baby when I could have her safely buckled in the swing while I get caught up on chores! As Cowboy C was holding her the other night the older Cowkids were crowding around per usual when I heard him say "Back off, just back off!" Hmm I guess I haven't been as calm as I thought…opps! Texas Two Steppin' can vouch that the situation is a little out of control. As I tried to chat with her about her God Daughter I had to stop at least a dozen times during our 8 minute conversation to play baby referee.
I know that the shine will wear off soon (please pray for me) and of all the problems to have it's a good one but please tell me at least a few of you can relate?
That being said I'm going to stop typing to get some secret snuggles in while the big kids are at school and the two littlest Cowboys are playing happily in the basement….
Categories: Life As It Happens, Parenting
Tags: , family, motherhood, new born, new mom, pregnancy and babies, support