We LOVE Our Readers
Posted January 30, 2015 by Prairie Wife - 41 comments
Here at PrairieWifeInHeels.com we've kept it no secret that we LOVE our readers. After all it's your comments, feedback, and sharing on social media that keeps us motivated to keep on sharing our grit and grace with the world. Last year we officially declared February We LOVE Our Readers Month and we plan to do it again! What this means for you is a whole month of giveaways. With a new one every week…sometimes two! All we ask from you is that you keep on sharing your love with us. Comment on our posts and tell your friends all about this little blog you love!
Most of our regular readers are aware than any day now CowBaby5 will be making her grand (and hopefully quick and painless) entry into the world. For the month of February and perhaps March as well, I will be trying my best to post 3 new posts a week. But, please forgive me if I get behind or disappear for a few days! I hope that you all understand that my focus needs to be on my family (and my sanity) for these first few weeks and months. Make sure you follow us on Facebook, Twitter (@PrairieHeels), and Instagram (@PrairieHeels) because I will be trying to keep you updated on our Prairie Life through pictures!
To kick off our We LOVE Our Readers Month one of our favorite past Prairie Wives Cheleeo, the owner of Life Is Sweet Cookies, is offering ALL of our readers 10% off any orders for the whole month of February! This is not only for or local readers; she will gladly ship her custom cookie creations all over the lower 48 for her customers. Just use the code PRAIRIE when you place your order…or simply mention this article!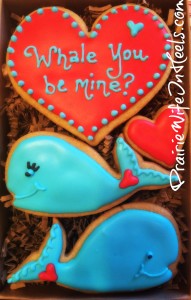 Life Is Sweet Cookies has also graciously given one lucky reader the opportunity to win a small box of her amazing Valentine's Day cookies. We will ship them to you, or send them to a loved one as a tasty Valentine's Day surprise.
All you NEED to do to enter this giveaway is comment below. Tell us what you LOVE about PrairieWifeInHeels.com (or what you don't)! Earn more points by following PrairieWifeInHeels.com and Life Is Sweet on Social Media. Please be honest, we WILL be checking to make sure you follow us.
Categories: #GiveAways, Life As It Happens
Tags: , cookies, Giveaway, life is sweet cookies, taking a break, we LOVE our readers