Throwing a Baby Shower, Prairie Wife Style!
Posted January 19, 2015 by Prairie Wife - 6 comments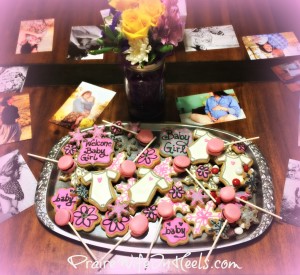 The time is drawing near for CowBaby5 to make her appearance and BonitaBlueEyes and TallGirlJ threw me an amazing baby shower this weekend. I've found that throwing a baby shower for someone that already has multiple children can be tricky. Throwing a baby shower for a first time mom is always a BIG deal. Lots of games, food, registering for gifts, advice, photos and keepsakes. I had such a wonderful time at my shower for Cowboy J and I felt so special and loved. But…then you have a few more kids and if you're like me, you don't really need anything at all! I neatly save all the clothes and room decor in clearly marked containers. When I'm nesting and ready to put together the nursery I simply have The Cowboy bring in the right boxes and the baby swing and car seat.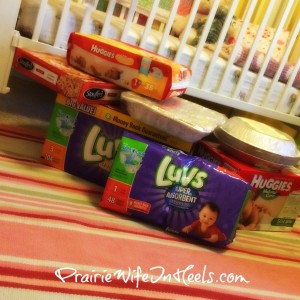 When it came time for Cowboy W to be born (my third baby and second boy) I have to admit I wasn't as thrilled at the thought of sitting and playing games (guess what candy bar is in the poopy diaper, baby items word search, and celebrity baby match up come to mind), and I really didn't need anything. So, instead of a typical shower my girlfriends were all asked to bring diapers (any size) or a frozen meal (because isn't that what you REALLY need after a baby) and meet up at our local paint your own pottery place. We chatted and painted followed by a low key dinner, and I received a lovely keepsake plate they all signed as a keepsake. It was a perfect grown up girl night and I didn't have to buy diapers for months!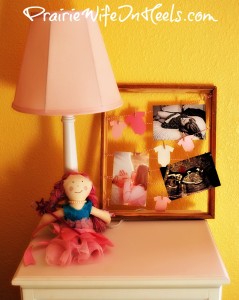 Over the years we have perfected throwing a baby shower for someone who already has it all…and if I do say so myself the shower we had this weekend was perfect! We held it here at the Prairie Homestead, and while the girls offered to come clean I had no problem doing it. Not only did it make me do some deep cleaning I'd been putting off, but now my house is sparkling and ready for the baby, all I'll need to do is light cleaning over the next few weeks to keep it up. Also, all the diapers and meals were placed immediately where they belong, no clean up! This time we got smart and had a forced dress code of sweats…bras and makeup optional. BonitaBlueEyes and TallGirlJ had an amazing spread of munchies, a hot chocolate bar, and Cheleeo from Life Is Sweet Cookies brought a fabulous plate of cookies and macaroons (stop by the 31st of Jan for a giveaway from her)! The girls put up a few decorations including some sweet flowers, pink swirls, and photos of me pregnant taken by Erin Potter. There was even a cute keepsake frame that I placed in the baby's room as decoration. We had a great group of gals, if I do say so myself, and we spent a kid free evening comfortable, stuffing our faces and chatting. It was low key and full of laughter, the perfect event to celebrate a baby and motherhood!
What kind of baby shower do you prefer?
Categories: Life As It Happens, Parenting
Tags: , baby shower, girlfriends, motherhood, pregnancy and babies, throwing a shower, throwing parties