Prairie Wife of the Week December 6, 2013
Posted December 6, 2013 by Prairie Wife -
Cheleeo was one of the first people I met when I moved to our Wyoming town we currently live in. When she walked into our local Mom group with a vat of Coldstone Ice cream I knew she was the girl for me!  We bonded over our shared birthday, infant children (Cowgirl G and her son were born a little over a month apart), breastfeeding, husbands that hunt, and a love of fashion that can't be found anywhere in Wyoming. I credit Cheleeo with teaching me that being a homemaker is an art, and one that is not to be taken lightly. She has helped me to step up both my culinary and party throwing game. I admire her for her confidence in who she is as a mother, wife, and woman. Her attention to detail and thoughtfulness make her an extraordinary friend, and her willingness to share her knowledge with others makes her perfect for our Prairie Wife of the Week.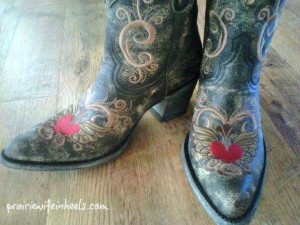 Prairie Wife (PW): First tell us a little bit about you and your family.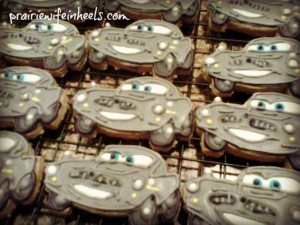 Cheleeo (C): I've lived in Wyoming since my marriage in 2001. I enjoy making life special for my 5 year old son. One way I do this is by throwing extravagant parties and sweet treats.
PW: When did you first learn how to bake, was it as a child? Or something that you picked up as an adult?
C: Before I got married I wasn't interested in baking and cooking. I spent my time in Denver enjoying the night life, fine dining and cultural events. When I moved to Wyoming I wasn't working and I was looking for something to fill my days. I started watching cooking shows. I never really had a particular favorite; I just kept the TV on in the background (either FOOD network of HGTV) as I went about my day. I watched them make delicious looking meals from scratch and I thought "I can do that!" I was also missing my baked goods that I had become used to in Denver. I was craving buttery cakes and light airy pastries. In my town in Wyoming the restaurant choices made me feel deprived of variety, and I finally came to the decision that I had to fill the void myself. I began cooking meals that I had seen on TV and eventually I graduated to creating meals based on what I had read in cooking magazines. I subscribe to Sunset magazine, Bon appétit, Food and Wine, and Cooks and they offered new recipes that encouraged me to be more adventurous and create more.
PW: What is your favorite type of thing to make, and why?
C: I love to make soup! My family can't get enough of the hearty dishes I make. I love to leave a pot simmering on the stove. When the tantalizing aromas great my husband and son as they walk in the door, they can't wait to sit down to dinner. My current favorite is Chicken Noodle Soup, but I also love Pumpkin Chicken Chowder. It's so comforting to eat a bowl as I look across the prairie and see the patches of golden aspens on the mountain.
My favorite baked treat to make is Chocolate Cake because it's my favorite to eat! The recipe I use has coffee in it, which really brings out the richness in the chocolate.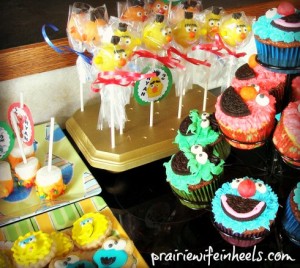 PW: Where do you get your inspiration for your cookies and cake pops?
C: Pinterset! It's a joy to simply search for my theme and have 100's of inspiring ideas and photos, rather than looking through piles of torn out magazine pages.  I don't' know how I did it before Pinterest, I wasn't half as good as I am now!
PW: What is challenging for you when you are baking?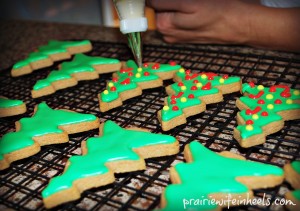 C: Time! Trying to squeeze it all in while my son is at school, and between all my other commitments. Just to put it in perspective for you; on average it usually takes me 6 hours to create my cake pops and it takes at least 2 full days to do my decorated sugar cookies. Keep in mind I usually make 6 dozen cookies. My favorite part is the decorating; it's where I can truly let my creativity loose. I enjoy making a variety of patterns and using colors and ingredients in new ways. The baking and making of the frosting and glazes are just a necessary evil.
PW: What is something that you dream of creating?
C: I am thinking about doing something Dr. Seuss themed for December. I have a huge chalkboard wall in my kitchen and I always try to tie my baking and chalkboard theme together. I'm going to put the Grinch up, and for cookies I plan on doing Dr. Seuss inspired trees, the crocked boughs and whimsical decorations. I want to make Ornament styled cake pops. I'm going to use my luster dust on them to really create that special Christmas look.

PW: Living in a smaller town must offer some challenges for buying ingredients and tools. Where do you shop for your supplies?
C: Online.  Amazon.com gives me everything I need. Hobby Lobby does offer some options, especially if you are just starting out. I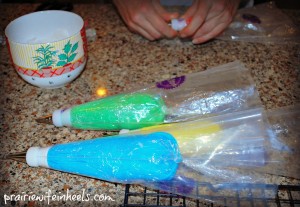 have to have my KitchenAid (6 quart) mixer and my disposable Icing bags. Metal icing tips are a necessity, I prefer Wilton brand. I use gel food coloring because of the color variety and the vibrancy of the colors. For my display and presentation during parties I have a vintage lollipop stand that I use, I bought it from the Cozy Cottage in Ft Collins. I have assorted plates and platters for the cookies, though I love to display them on cake stand as well. Most of these came from Target or Pier 1.
PW: Do you have any final Prairie Wife advice for the novice baker and cookie decorator?
C: Just try it! Whatever isn't pretty enough to present to others, you get to eat, I only eat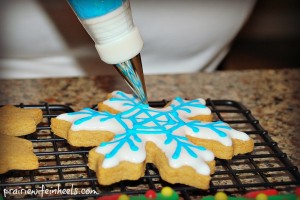 the ugly ones! Before you start make room in your freezer. For perfect shaped cookies always freeze your cut out cookies before you bake them, it keeps them from spreading and losing their shape. The brighter the glaze and frosting the better the cookie looks, if your cookies are bright they are beautiful. You'll never be able to find free time to craft amazing cookies; you need to make the time. When it stops being fun push through, it's all worth it when your friends say "you make the most beautiful cookies."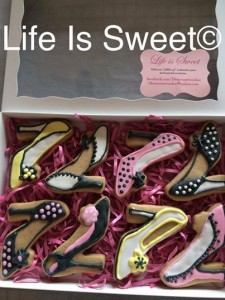 Attention PrairieWifeInHeels.com Readers! Cheleeo has now opened her own business and her beautiful cookies are now for sale! Custom made cookies from Life Is Sweet are handmade fresh for every and any occasion! Click the link above to see (and like) her Facebook page and put your order in today!
Follow us on Pinterest and check out our Prairie Wife of the Week board. It's full of inspirational pictures of Cheleeo's work and some of her favorite pics. http://www.pinterest.com/prairieheels
Here are some more links that might help you find your inspiration!
http://www.coppergifts.com  for a wide variety of cookie cutters and sugar cookie tips and tricks
http://amzn.to/1iqM5yN a link to buy gel food coloring
Categories: Life As It Happens, Prairie Wife of the Week
Tags: , baking, cookies, crafts, decorating, DIY, Prairie Wife of the Week