What you NEED in Your Nursery
Posted April 7, 2014 by Prairie Wife - 10 comments
It's no secret I've got a soft spot for first time moms. Being pregnant for the first time can be really overwhelming. It's hard to deal with the hormones, a rapidly expanding waist, and worrying constantly if all is well inside there…Add to that trying to decide what you truly need for your future bundle of joy and it can be a tear filled journey. Well, I am here to help you! I've already given you a list of what to pack in your hospital bag and diaper bag (as well as car) and now here is what I feel you truly need in your Nursery to survive the first year of motherhood. I've listed my favorite brands and even a few links for you!
Keep in mind that more money does not always equal better. We were on a super tight budget (actually w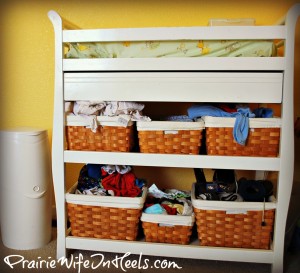 e had no budget we were so poor) when our first Cowkid was born. Four Cowkids later our crib from Walmart is still in tip top shape and ready for another Cowbaby if necessary…Stay tuned in the next weeks for a list of what you might want/need in the rest of the house (including the bathroom) for your baby, as well as how to register for your baby shower!
Remember this is what I think is necessary, please let me know if I've left anything out …or if you disagree!
For the Nursery (furniture, necessities etc.)
Crib that converts to toddler bed (more bang for your buck)
4 sets of sheets
3 warm blankets
4 swaddling/light blankets
Crib musical/light toy (Fisher Price)
Set of cloth diapers (amazing spit up rags not to mention a billion other uses)
Diapers (I use Luvs, don't buy too many new born sized they grow fast once they are out)
Large refillable wipe container and a box of wipes to refill it (they make heated ones, I think they are overrated)
Changing table (now this is debatable, you can change the baby on the floor. But, I use mine not only for diaper changes but for clothing and necessity storage as well)
  In your changing table drawer keep these items
Baby lotion (Burt's or Aveeno)
Desitin
If you are planning to Nurse- Nursing pads, Lanolin cream
Medicine-Gas drops, baby Tylonol and IB Profin,Baby Vicks
thermometer (ear or temporal),
Fingernail clippers, nose sucker, rubbing alcohol, and q tips.
Changing pad and 3 covers
Covered trash (I use a diaper genie 2)
Small baby hangers
Small lamp (it is nice to have a low light source when you need it in the middle of the night)
Laundry Hamper
Rocker/chair/ball (I love my glider rocker, an amazing garage sale find)
2 Rubbermaid container (keep them in your closet one for too small clothes, one for clothes to grow into. Simply throw them in when they are washed)
Basket for toys (not needed for first 4 months)
Fan (research says that it may reduce the risk of SIDS it is also because of this I have not listed crib bumpers or stuffed animals because they may endanger the baby)
Clock
Clothes (included are the ones you need for the car and diaper bag)
10 short sleeve onesies
4 long sleeve onesies (not needed until Oct if you live in a cold climate)
8 jammies (I prefer zipper to snap)
8 pairs of socks (you can also use these to cover their hands if they tend to scratch themselves)
2 fancy outfits
4 rompers (short sleeve if your baby was born in summer/ long sleeve if born in winter)
3 separates/mix and match outfits
1 heavier jacket (from October on you will want a full suit, Columbia makes an amazing one)
1 light jacket
3 hats
Shoes (cute but not really needed until they are 9 months or so)
Categories: Life As It Happens, Parenting
Tags: , lists, new baby, new mom, Nursery, pregnancy and babies, what you need