Beauty Tips for Spring Skin
Posted April 9, 2014 by Prairie Wife -
Spring is slowly but surely on its way here in Wyoming. We have had blizzards and over six inches of snow immediately followed by beautiful 45 degree days full of sun and light breezes. In Wyoming this bipolar type weather means that soon we will have green grass and singing birds! Shorts and tank tops are still a ways away but, the sunny days that we have had, reminded me that it's time to get my skin in shape for the big reveal. Dry Wyoming winters with a steady 35-90mph wind (this is not an exaggeration) mean that my skin is rough, dull, and blindingly pale by the time April rolls around. I've got a list of my favorite products and how I use them to get my spring skin back to a "shorts worthy" summer state. Use these products on your face and body and you will have glowing, smooth and (slightly) less pale skin in mere weeks!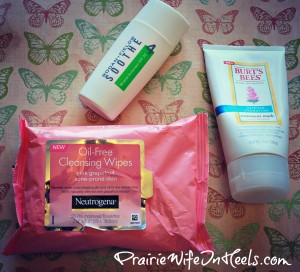 For my face I really need to get some moisture back into it, and I have found that my favorite mask for this is Burt's Bees Intense Hydration Treatment Mask (purchased at Target). Not only does it smell divine but, it really works! For the first two weeks I use it twice a week and then only once a week as my skin gets back in shape. If you have oily skin I recommend the Mary Kay mask.  My Neutrogena Cleansing Wipes in Pink Grapefruit (purchased at Target) are a must for post workout cleaning. Even though I workout at home, I don't always have time to shower afterwards, and I always notice more breakouts as the weather gets warmer and I sweat more. I simply wipe my face (and my chest and back) and put on my regular Rodan and Fields face cream, voila no more zits! I know you are supposed to wear sunscreen year long but let's face it, in the winter I don't worry too much. In the Spring I start to get back in the habit again by religiously using my Rodan and Fields mineral Sunscreen. It has an SPF of 30 and works flawlessly with my other beloved Rodan and Fields products. It is light and soaks in evenly, so my makeup applies smoothly over it.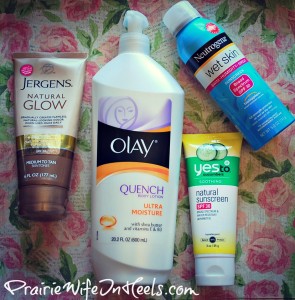 For my body I am a stickler for products that really work! I am a diehard Olay fan and I can't live without my huge pump bottle of Olay Quench Body Lotion (purchased at Target). It has a light scent so I can still wear my perfume and it has a slight shimmer that evens out your skin tone. Not to mention it works! Slather it on the second you get out of the shower, and thank me in two weeks for your glowing smooth skin. To give my skin a little bit of a sun kissed glow with no mess and no orange streaks I rely on Jergens Natural Glow Products (purchased at Target). They have a whole line of products and I haven't been disappointed yet, and I love that this one has an SPF 20. I use my Yes to Cucumbers Natural Sunscreen (purchased at Target) on my chest. Ladies I am telling you, every day you should be putting sunscreen on this area. It sees just as much sun as your face and maybe more if you wear a hat. I am trying to fight the freckles and damaged skin I see on lots of woman. Too often they have flawless faces but neglected their necks and chest. This light sunscreen soaks in quickly and doesn't give me acne (a big bonus). Last but not least my Neutrogena Wet Skin Sunscreen Spray (purchased at Target). I keep this in the car to quickly spray on my arms, legs and any other bare skin (and tattoos) when we hit the park. It isn't greasy and only takes two seconds to apply.
Take care of your skin ladies (and men too) and remember, it's never too late to start!
What products do you use to get your skin ready for summer?
Categories: Beauty, Prairie Wife Style
Tags: , Beauty, body, face, lotion, mask, product review, Spring